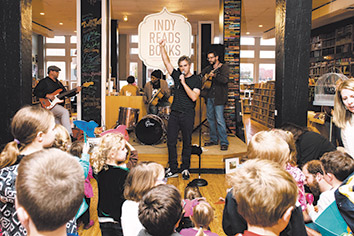 The melody comes first.
A phrase or snippet of a tune springs from Dave Heger's imagination at odd times like when he is taking a walk or reading through emails. Sometimes he just has to hope he can remember the partial strain. Other times, he has dialed his home phone and sang the musical idea into the family's answering machine.
Heger, an in-house counsel for AES Corp., is a musician in his off-hours, playing guitar and making up songs for his two children. He turned those snippets of melodies into songs and turned those songs into an album.
Dubbing himself as Dave and the Boombox, Heger recently released his first album, "Make Some Noise." It features 13 tracks of songs he wrote especially for children.
The music has a strong indie-rock flavor with the contemporary instrumentation of guitar, drums, bass and vocals. On his website he describes the songs as "joyful but not cheesy."
"I wanted something my kids would like but that would remind me of music I listened to when I was growing up, like the Beatles and Billy Joel," Heger said.
The songs were heavily inspired by his children and written over several years. His songwriting process begins with a sample theme. Once the melody starts to take shape, he begins penning the lyrics and then composes the music and words in tandem until he completes the piece.
Some songs, like "Space Turtle," were written in a couple of days, while "Work Zone" was started when Heger's son was 6-months-old and not finished until he was 5. He wrote the songs out of his desire to play music for his children, getting plenty of ideas listening to the silly things they said and did.
Music has always had a place in Heger's life, but he did not start playing and composing until college. He left his Indianapolis home to play football for Georgetown University, but a back injury permanently sidelined him before the first snap. So, to fill his spare time between classes and studying, the tight end picked up the guitar.
Although Heger took a few lessons and a lone music theory class, he never learned to read music and largely learned to strum chords on his own.
After graduating from Washington University Law School, Heger returned to Indianapolis to take a job at Barnes & Thornburg LLP. His former colleague, Tony Sullivan, a partner who concentrates his practice in environmental law, calls Heger an intelligent, thoughtful lawyer who is very skilled at writing. He knew Heger was musical but says didn't know how involved in music his former associate is.
Heger does not normally show off his musical skills to his co-workers. He has never brought his guitar to the office Christmas party and, while different lawyer friends have seen the announcement of his new album on Facebook, he believes some colleagues might be shocked to learn he is a musician.
For Heger, composing and playing music provides a complete break from his work as an attorney. Picking up the guitar gives him the opportunity to put the contracts and briefs aside. Making up goofy kids songs brings relief, he said, from the serious business of dealing with legal matters.
When he first had the idea to record an album of his children's songs, Heger believed he would be one of a few. He quickly learned he was entering a crowded and very
competitive market. Still, he was not discouraged.
"I thought I had a collection of pretty good songs," he said. "I don't expect to be a major star for doing this, but it still was something fun to do."
Through friends, he was able to connect with Indianapolis musician and music producer Ryan Koch. The two initially met at Koch's recording studio to discuss the possibility of doing an album.
Koch was impressed by Heger, finding him to be a very gentle, down-to-earth person who had a good idea for an album.
"(Heger's music) reminds me of a kids' Beatles in a lot of ways," Koch said, explaining the chord structure and approach are very similar to that of the British band.
Heger certainly drew from the Beatles, but he maintains the most important element of children's music is the lyrics. He writes about things like bugs, pigs and airplanes to convey simple, positive messages.
Like the melodies, the words can come from anywhere. For example, Heger's lyrics for the song "Space Turtle" were inspired by a magazine article he read about a turtle that was put in a rocket ship and sent into space. Heger's song highlights the irony of the slow turtle winning the race to the moon.
Going into the studio, Heger brought the songs and his guitar while Koch filled out the instrumentation. Koch would switch between playing drums, guitar and bass. When extra help was needed, he called in drummer Devon Ashley along with vocalists Sarah Grain and Katie Josway.
Heger and Koch worked intermittently on the recording for about a year. The sessions were long and often ego bruising. Recording a song puts the musician and the music under a microscope, Koch explained. Mistakes are amplified and, as Heger discovered, hearing yourself sing can be unsettling.
Once the recordings were complete, Koch mixed and mastered the tape before turning the file over to Heger.
The attorney next enlisted an artist to design the album cover. A cartoon representation of Heger is depicted dancing and singing alongside a very large radio or boombox. Heger said his use of the term "boombox" is really metaphorical. Because he does not have an established band, the boombox refers to the music of his generation.
Now he is having a good time promoting his album. And he is especially happy his collaborators and most important audience, his two children, are enjoying the recording.
"I think they have fun with it," Heger said.•
Please enable JavaScript to view this content.