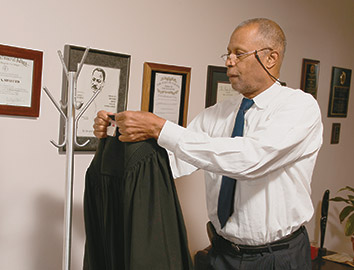 Five judges with a combined bench experience of more than a century are departing the Marion County courts at the end of the year, joining dozens of jurists around the state who are calling it a career.
"It'll be a gap, but we have some good people coming on," said Marion Superior Probate Judge Gerald Zore, whose 40 years on the bench make him Indiana's longest-serving active judge. Zore said he's been humbled by the numerous accolades, honors and tributes he's received in his final year on the bench.
Zore will miss Thursdays in his court when he formalizes uncontested adoptions, usually about eight to 12 a week. "It's just really nice. Everybody's taking photographs, and the kids are all dressed to the nines," he said. "It's unusual to have everybody happy in a court setting."
Along with Zore, Marion Superior Judges Patrick McCarty, David Shaheed and Theodore Sosin, and Circuit Judge Louis Rosenberg are retiring Dec. 31 after significant bench experience. They are among 38 judges statewide who are stepping aside at the end of the year. All but five are doing so on their own terms; voters decided the others should go.
"I've survived," Shaheed said with a laugh, talking about his coming retirement. Counting his tenure as a magistrate, Shaheed has been on the Marion Superior bench for 20 years and has a reputation as one of the Indianapolis judges most involved in bench and bar functions and community activities. "I have really, thoroughly enjoyed the job. It's been so rewarding to be involved in the law in this kind of position."
McCarty
After 24 years on the bench, McCarty said his final weeks were producing things he'd never seen even after some 200 jury trials. What might be his final jury trial was also the quickest, he said. "It's kind of one of those weird things."
"My favorite thing is jury trials," McCarty said. "Number one, you get to interact with citizens, and number two, you get to see good lawyers do good work."
McCarty presided over a personal injury automobile accident trial Nov. 18. Negligence had been admitted and the sole issue for the jury was damages. In one day, the jury was selected and seated, motions decided, witnesses called, evidence presented, and the plaintiff and defense rested. After closing arguments the next morning, the jury deliberated about three hours, awarding injured motorist Jose Jiminez $75,000, twice the amount of his medical expenses.
"Both of these lawyers had it pared down to 'just the facts, ma'am'," McCarty said. "It's kind of a nice one to go out on."
Rosenberg
Rosenberg, Shaheed and Zore said they intend to apply to become senior judges, requiring at least 30 days of service a year. McCarty said he isn't sure whether he will, but Sosin said he won't, at least not right away. He's hoping to make time for hobbies – reading, cooking, competitive trap and rifle shooting – and spending time with his seven grandchildren.
"That should be able to keep me fairly busy," said Sosin, who spent 12 years on the bench after 33 years in private practice. He said at 71 and having not had a vacation of more than two weeks since he began working at 14, it's time.
Sosin
"The best part of my job the last 12 years is the daily opportunity to watch lawyers in their role as the gatekeepers of our civil society," Sosin said. "I love lawyers, I really do.
"The work in my courtroom has been so good for the most part, there have been things you would pay to watch," he said. "So many of the lawyers over the last 12 years have been able to bring you that 'a-ha' moment, and I'll miss that."
Sosin, like Zore, also has received some honors as his time on the bench wound down. He recently was named Indiana Judge of the Year by the American Board of Trial Advocates.
Rosenberg's retirement includes plans that will bring his family closer together, literally. He and his wife, Sheila, are building an addition to the home of their son, Indianapolis Metropolitan Police Officer Daniel Rosenberg, and his wife, Mindy. The elder Rosenbergs will move in and help raise their four grandchildren, who range in age from eight months to 7 years old.
"When I go to visit the kids, and I do it frequently, I'm struck by how much energy you need to keep up with them," Rosenberg said.
"I think we felt we could help each other. We kind of believe in extended family," he said. The arrangement is touching because Rosenberg's decision to retire was in part due to his diagnosis of Parkinson's disease several years ago. He's been able to manage the disease with medication and exercise, he said, but there was never a question it was time to retire.
"It would have been irresponsible for me to seek another term. You can't predict the progress of the disease," Rosenberg said.
In his time away from the bench, he hopes to do some traveling and writing, possibly about the history of the Marion Circuit Court. As he looks back on his own history on the bench, he said he's proudest of pushing for reforms of the township small claims courts and a mortgage foreclosure mediation program that became a model for the state.
"I feel much better about the system today than when I came into office," he said of the small claims court changes that targeted forum shopping by large-volume filers, though he said more reforms are needed.
Shaheed said he's most gratified by his work on problem-solving courts that have developed during his time on the bench, including drug court and re-entry court.
Marion Superior Judge David Shaheed hangs up his robe in his chambers. Shaheed is one of five Marion County trial court judges retiring from the bench at year's end. (IL Photo/Eric Learned)
"I consider that the most rewarding work," he said. "It's a way for judges to meet the citizens that come before us in the most humane way so that we can use our training – not just our legal training but also our experience in life – to help people get their lives back together."
Shaheed also has some family plans he'll pursue in retirement. Those include helping his daughter, Mariama Carson, develop a Spanish-immersion K-8 charter school.
Judges said they'll miss the daily routine and camaraderie of their courts and the people in the Indianapolis City-County Building, which one judge called a vertical village. They're all also entering uncharted territory.
Zore said he might pick up an endeavor he left behind when he became a judge – pursuing a pilot's license. McCarty said he'll probably spend more time on hobbies like fishing, hunting and reading, but then the thought gave him pause.
"I've never been retired before," he said. "I had an old fellow tell me that the thing is, over a period of time, you'll have pressure relieved from you – pressure you didn't even know you had."•
Please enable JavaScript to view this content.