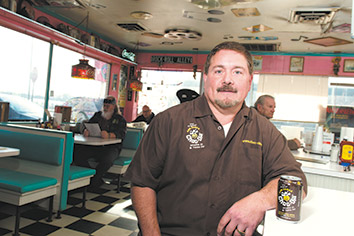 Entrepreneurs enjoying sweet successes and heady times with the resurgence of their retro products took varied paths to claim the rights to bring back brands with deep Hoosier roots.
The new owners of Roselyn Bakery, Choc-Ola chocolate drink and Champagne Velvet beer got dormant brands back on store shelves by capitalizing on trademarks that had disappeared from the marketplace but retained a certain cachet.
Dan Iaria had no idea six years ago that he'd become president of Choc-Ola Corp. Having just started the '50s-style Rock-Cola Café on Indianapolis' east side, he thought serving the throwback drink might be a draw, so he went online hoping to find the chocolaty beverage. He found little trace of the brand that had been a staple on childhood fishing trips with his dad.
 
"I started doing some research," Iaria said, which included a visit to the U.S. Patent and Trademark Office website. "As it turned out, on June 23, (2008), I did the Web search, and on June 20 was when the trademark had expired."
Not quite believing what he was seeing, Iaria called the trademark office and learned that for $275 he could apply for rights to the Choc-Ola brand. "I felt like that was a pretty low monetary risk."
He acquired the trademark a few months later after the prior owner declined to assert rights of ownership. Iaria did the intellectual property work himself, he said, partly because he didn't want to tip off Mott's, the previous trademark holder. Mott's later said it had no intention of renewing the Choc-Ola trademark.
"My paranoia outweighed my lack of confidence," Iaria said. "I basically just resolved that I was going to have to do it on my own." He did get some legal advice and hired an attorney afterward to be sure his rights were secure.
"He locked it down pretty well in terms of the marks he revived and has rights to," said Dave Blachly, a partner with Densborn Blachly LLP who advises Iaria and the Choc-Ola business. "He's creating value in those brands, and going forward that prior work will require small tweaks."
Iaria said he was lucky that a family acquaintance had worked in the Choc-Ola plant before it ceased production in the 1980s and was able to help get the formula right. "It's truly bizarre some of the things that happened that allowed me to make this work," Iaria said.
Cow Power is back. Choc-Ola now is being sold in hundreds of Kroger, Walgreen, Safeway, IGA and convenience stores around Indiana, and in a few locations in Illinois and Ohio. "Companies were calling us asking how we could get it in stores," Iaria said.
Roselyn's rebirth
Along with making certain their brands were protected, owners of the Roselyn Bakery trademark relaunched a line of signature baked goods a few years back to a public with great expectations.
"We get emails if it doesn't taste right every time," co-owner Randy Dias said. "These folks are used to a flavor profile developed in 1943."
"People are very loyal to the product," said co-owner Rhonda Dias-Spencer, Randy Dias' sister. "They get excited about it. It's a childhood memory."
The Diases and their father, Russ, who died last year, operated the food distribution company Advance Marketing Inc. AMI supplied food products to the Clark family that had owned central Indiana Roselyn Bakery locations that ceased operations in 1999 after a factory was shut down following a health inspection.
The Clarks later approached the Diases about restarting production geared toward placement in stores. "None of us knew how it was going to turn out," Randy Dias said.
Rhonda Dias-Spencer and brother Randy Dias have expanded the distribution of Roselyn Bakery goods and gained trademark protections for classic treats. (IL Photo/Dave Stafford)
But it didn't take long to learn the public was starving for the local institution. "We took (Roselyn products) to Kroger, we took it to Marsh, and they went crazy," he said. "They said, 'You make as much as you can, and we can sell all you make,'" Dias said.
"The whole Roselyn story evokes a positive image."
In 2005, the Clarks approached the Diases and informed them they were selling the business to focus on real estate enterprises.
"We stepped in and bought everything," Dias continued. "The thought becomes, 'How do you protect what you're purchasing?' Our legal posture was to make this tied up as tight as we can make it."
While the Roselyn Bakery name long had been trademarked, little else was. So Dias said the company hired attorney Jack Moriarty Sr. to register a new trademark, Roselyn Recipe, along with as many products as possible. Now, such iconic treats as Sweetheart coffee cake, Alligator coffee cake, Buttermilk Jumbles cookies and others are trademarked.
"All their rights were pretty unique," said Moriarty, a partner with the Indianapolis IP law firm Woodard Emhardt Moriarty McNett & Henry LLP. Moriarty explained that because Roselyn had marketed products under these names regionally, the company could have claimed a common law trademark on them in the area where they had been marketed. Registration of the brands provides an enforceable nationwide trademark.
That could be useful, since Roselyn products now are sold in about 25 states, according to the owners.
Tapping nostalgia
Bloomington-based Upland Brewing Co. reached back to the years before prohibition to bring back Champagne Velvet, a pilsner that was the pride of the Terre Haute Brewing Co. until the brand fell on hard times in the 1950s.
Upland marketing director Andrea Lutz said the craft brewery had the good fortune to track down a collector of "CV" items who over the years also had collected rights to the dormant brand's trademark.
"When we got in touch with him and said we were interested in doing this and doing it right, he was 100 percent behind us," Lutz said. Upland took pains to use one of the collector's prize possessions: recipe notes from CV's dawn in the early 1900s.
The resulting Champagne Velvet was reintroduced last year to mark Upland's 15th anniversary. Upland markets the brand as "Pre-Prohibition Beer," reviving its old-timey slogan, "The Beer with the Million Dollar Flavor."
Lutz said Champagne Velvet was among the largest selling beers at its peak, but its name has resulted in a modern problem Upland is still working through. Regulators flagged the use of the word "champagne" on bottles and cans as potentially misleading. Lutz shakes her head.
"Anyone who looks at that brand can clearly see we're selling a beer and not a champagne," Lutz said.
Moriarty said it's rare that trademarks for brands with a loyal following expire, but it's common that companies that cease operations fail to account for the value of their intellectual property.
"When executives of a business start to wind things down, they must remember a trademark is an asset," he said. "Not infrequently, when they go to wind things down … it may not dawn on anybody that maybe their most valuable asset is their trademark right.
"Those trademarks need to be listed in the schedule of the assets being sold just like any other assets so there's no question as to their authority to use them," Moriarty said. Once a trademark issues and has been in use without controversy for five years or more, renewable trademarks are issued for 10-year periods, he explained.
Blachly, meanwhile, finds great professional reward in working with businesspeople like Iaria, who he called a classic entrepreneur with a vision based on sweat-of-the-brow work.
"The level of satisfaction with a small, organically grown client like this is immense," Blachly said. "There's no issue that's insignificant when you've got a startup like this. It makes you think more quickly and more deftly."•
 
Please enable JavaScript to view this content.