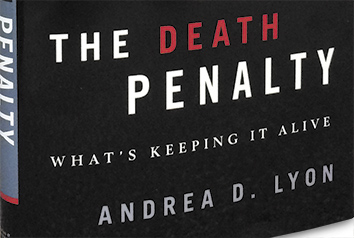 Reflecting on a career representing defendants facing the death penalty, Andrea Lyon almost shrugged when asked what attracted her to these cases.
"I have always wanted to help the underdog," she said. "I always wanted to know why. I want to know people's stories."
The stories of defendants standing trial for murder and possibly having to fight for their own lives are heartbreaking tales. Elements of abuse, poverty, family dysfunction and societal disregard often weave together into narratives that always end in tragedy. Why the interest in these stories?
"The fact that nobody else wants to listen, maybe, and then I want to try to help make other people listen," she mused before admitting, "It's a complicated question."
Andrea Lyon's second book is for those who are interested in the issue of capital punishment. She says morals and religious beliefs underpin the desire for retribution through the death penalty. (IL Photo/Nancy J. Leslie)
Although the question of why may be difficult to answer, Lyon remains a passionate, unwavering opponent of capital punishment. Her career path has turned from the courtroom to education. She is now the dean of Valparaiso University Law School, but death penalty defense work is a small world and she maintains a strong connection to it.
Earlier this month she welcomed a prominent member of that world, human rights activist Sister Helen Prejean, to the Valparaiso campus to talk about her work with inmates on death row.
Also, Lyon recently published her second book on the subject, "The Death Penalty: What's Keeping it Alive," which has been described as a "stinging indictment of the death penalty system."
"There's just something about it that makes people more vicious and it's just bad," Lyon said of the death penalty. "I think it's really hard on victims, their families, even though they get promised this closure and there's no such thing. I mean, how do you get closure from the violent death of someone you love? You can learn to live with it, maybe, but you can't get closure. Someone else's death isn't going to make you feel better."
Stories at trial
Over her career as an attorney in the Cook County Public Defender's Office in Chicago and as director of the Illinois Capital Resource Center, Lyon was involved in 138 homicide cases. Of the 30 or 40 cases that were death penalty eligible, 19 went to the penalty phase. She was successful in keeping all 19 defendants off death row.
She broke the gender barrier when she joined the public defender's homicide task force, where she eventually rose to chief. In addition, she was the first woman in the United States to serve as lead counsel on a death penalty case.
Lyon attributed her track record to luck, a little bit of talent, and "hundreds of hours of work." The focus of the work is finding the defendant's story – why this person is the way he or she is and what happened in his or her life.
The story, told through the client's memories, family members and documents like school records, humanizes the defendant and provides understanding. One client's history included living in 37 different places before his 18th birthday. Lyon marked the 37 places on a map which she then showed to the jury to underscore the point that the accused never had any chance to form attachments anywhere.
When a capital case landed on her desk, Lyon also opened a file for the trial and a file for the sentencing phase. Defense attorneys have to assume their client will be convicted, she explained, and the lawyers have to be prepared to immediately move forward into the penalty hearing where the jury decides whether to impose death.
"You cannot wait," Lyon said. "You don't get a month between the verdict of guilty – not that a month would be enough – and the penalty phase. If you're lucky, you get an hour."
Before going to trial, Lyon often did her own investigative work to find out everything good and bad about her client. She would go to the neighborhoods, knock on doors and ask questions about how her client grew up and the circumstances of the crime. Every time, she said, she uncovered valuable information the prosecutors missed.
"I don't yell at people," she said in explaining why she found stories and facts the prosecutors did not. "I don't come in with the police and frighten people. I'll come back lots of times until someone is comfortable with me. I listen."
That kind of preparation can take years and consume millions of dollars, but the trial itself can go rather quickly. The longest time Lyon had to select a jury was seven days, and the presentation of the case could take a few days to a few weeks. The sentencing hearing could take as little as a day or two.
She noted that many defendants who have gone through this process were later exonerated. Lyon believes part of the problem lies with the jury selection system that allows prosecutors to outright excuse potential jurors who are against capital punishment.
The reasons for wrongful convictions include "a biased stacked deck of jurors," Lyon said. "And then, of course, there's the emotional component. If you have reasonable doubt and there's marijuana in the trunk, it's easier to give the defendant the benefit of the doubt than if there's a dead baby in the trunk."
And when a jury found her client guilty, she had the complicated task of then persuading the jurors not to impose death. She did that by pointing out the defendant was going to be punished, and the only question was whether he or she was going to be killed or allowed to live out his or her days in prison.
Again, Lyon relied on the stories to help the jury determine the sentence.
A story played a key role in getting one death sentence reversed. Lyon was running the resource center when she got a post-conviction case. Upon meeting the defendant she immediately noticed he had a square dent in his forehead. After learning he had been hit by the mirror of a truck when he was young, Lyon pulled school reports and discovered that his IQ test score had dropped to 64 following the accident. Nobody asked why and nothing was ever done to help him engage other parts of his brain to compensate for the damage.
"I'd like there to be fewer stories like that," she said.
Story of forgiveness
In her latest book, Lyon recounted her own story about speaking at a school's career day. A young student asked her what the first thing she wanted to know was when she was given a death penalty case. Without thinking, Lyon responded, "What color is the victim?"
A victim who is white will more likely bring the death penalty charge.
"When I began doing these cases, I had a general view that the death penalty was bad and I didn't like the idea of the state having that power. (It was) not a firmly held belief but just a general attitude," Lyon said. "Once I saw how it actually worked, I became more and more of an opponent because it disproportionally hit poor people and people of color."
Paula Cooper, then a 15-year-old African-American, became the youngest person on Indiana's death row in 1986 after she was convicted of stabbing and killing Ruth Pelke, a white grandmother in Gary. An international outcry eventually got Cooper's sentence commuted and she was released in June 2013.
Lyon did not represent Cooper, but at the Prejean lecture, the dean warmly greeted Pelke's grandson, Bill. The defense attorney and the grandson share an opposition to the death penalty.
Pelke remembered walking from the courtroom after Cooper was sentenced and being surrounded by reporters. He told the media he felt the judge did what had to be done but, he noted, that would not bring his grandmother back.
However, four months after Cooper was sentenced, Pelke changed his mind. He believed his grandmother, a woman of strong faith, would have love and compassion for Cooper and would want him to be compassionate as well.
Pelke forgave Cooper, started a correspondence with her, and got involved with efforts to abolish the death penalty. He also founded his own organization, Journey of Hope, which brings families of murder victims together with families who have loved ones on death row and with former inmates who have been exonerated.
"I believe she is not the same person she was when she was 15," Pelke said of Cooper. "At 15, she was full of hate and anger, that was very evident that day at my grandmother's house, but she's changed. She's not the same person today."
Like Pelke, many are changing their attitudes toward capital punishment. Currently, 32 states have the death penalty – the lowest the country has ever had. A 2014 poll, sponsored by the Death Penalty Information Center, showed that 61 percent of voters would choose a punishment other than death for murder.
The actions of the Indiana Legislature seem to illustrate the state still supports capital punishment. This is the third session that Sen. Lonnie Randolph, D-East Chicago, has introduced a bill that would abolish the death penalty but, like the previous attempts, the measure has not received a hearing. Meanwhile, a bill authored by Sen. Brent Steele, R-Bedford, that would add decapitation as an aggravating factor for the death penalty has passed the Senate and moves to the Indiana House of Representatives for consideration.
Still, pointing to the decrease in capital prosecutions and executions, Lyon believes Indiana might be closer to overturning the death penalty than some may think. The shift in public attitude gives her optimism that the country as a whole will abolish the death penalty in her lifetime.
"I hope that some of the lessons that I and other capital defenders have learned about telling the stories and being messengers of what's wrong in our society and what we might do about it, permeate the criminal justice system and the rest of the world as well."•
Please enable JavaScript to view this content.