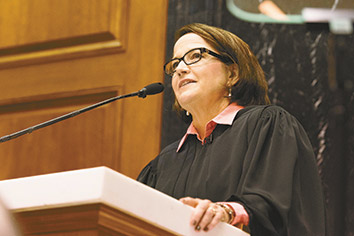 Commercial courts heralded by Indiana Chief Justice Loretta Rush in her first State of the Judiciary address could be in business soon, with the first pilots launching as early as this summer, according to judges and lawyers involved in developing the plans.
"There's universal enthusiasm among the Indy lawyers to move this along," said Benesch Friedlander Coplan & Aronoff LLP managing partner and 2014 Indianapolis Bar Association President Jeff Abrams, who serves on the Commercial Courts Working Group.
 
"I think the lawyers that practice in commercial litigation are going to be elated when we get this set up," Abrams said.
In her speech Jan. 14, Rush said the judiciary is "currently working on the development of a business court model focused on complex commercial litigation.
"Creating this specialty court will bring together judges experienced in handling business and commercial law cases to preside over a specialized docket with business-specific resources," she said, and would "promote an attractive, predictable and consistent climate for doing business in Indiana."
Supreme Court spokeswoman Kathryn Dolan said the program remains in the planning stages. A rule on the courts hasn't been adopted, and no timeline for the start of the courts has been established.
"This is an exciting opportunity for Indiana, and we want to make sure we create the best possible model," she said.
Allen Superior Judge Craig Bobay and other members of the working group believe the first pilot courts could be up and running as early as July.
Bobay
Working-group members said the proposed commercial courts are envisioned as problem-solving courts that would be established in larger jurisdictions around the state. It's anticipated that Indianapolis may have two commercial courts, and others may be formed in judicial districts with larger populations, in cities from Gary to Jeffersonville and from Evansville to Fort Wayne.
Bobay said judges like him who already hear specialized business dockets will be in a position to apply to establish and preside over commercial courts.
Bobay was among four Indiana judges who attended a National Judicial College seminar on commercial courts in Michigan in 2013, training that was provided by the Indiana Supreme Court. "That really helped coalesce and create further movement on this, and we went from there to recruiting attorneys" to form the working group.
More than half the states, including Illinois, Michigan and Ohio, have some form of business or commercial courts that handle complex disputes, usually with the assistance of specialized masters and clerks. Working-group members said funding will be needed to pay for masters in commercial courts who could rule on discovery, case management issues and procedural motions, and for clerks who could assist with research and writing.
"Those sort of things sometimes can help bog down a case," Bobay said. "We want to try to give the court the ability to have systems to deal with thorny issues like that."
Working-group members believe up-front attention to expediting such matters will move cases toward resolution faster. Once commercial courts are established, Bobay said participation in the courts would be contingent on the agreement of all parties in a lawsuit.
"The timeline for getting a case in front of a judge will hopefully change with this commercial court docket," said Thrasher Buschmann & Voelkel P.C. attorney Laura Conway, a working-group member who also chairs the Business Law Section of the Indiana State Bar Association.
"I definitely think it's important for Indiana to have these kinds of courts in order to welcome more business to Indiana and to show Indiana is a business-friendly state," Conway said.
Bobay expects commercial court dockets primarily to include disputes among two or more business entities, though it's possible some cases could involve employment issues. He said representative types of cases that likely would be heard in commercial courts include lawsuits related to organization formation, corporate governance, trade secrets, non-compete clauses, and litigation involving the rights of shareholders and owners.
"I think it'll be good for the court, the bar, and good for those business entities that are involved in this litigation that can sometimes be pretty protracted and can have their business interests in limbo for years," Bobay said. "Most of these cases involve what we could call small businesses that are the primary employers in the state."
 
Indiana Chief Justice Loretta Rush (IL Photo/Eric Learned)
Along with rolling out the business court proposal, Rush also used her State of the Judiciary address to urge the Indiana General Assembly to fund the courts' electronic filing initiative.
"We're excited to roll out e-filing this year, and we're asking for your assistance to make it successful," Rush said.
Dolan said the court estimated the cost to implement a statewide e-filing system is about $5 million annually for the first two years, but the source of funding for the initiative hasn't been identified. "All of it has been predicated on moving forward with funding, which is where the court is concentrating," she said.
The state last year solicited bids for a statewide e-filing manager, and Dolan said the court is in confidential negotiations.
While looking ahead at court modernization efforts, Rush also paid tribute to her predecessor. "In countless ways, the sound, current state of our courts is attributable to former Chief Justice Brent Dickson – a man of integrity whose calm, civil and thoughtful approach was instrumental in leading our judiciary during the last several years – a period of much change."
Dickson, who last year stepped down as chief but remains an associate justice, received the first of several standing ovations during Rush's speech, not all of which were reserved for members of the judiciary.
Rush also told the story of Army Specialist Christopher Bunch, a veteran of the Iraq war who returned home with post-traumatic stress, anxiety, night terrors, and drug and alcohol dependence due to his wartime experience. "Christopher said, 'It took me five years to get into trouble.'"
But through a veterans court in Floyd County, he completed a VA substance-abuse treatment program, moved into transitional housing and a relapse prevention program, and received mental health treatment, all of which was paid for through his veteran benefits.
"Chris is once again a supportive partner to his wife, a role model for his sons and a productive member of his community," Rush said in saluting Bunch. She said the 68 certified problem-solving courts in the state "continue to be one of our greatest success stories."
Among other court programs Rush highlighted were those aimed at juveniles, such as the Juvenile Detention Alternatives Initiative which now covers 56 percent of Indiana's at-risk youth, and the Children's Commission established last year.
She also noted creation of the nation's first statewide Guardian Registry for adults who are subject to guardianships. The registry has been implemented in just a few counties to date.
"Your Indiana judiciary is strong," Rush said, "and over the next year we will grow stronger still, taking on new initiatives to stay modern and responsive as we strive to fulfill the promise of justice in Indiana."•
 
Please enable JavaScript to view this content.