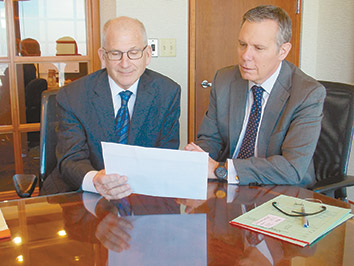 Peering down from the 44th floor of Indianapolis' tallest building, the cars on the streets below look like tiny toys, the neighboring office towers look like children's blocks and the view looks as if it stretches to the Michigan border.
Attorneys John David Hoover and Andrew Hull laid claim to the sky-high office in the Chase Tower when they joined forces and opened their own law firm in 2001. The pair have recently added another partner and changed the name of their firm to Hoover Hull Turner LLP, but they are staying put because the space meets the demands of practicing law.
 
"Andy and I wanted to be in a quality Class A building because we like to think we have Class A clientele," Hoover said.
The rent on office space remains a major overhead cost that law firms incur, but over the last 25 years, managing partners say the expenses have shifted as technology has made lawyers more efficient and changed the nuts and bolts of doing legal work.
According to a 1990 survey by Altman & Weil Inc. of law firms across the United States, offices were paying $15,462 in rent per lawyer. The 2014 survey shows that expense has ballooned to $61,958 per equity partner. Also increasing is the cost of equipment, which reached $21,812 in 2014, up from $4,672 in 1990.
Lafayette law firm Ball Eggleston P.C. for decades has occupied the entire eighth floor of a downtown building, but the office's content has changed. While the law library has shrunk as databases have made legal research resources available online, that space has been filled with equipment like copy machines and meeting rooms outfitted with video conferencing devices.
Bumbleburg
"I think all the equipment has a cost, but it has made us better lawyers," said firm president Joseph Bumbleburg, who has been practicing law since 1964. "I would not want to go back and do it the way it was done."
Cost for gadgets
Smartphones, laptops and tablets have made attorneys more efficient, managing partners say. Electronic filing has erased the former method of printing a document on a daisy-wheel printer and hand delivering it to the courthouse. Email has enabled lawyers to forgo the time consumed in corresponding with opposing counsel by writing and mailing letters to handling matters in an afternoon.
However, all those modern devices come at a high cost and are often among the top expenses for a law firm, according to managing partners.
Froehle
Thomas Froehle Jr., chief operating partner at Faegre Baker Daniels LLP, noted the flood of technology requires firms to pay attention and strike a balance. Faegre does not want to be on the "bleeding edge" of technological advances since the newest items are often the most expensive and not always the best functioning, he said. On the other hand, the firm has to regularly update and upgrade to be sure it is not falling behind technologically.
The consequences of not having the gadgets and electronic resources that other lawyers have can create a serious disadvantage, noted Hoover and Hull. For example, an attorney would not want to go up against opposing counsel who used facial recognition software that would research jurors' social media pages and Bureau of Motor Vehicles records if he didn't have similar capabilities.
To keep the playing field even, law firms have to stay apprised of advances and invest in technology.
Clients want their attorneys to use the current technology, but they also expect law firms to have strong security in place to safeguard their confidential documents, said Kevin Fitzharris, partner at Barrett & McNagny LLP in Fort Wayne. Mobile devices have put lawyers on call for clients around the clock and placed more pressure on firms to keep systems secure, especially if a laptop or tablet is lost or stolen.
Displacement and competition
The flood of technology is reducing the number of administrative assistants and clerical staff working in law firms. Although personnel costs are still among the top overhead expenses, Froehle said, the ratio among firms have gone from roughly two attorneys per one assistant to the current four attorneys per one support staff.
Managing partners pointed out lawyers, in particular the younger, tech-savvy ones, perform the tasks that used to be handled by secretaries. Whereas before the assistant scheduled appointments, now attorneys use Outlook to arrange their calendars.
Still, personnel costs continue to rise, driven in large part by health care.
Fitzharris said his firm tries to mitigate the increasing medical insurance costs by soliciting bids from different providers each year and by encouraging attorneys and staff to live a healthy lifestyle.
Hoover and Hull also noted the uncertainty surrounding insurance and the medical marketplace. But firms know they cannot drop coverage and expect to be able to employ the best attorneys.
To be competitive, a firm needs to provide health and other benefits to the attorneys and staff, as well as compensation that is attractive in the particular market.
In 1990, the median billing rate reported for the 8,523 partners in the Altman & Weil national survey was $150 per hour. By 2014, the hourly billing rate for equity partners was $391 and for non-equity partners was $364.
Bumbleburg noted the importance of offering salaries that allow attorneys to not only provide for their families but also pay their student loans. Salaries and benefits are the cost of doing business, he said, and firms have to outlay the money to get and retain good employees.
Looking ahead
Recently, Bumbleburg took a piece of carbon paper to a bar association meeting to show his younger colleagues how far technology has come. He marvels at the advances that have placed a device in everyone's pocket that can make calls, send emails and do legal research.
"Everybody has a phone today that does everything but whistle and dance," Bumbleburg said.
Froehle expects law firms will continue to see the technology portion of their budgets increase going into the future. In addition, as electronics allow attorneys to work from practically anywhere, the amount of real estate firms have to rent may shrink.
While the overhead costs have shifted and will likely continue to shift, what will not change is the basic formula law firms use to stay in business.
As Hoover put it, "We provide legal services in exchange for money and that's the way we make money."•
Please enable JavaScript to view this content.