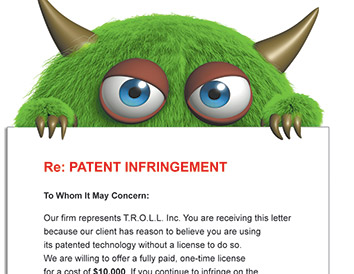 Kurt Rosenberger has a succinct view of so-called patent trolls – they are bad for society and they raise the cost for everybody.
The president and CEO of Our Community Bank in Spencer is familiar with patent trolls or non-practicing entities. Typically, these businesses or individuals send demand letters to companies, asserting patent infringement and requesting compensation. Company owners are then forced to choose between paying the licensing fee or, potentially, millions of dollars in litigation.
Even if the infringement claim is settled by complying with the demand for a fee, Rosenberger said any company or community bank that receives a letter is impacted. At a minimum, he argued, these "frivolous claims" and "bad actors" are placing a drain on limited financial resources and taking the focus away from the customers.
Frustration like Rosenberger's and fears that the problem with patent trolls may grow have enticed the Indiana General Assembly to consider legislation meant to deter the non-practicing entities from preying on businesses in state.
 
A bill, authored by Bedford Republican Rep. Eric Koch, would prohibit a person from asserting a bad-faith claim of patent infringement and would enable the Indiana business accused of infringing to seek remedy in state court. The measure, House Bill 1102, passed the House of Representatives by a 95-1 vote and has been referred to the Senate with fellow Bedford Republican Sen. Brent Steele added as a sponsor.
However, some doubt Koch's bill, if it becomes law, will withstand a constitutional challenge. Article 1,Section 8 of the U.S. Constitution gives the federal government the exclusive power to issue patents and determine their validity.
Rep. Ed DeLaney, who cast the lone no vote on the House floor, characterized it as an attempt to use state courts to resolve a problem with the federal patent system. Patent disputes are incredibly complex, the Indianapolis Democrat said, and this bill would add cases to the state judiciary that is already overburdened with litigation and understaffed.
He concurred patent trolls are a problem, but Congress and the federal courts are the two forums to seek a remedy.
DeLaney
"It they can't deal with it, I don't see how we can fix it," DeLaney said of patent trolls.
Ironic twist
Indiana is not an outlier in pursing patent trolls. Since Vermont became the first state to enact an anti-troll law in 2013, 17 others have followed suit, representing a cross-section of red and blue states such as Illinois, New Hampshire, Ohio, Tennessee, Utah and Virginia. Currently, another nine, including Indiana, are considering similar legislation.
The irony of the trend is that the states say they are taking action because the federal government is not. Usually, states bristle against federal laws and mandates as encroaching on their sovereignty. But in regards to patent trolls, states assert the federal government is not doing enough.
Koch said he decided to author a bill after learning Indiana businesses needed help with patent claims. His legislation, he said, uses the state's consumer protection authority to regulate the demand letter and leaves the regulation of patents to the federal government.
While most say patent trolls are a problem, to some extent, the federal system may be working.
Alastair Warr, partner at Krieg DeVault LLP, has noticed since last summer a drop in lawsuits filed by non-practicing entities. Until then, these filings had been steadily increasing during the previous 10 years.
He attributed the slowdown to the June 2014 Alice Corp. v. CLS Bank Int'l decision by the Supreme Court of the United States that reigned in software patents. Also, he pointed to the administrative review process created by the Patent Reform Act of 2009. Now companies can utilize this option to determine the legitimacy of a patent rather than going through the courts.
Fighting back
Rosenberger's admitted stubborn streak helped his bank successfully dispatch an alleged patent troll. A few years ago, the financial institution received a letter claiming a patent for a data processing feature, Rosenberger recalled. Because the processing was actually being done by an outside vendor under contract, the president opted to ignore the letter.
If the claim had been legitimate, the bank president said he would have complied. But in that situation, he did not see any merit to the assertion so he did not want to give the letter's sender any attention.
The letters eventually stopped coming, he said, although it took awhile.
That does not surprise DeLaney. He said his experience as an attorney has taught him that when mischievous people are cornered, they do not change their behavior, they just go away.
Having a statute in the Indiana Code will not be effective, according to DeLaney, because many of these patent trolls will, on their own, stop pestering businesses.
Still, Hoosier businesses including banks, home builders and manufacturers are welcoming Koch's bill.
The Indiana Builders Association spoke in support of the legislation at the Statehouse. Tom Havens, governmental affairs director for the association, said construction companies here are trying to prevent unfounded patent infringement claims.
"I don't think at the end of the day it's going to be a silver bullet, cure-all," Havens said of Koch's measure, "but it's going to help our folks and other people who've been subjected to these sorts of bad actors."
He pointed to Savannah IP, which asserted it held the patent for the process of drying home frames mid-construction. Homebuilders in the West started receiving letters demanding a $150 licensing fee for the supposedly patented drying method that builders maintain is a common process that has been used for years.
"I get the impression that people were paying it and that was sort of where the trouble arose because they didn't want to contact their attorney, they didn't want to litigate it," Havens said. "It was just easier to pay the couple of hundred dollars and move on."
Likewise, 15 Indiana community banks were recently poised to fight after they received demand letters from Automated Transactions LLC. Rosenberger's bank was not among the letter recipients.
The company had filed dozens and dozens of lawsuits along the Eastern seaboard and in western New York, claiming it held 12 patents that enabled ATMs to connect to the Internet. Specifically, it asserted it has patented the technology that ATM/retail kiosks use which allow customers to access retailers and buy such things as flowers or airline tickets when they withdrew cash or made a deposit.
In late 2013, Indiana community banks started getting letters from the patent holder. Although their ATMs did not connect to any retailer, the small local banks were being told they owed a $5,000 licensing fee per ATM.
Warr
Individually, the banks owned a handful of ATMs. Warr, who represented the banks, explained that even with only six machines, the licensing fee would cost an institution $30,000. The alternative to not settling was paying $2 million to $3 million to litigate.
When the 15 Indiana banks, which owned close to 500 ATMs, joined together, the economic model for fighting the patents made more sense because they could pool their resources and file one complaint.
The case pretty much evaporated after Automated Transactions was handed a setback in Delaware federal court. The company was already the subject of a multidistrict litigation lawsuit and a federal judge found that its infringement position was doomed to fail.•
Please enable JavaScript to view this content.