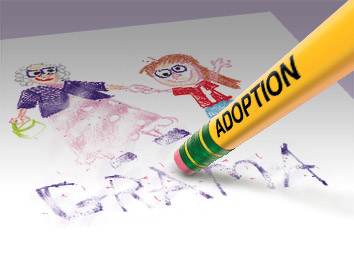 An Indiana appeals court empathized with a grandmother's situation, but it ruled the law gave the court no choice but to strip her of visitation with her granddaughter, whose mother – the grandmother's daughter – had died.
"We sympathize with (grandmother Melba) Sutliff's plight, and we recognize that, especially in family law matters, more is undoubtedly involved than the legally relevant facts disclose," Court of Appeals Judge Margret Robb wrote in Kirk R. Jocham v. Melba Sutliff, 29A02-1406-DR-424. "But the legally relevant facts are those upon which we must base our decision, and here, those facts lead inescapably to the conclusion that Sutliff had no legal right to seek grandparent visitation at the time she filed her petition."
The appeals panel on Feb. 6 stripped Sutliff of visitation rights. After her petition was denied by a special judge, Hamilton Superior Judge William Hughes granted a motion to correct error and awarded Sutliff's petition for grandparent visitation. The court allowed her visitation one weekend a month, one week in summer and extra time around holidays. The child's father, Kirk R. Jocham, appealed.
According to the record, Jocham and Sutliff's daughter, Stephenie Jocham, had one child, K.J., in 2004. The Jochams, both attorneys, divorced in 2008, and Stephenie Jocham died in 2011 from a rare form of cancer. That same year, Kirk Jocham remarried; a year later, stepmother Emily adopted the child.
The adoption eliminated Sutliff's standing, the appeals court held, and while she had no notice of the adoption proceeding, none was legally required. The panel in a footnote suggested there could be a legislative remedy in such situations.
"One way to avoid cutting off a grandparent's opportunity to seek visitation rights by catching him or her unawares would be to amend the adoption statute to require notice of a petition for adoption be given to anyone who would be eligible under the (Grandparent Visitation Act) to seek grandparent visitation rights as of the time the petition is filed."
Attorney Robert Shive, a partner with Carmel law firm Hollingsworth & Zivitz P.C., represents Kirk Jocham. He said the Supreme Court of the United States holding in Troxel v. Granville, 530 U.S. 57 (2000), is "the 500-pound gorilla in the room." Troxel stands for the constitutional right of parents to make decisions concerning the rearing of their children and struck down an overbroad Washington statute permitting wide latitude in the filing of visitation petitions from non-parents.
"Parents have these rights and no one else has these rights," Shive said of the holding in Troxel.
Providing notice of an adoption proceeding as the COA suggested could be a pragmatic fix to conflicts such as this, he said. "From our standpoint, the Legislature hasn't done it, and the standing element of the Grandparents Visitation Act is very clear."
Under I.C. 31-17-5-1, the GVA permits grandparents to seek visitation when a child's parent is deceased, when the marriage of the child's parents has dissolved, or when a child was born out of wedlock. Because the child had been adopted, Sutliff had no statutory standing.
Carmel attorney Jonathan R. Deenik of Cross Pennamped Woolsey & Glazier P.C. represents Sutliff and said she will petition the Indiana Supreme Court to grant transfer. Deenik declined to comment on the case.
 
University of Notre Dame Law School professor Margaret F. Brinig said Troxel makes clear that a child's best interest isn't the starting point for determinations of grandparent visitation. The Court of Appeals did not address the child's best interest after a finding that Sutliff lacked standing to seek visitation.
"The right to determine the best interests of the child in terms of visitation belongs to fit parents, who presumably are making decisions in the best interests of the child because of 'natural bonds of affection,'" Brinig said. "The parents' choice is to be given presumptive validity, and legislatures need to set particular circumstances and times when courts may interfere to set visitation schedules for others, including grandparents, in the child's best interests."
Brinig believes the Court of Appeals was correct in denying standing. "The question ultimately would be whether the Legislature ought, given Troxel, to extend notice … of stepparent adoptions," and who should receive that notice, she said. "I also don't think (a child's) 'best interests' is exactly the right inquiry without taking the parents' views into account."
At the trial court, Hughes ruled Stephenie Jocham "was, remains, and always will be K.J.'s biological mother. Accordingly, [Sutliff] is the 'maternal grandparent' under I.C. 31-9-2-77. She may seek, pursuant to I.C. § 31-17-5-1, visitation rights with K.J. because the child's parent is deceased, and because [Sutliff] is the biological parent of the child's deceased biological parent."
But Shive argued the death of the child's mother did not confer additional rights to the grandmother, and the appeals panel agreed, because Sutliff filed her visitation petition after K.J. had been adopted and a new birth certificate was issued listing her father and stepmother as parents.
"There is no question that Sutliff is the parent of Stephenie, who is the biological parent of K.J. Furthermore, there is no question that Jocham and Stephenie's marriage was dissolved in 2008 or that Stephenie is now deceased," Robb wrote.
"Accordingly, had Sutliff filed a petition for grandparent visitation at any time after Jocham and Stephenie filed for divorce up to the day Emily's adoption of K.J. was final, we would agree with the trial court that she had the right to petition for visitation rights and that any visitation rights granted to her as a result of the petition survived the adoption.
"… Regrettably, in situations such as this, the result may be inequitable and may not serve the purpose of the (Grandparents Visitation Act).
"However, it is not our place to judicially expand the statute beyond its explicit terms or to craft exceptions for specific circumstances. … The legislature drew a fine line on this issue between protecting intergenerational relationships and protecting newly formed adoptive family units. Stepping into the role of an adoptive parent and building a successful new family unit takes courage and support. There must be some assurance that the circumstances as they exist at the time of the adoption will not be thrown into disarray months or even years later by a grandparent newly seeking visitation."•
Please enable JavaScript to view this content.