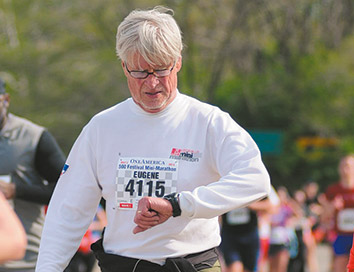 A few miles into the OneAmerica 500 Festival Mini-Marathon on May 2, retired lawyer Eugene Lausch will reach a fitting milestone: He will have run 500 miles in the event.
"It's a nice way to celebrate fitness and a nice way to celebrate the city," said Lausch, who already holds a distinguished place in Mini-Marathon legend: He's one of just 10 people to have run in each of the 38 previous 13.1-mile events.
Lausch said he and the nine others in the club aren't elite runners by any means, but they are above average. "I suspect that if the psychological profile of each of us was measured, we each would come out high on the characteristic of tenacity," he said.
At 76, Lausch shows no signs of ending his impressive run. "Now, I feel like I need to live up to it," he said.
When Lausch takes his place in the crowd of 35,000 runners, he'll hold no illusions about completing the course in less than an hour and a half, his best time. It'll take him a little more than two hours, and he'll mix in some disciplined walking that helps him run better and be fresher at the end.
"It's gotten a lot harder the last few years. I don't think I expected that," he said. "When I look at how I perform in relation to my peers, that hasn't really changed a lot. Others are going through what I'm going through. … I'm running a lot slower than I ever thought I would."
Lausch, who retired after more than 40 years as an attorney for the city of Indianapolis, has completed each Mini-Marathon he's started, but it hasn't always been easy.
He recalled 1988 as his year of "Russian revenge" – he returned from a Russia trip with a latent case of giardiasis he suspects came from some St. Petersburg reconstituted cranberry juice. Despite being unable to seriously train and falling below his college running weight, he managed.
Mini-marathon starting line. (Photo courtesy 500 Festival)
"Drawing on running 'base' and displaying some quiet tenacity, I was able to finish the Mini, running more than 10 minutes slower than I did in 1987, but still well under two hours," Lausch recalled in a reminiscence he wrote for a book about the Mini-Marathon.
Patricia Hagen wrote the book "A Mini Splendored Thing" in 2008 to mark the 30th anniversary of the event. At that time, there were 14 runners who'd participated in every race.
"Some guys, like Gene, they want to keep the streak alive. For some, it's the annual 'I'm going to get in shape and see if I can do better than I did last time,'" Hagen said. "It's either kind of obsessive or it's just fun to keep on going and see if you can do it one more time."
Hagen said repeat runners participate for any number of reasons, from the joy of participating in an iconic community event to running in remembrance of a friend or family member.
Retired Ice Miller LLP partner Richard Parker ran 18 Mini-Marathons beginning in 1979, but he gave up distance running to concentrate on masters track sprint racing. He and Lausch lived in the same northside Indianapolis neighborhood, and though Parker had seen Lausch running many times, their paths didn't cross until many years later.

When Parker's daughter was attending St. Richard's Episcopal School, he began a track program in 1998 for fifth through eighth graders. A few years later, Lausch, whose wife, Carolyn, is an administrator at St. Richard's, joined Parker as a track coach at the school. Lausch trains the youngsters for distance events while Parker coaches sprints.
"We make a good team because Gene is a very, very quiet, unthreatening, very user-friendly kind of coach, and I'm a little more of the Bobby Knight kind of coach," Parker said. "He's one of the most thoughtful and considerate people I've known."
Lausch is particularly good with kids who may not be the most naturally gifted and may feel a little overwhelmed, Parker added.
"It's so neat to see them work together with the kids," said Mary Helen Peoni, co-athletic director at St. Richard's. "What I notice with Gene is he works with every level to try to get each child to the best of their ability.
"He has a way with kids to say, 'Here is where you started, and here is where you are now, and here is where we'd like you to be,'" Peoni said. "He's just so good with the kids."
Lausch's own kids have participated in half-marathons with him in the past, too. For Lausch, running offers rewards in addition to being an activity that promotes good health. He began running in his youth and competed in high school and college, and continued running later in life. "So when the Mini came along, it was a natural for me," he said.
 
Runners approach the Mini-Marathon's finish line. (Photo courtesy 500 Festival)
Running can clear the mind and help change ways of thinking. "I think it puts you in touch with nature, and it's a rhythmical activity from which I derive a lot of pleasure.
"I worked in local government, and there were days when I would come home and wonder, 'How is this issue going to work out?' and I discovered running is a way to deal with those issues," he said. "My wife would say, 'Why don't you go for a run?' It was a proxy statement for saying 'You're really in a disagreeable mood.'"
The pleasure of running a Mini-Marathon doesn't come without some pain. But even this can have rewards and lasting memories.
Lausch recalls the early Mini-Marathon route that until 1993 covered a less-scenic section of 16th Street east of the Speedway marked by commercial and industrial buildings, decrepit houses and vacant lots.
"I liked the 16th Street segment because to me it represented the essence of the Mini-Marathon; it was the part where runners had to 'dig down' and keep it going. It was the part of the race where spirit and resolve might slacken, where runners were tested," Lausch recalled.
"The gritty part of the race came in a gritty part of town; it is where I enjoyed summoning my will and pushing harder."•
Please enable JavaScript to view this content.