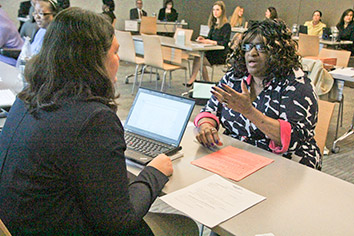 Attorney volunteers offered their services during a pro bono clinic at Eskenazi Health in Indianapolis to give patients a little peace of mind.
The Wills and Advanced Legal Aid Clinic, open for four hours on April 9, assisted 17 individuals in filling out wills, powers of attorney, health care directives, living wills and other planning documents. Sixteen attorneys from Faegre Baker Daniels LLP and Eli Lilly and Co. along with six paralegals and notaries donated their time for the event.
Anna Kirkman, associate counsel and director of the Medical Legal Partnership at Eskenazi Health, said assisting patients with their end of life planning not only empowers them but also helps the entire family. Relatives know the patient's wishes, which can make difficult decisions easier.
A survey of the people who participated in the clinic indicated the legal assistance was needed. A majority said they would not have had an opportunity to complete these documents without the clinic, and they said knowing their wills and health care wishes were on paper greatly reduced their stress.
The biggest goal for the clinic was providing access, Kirkman said. Patients and employees were encouraged to participate whether coming to the clinic with an appointment or as a walk-in. Paralegals even visited the hospital's waiting rooms to let patients know about the pro bono service.
The wills clinic traces its roots to the partnership that was formed with a group of female attorneys from Faegre Baker Daniels LLP, which began with providing legal services to female cancer patients in the hospital's EMBRACE program. Soon, more attorneys got involved and the program was expanded to the oncology and burn units.
In April 2014, the first wills clinic was held at Eskenazi. Kirkman hopes the advanced planning legal aid is offered every year.•
 
Please enable JavaScript to view this content.