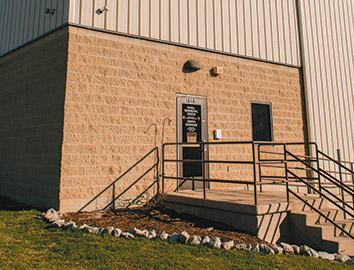 Alan E. Cain drove on a forfeited license in March 2013, a probation violation that landed him in an Indianapolis work-release program. Sixteen days later, he was dead.
Cain, 41, was attacked – punched in the side of the head by another work-release resident, Joseph Motley. After Cain's head hit the concrete floor of the Duvall Residential Center, a federal lawsuit says, contract security guards took "a significant period of time" to respond and transport him to the hospital. Several days later, he died from blunt-force trauma injuries.
Moreover, the suit asserts, Cain's attacker never should have been there.
Cain's daughters, Chelsea and Alana Cain, filed their lawsuit March 19. Their complaint names as defendants the city of Indianapolis, Marion County, the Marion County Sheriff's Department, Marion County Community Corrections, Motley and security guard contractor Securatex Ltd.
The governmental entities had a duty to protect Cain while he was in custody and to ensure that Duvall Center only housed non-violent offenders, the suit says in asserting a claim that negligence resulted in a violation of Cain's protections against cruel and unusual punishment under the Eighth Amendment.
The suit also asserts a claim of negligent hiring, supervision and retention, alleging defendants "knew or should have known that they did not adequately staff and properly train security officers" at Duvall Center when the attack took place.
"Securatex failed to protect Alan E. Cain while he was at the Duvall Center, failed to protect him from attack by other offenders, failed to ensure that an adequate number of officers were assigned to the Duvall Center and failed to ensure those officers were properly trained and supervised," the suit claims.
Motley was at Duvall Center awaiting trial on two counts of intimidation and other charges and "had an extensive criminal history including a history of violence and therefore should not have been assigned to the Duvall Center," according to the suit.
Before he attacked Cain, court and prison records show Motley, 40, spent nearly his entire adult life incarcerated, serving six stints in the Department of Correction beginning with armed robbery convictions in 1991. He had done time for numerous drug and property crimes, and in 2004 he was judged to be a habitual offender when he was convicted of Class C felony forgery. He was sentenced to an aggregate 16 years in prison at that time but was released after five years, DOC records show.
After attacking Cain, Motley was charged with Class B felony aggravated battery and again the state sought a habitual offender finding. When Cain died, Motley also was charged with murder, but the state dropped that charge in a plea bargain, sentencing Motley to 16 years executed enhanced by 10 years for the habitual offender adjudication.
With credit, though, DOC projects Motley's release in less than seven years.
The Duvall Center houses 350 people serving work-release sentences in a dormitory setting in a secure warehouse-style building wedged between the industrial corridor of the 1900 block of Massachusetts Avenue and Interstate 70. It's one of three work-release centers in Marion County – the sort of facilities that are anticipated to expand as a result of criminal code revisions passed by the Indiana Legislature in recent years.
DOC is not a party to the lawsuit, and Motley was placed in work release by Marion County probation. But DOC spokesman Doug Garrison said placement in work release or community corrections is determined on a case-by-case basis.
"You wouldn't put someone who's a violent individual into a work-release program, but someone who's served time for a violent offense is not excluded," Garrison said.
Indianapolis refers to Duvall Center, opened in 2007, as "the primary facility for non-violent males who are serving work release." Residents are permitted to leave the facility for work or school and receive a variety of services aimed at reducing the risk of reoffending.
Attorney M. Edward Krause III of Cohen Garelick & Glazier P.C., who filed the case, declined to comment. Officials with Marion County Community Corrections, Indianapolis Office of Corporation Counsel, which represents municipal entities in litigation, and Securatex did not return calls seeking comment about the case.
The suit, Chelsea Cain, et al. v. City of Indianapolis, et al., 1:15-CV-461, is before Judge William T. Lawrence in the U.S. District Court for the Southern District of Indiana.•
Please enable JavaScript to view this content.