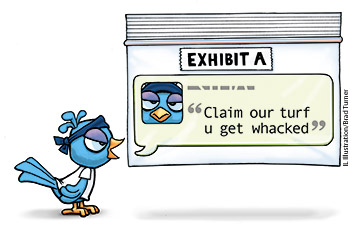 Donnell Wilson's murder convictions for shooting and killing two gang members in Gary relied in part on Twitter posts shown to a jury in which he bragged about having a gun and threatened to shoot rival gang members.
Wilson appealed his 2013 convictions and argued that his tweets should not have been admitted because a proper foundation hadn't been established. But that didn't wash with the Indiana Court of Appeals, which affirmed his convictions April 30.
"I thought it was really interesting that (Wilson's) girlfriend assisted in authenticating the Twitter account," said Frost Brown Todd LLC attorney Michele Lorbieski Anderson, who has written about getting social media admitted into evidence. The girlfriend's authentication, along with past posts that tended to associate Wilson with the account, was sufficient for admission.
"We are unaware of any cases in which an Indiana court has addressed the issue of authentication of social media posts," Court of Appeals Judge Cale Bradford wrote for the panel in Donnell D. Wilson v. State of Indiana, 45A03-1409-CR-317. "(We) think that taken together, the witness testimony identifying the Twitter account as belonging to Wilson and the content posted on the account, including pictures and gang references, are more than sufficient to authenticate the Twitter posts as being authored by Wilson."
The court pointed to Indiana Rule of Evidence 901(a) that says authentication of an item requires "evidence sufficient to support a finding that the item is what the proponent claims it is." The court also applied language from Fry v. State, 885 N.E.2d 742, 748 (Ind. Ct. App. 2008), trans. denied, in which the COA upheld the admission of cell phone records a defendant argued had not been authenticated. In that case, the court held, "Absolute proof of authenticity is not required."
Anderson said there are risks with social media that may not exist with other types of evidence such as photos or video recordings. It's easy to pose as someone else and create a social media account, for instance, or another person could gain access to someone's account and post using his or her identity.
The Indiana ruling in Wilson sets a lower standard for admission of social media evidence than some other states. "In other jurisdictions, courts are setting the bar pretty high," she said.
Anderson believes the standard for admitting social media "should be a little higher than the standard to authenticate a photograph," for example, in part because of the potential that an account or post could be fraudulent.
Oliver
Jim Oliver, chief of criminal law at the Indiana Prosecuting Attorneys Council, said the ruling clarifies the standard for authenticating social media. Since mid-April, he said, Ohio and Maryland courts have also addressed the issue. "They came to remarkably similar conclusions," Oliver said.
"Wilson was all about the admission of evidence and whether it gets past the gatekeeping function of the judge," he said. "It still has to be evaluated by the weight given to it by the jury.
"This ultimately stands for the proposition that circumstantial evidence can help authenticate an exhibit," said Oliver, who served as the elected prosecutor in Brown County for 16 years. "In the past, prosecutors may have felt hesitant to try to introduce social media evidence. Now, we have a clear statement that there aren't technical foundations for introducing this kind of evidence."
Anderson said some litigators have been loath to attempt to enter social media posts for fear of the hurdles they might encounter with authentication. Some jurisdictions require metadata or an affidavit from a provider such as Facebook or Twitter, which she said can be extremely difficult to obtain.
"More often than not, they're going to want a court order," she said.
Oliver said Indiana courts have dealt recently with text messages and videos found on cell phones and have come to similar conclusions as the COA did in Wilson, allowing the jury to consider the weight given to such evidence.
Naylor
Oliver and Chris Naylor, IPAC assistant executive director and the former elected Jefferson County prosecutor, said young people in gangs often use Facebook, Twitter, Instagram and other social media platforms to communicate.
The Legislature took note, amending the criminal gang sentencing statute effective July 2014. Under I.C. 35-50-2-15(g), the General Assembly added "communications authored by the person indicating criminal gang membership" as a condition that can be presented to a jury for possible sentence enhancement for gang-related crime.
"Moving forward, these are the kinds of elements that are going to be more relevant," Naylor said of social media content. "It was a good step by the Legislature."
Social media is likelier to be submitted for entry as evidence in criminal cases than in civil matters, Anderson said. Nevertheless, lawyers are wise to look at potential witnesses' social media footprints.
"As a matter of practice, I go online and find out whatever I can about that particular individual," she said. "You never know what you'll find."
Anderson is working on a case where social media is helping her track down people who worked in a doctor's office over the past decade or so, many of whom have since moved on. LinkedIn, the career-centered social network, has been a useful tool in finding people who list the office as a former employer.
Shrewd prosecutors and defense attorneys handling criminal cases also monitor social media as part of the background work of building a case. Oliver said social media is more useful as a tool for investigators than as make-or-break evidence that might sway a jury. But that could change as courts now appear more willing to admit the evidence at face value.
"We have certainly been using it for intelligence purposes for a long time, and I can only assume it will be offered in court more and more as well," he said. "So I think that the Wilson case and the cases that come after that certainly will define for us what evidence is sufficient to support authenticity."
Authorities also have federal precedent allowing police and investigators to create fake social media pages to collect evidence in criminal cases. A federal judge in New Jersey in December admitted evidence that FBI agents collected by creating fake Facebook and Instagram identities and connecting online with a suspected jewel thief.•
Please enable JavaScript to view this content.