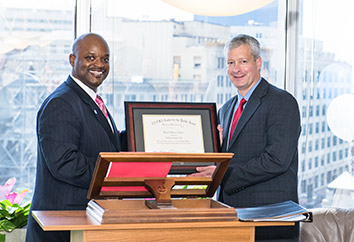 Lance Armstrong was on top of the world and one of the nation's most beloved athletes when the U.S. Anti-Doping Agency discovered he'd taken banned performance-enhancing substances that had helped him reign as king of competitive cycling.
Armstrong was an icon for millions, having conquered testicular cancer and climbed back to championship form, earning multiple Tour de France titles. His popularity extended to lucrative sponsorships ranging from Nike to the U.S. Postal Service, causing some media to condemn the doping allegations, arguing Armstrong was an athlete too big to fail.
That "was written a bit too soon," said William Bock III, Indianapolis attorney and U.S. Anti-Doping Agency general counsel. But such attitudes were common, complicating what Bock described as a "bet-the-company case" for the agency. USADA staffers received death threats from the cyclist's fans and condemnation even from members of Congress.
The agency realized pursuing a doping investigation of Armstrong "was to invite a counterattack more vicious than any Armstrong unleashed against any mountain in the Pyrenees," Bock said. The agency was accused of a vendetta against Armstrong, with the cyclist's handlers calling the investigation "an unconstitutional witch hunt to bring down an American hero."
But the USADA persevered, because failing to follow through with evidence of Armstrong's doping could ruin the agency's credibility. Bock said the resistance the agency faced on some level reinforced its resolve. "If the rules don't apply equally to all athletes, they're meaningless," he said.
Bock's role in the Armstrong investigation and others made him one of four people selected to receive an award from the National Association of State Boards of Accountancy Center for the Public Trust recognizing ethical leadership in the business and professional communities.
Bock, a partner at Kroger Gardis & Regas LLP, was presented the Being a Difference Award on May 5 for his work with the agency that protects the integrity of sports by ensuring athletes are not using banned substances to gain a competitive advantage.
"I'm much more of an ethical follower than an ethical leader," Bock said after receiving the award during a brief ceremony in the KGR offices. He said the award rightly belonged to the USADA as an organization, and he credited his family, faith and professional colleagues he said reinforced values of a "moral community."
"I'm deeply indebted to those I followed," he said.
Alongside his wife, Tracy, also an attorney, and four of their five children, Bock was joined by officers of the USADA who he said endured massive public pressure in the Armstrong case.
William Bock III, right, accepts the Being A Difference Award for professional ethics on May 5 from Alfonzo Alexander, president of the Center for Public Trust. Bock, a partner at Kroger Gardis & Regas LLP and general counsel for the U.S. Anti-Doping Agency, was commended for his work in the Lance Armstrong case and others involving the use of performance-enhancing substances by athletes. (IL Photo/Eric Learned)
Agency officials, Bock said, were "guided by an ethical compass. … Ethical decisions will not always be popular ones."
Center for the Public Trust President Alfonzo Alexander said the Armstrong case wasn't an isolated one. "We watched what was going on in the Lance Armstrong case and how strong the media onslaught was," he said. Bock and the agency, though, said they had to do what's right in this case, Alexander explained.
Beyond the Armstrong case, Alexander said the center found Bock had demonstrated a high level of ethical conduct throughout his career, meeting the criteria for the award given annually to a select few. "That really said, this guy is being a difference," Alexander added.
USADA Chief Executive Officer Travis Tygart was among officials who received death threats from Armstrong fans – including some who were prosecuted. Even in such tough cases, Tygart said Bock is "not going to be afraid to get down in the trenches and do what's right."
"One of our core values is courage," Tygart said. Pursuing the Armstrong investigation was "absolutely the right thing to do." He explained Bock could be a tough lawyer in arbitration with athletes but also could be compassionate in situations warranting a softer approach.
Bock said Tygart's determination in the Armstrong case was a courageous example of ethical decision-making in the face of personal risk. "Travis repeatedly said if we were not willing to bring the case forward, USADA should just close up shop because athletes would not be able to trust us to do the right thing anymore."
KGR partner James A. Knauer called Bock a worthy recipient of the award and said he is "one of the most honest and ethical persons I've ever known."
A 22-year veteran of KGR, Bock said firm namesakes Mac Kroger, John Gardis and Bill Regas also were part of his moral community. When he joined, those partners were still with the firm that Kroger and Gardis formed on a handshake in 1937. Bock said the firm's partners in his generation also provided an ethical measuring stick.
"The influence of peers is critical for athletes facing decisions about whether to break the rules and use performance-enhancing drugs, just as it is for each of us facing our own ethical decisions in business, law, government and every other profession," he said.
Also chosen as Being a Difference Award winners this year were Kevin Brown, president of Legacy Thinking Labs in New York; Jonathan Porter, human relations and ethics vice president for Alabama Power Co.; and John Sandoz, president of Bartlett, Ill.-based Adaptive Strategies Consulting.•
Please enable JavaScript to view this content.