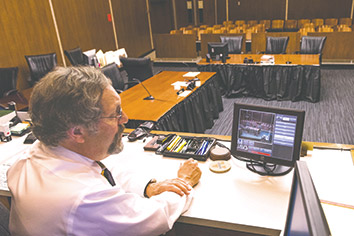 Transcripts generated by video cameras have had their day in court in Indiana. The verdict is in favor of keeping paper records.
The Indiana Supreme Court pulled the plug in December on a pilot project in which cameras recorded the official court transcripts in three courts in Allen, Marion and Tippecanoe counties. An internal report on the project was provided to the court, which discontinued the trial.
"There was not much enthusiasm among the appellate court and the appellate practitioners for implementing an audio-video record in place of a written transcript," said Dave Remondini, chief deputy executive director of the Indiana Supreme Court Division of State Court Administration.
Feedback from players involved in the project "was a large part of the basis for the decision not to go forward," he said. "Most appellate practitioners and law clerks found the audio-video records took longer, and I think I can say they unanimously preferred a transcript they could read more quickly and cite more easily."
Nevertheless, Remondini said the court considered the more than two-year-long trial worthwhile. "Clearly, we're not going to go forward with audio-video transcripts, but this inquiry did open our eyes to the day-to-day life of court reporters, and the (Supreme Court's) direction to us was really to find ways to make their lives easier."
The project was beneficial in other ways, too. "We did learn some very interesting things about using the audio-video equipment in a trial courtroom," he said. "This project will have a lot of echo effect."
Indiana Court of Appeals Judge Cale Bradford oversaw the pilot project and said a successful component was halving the time the state allows reporters to prepare transcripts, reducing the deadline to 45 days, closer to standards around the country.
Bradford said appellate lawyers believed AV transcripts could end up costing litigants more because reviewing the video and citing to it was burdensome. Court of Appeals clerks weren't enthusiastic about the video record either, he said.
"It didn't really bother me," Bradford said of video-transcript cases that came before him and designated COA Judges James Kirsch and Melissa May. "But it didn't really enhance my ability to do my job."
Stephen Creason, chief criminal counsel for the Indiana attorney general's office, said attorneys in the office reviewed about 30 appeals involving video transcripts. He estimated that if all criminal cases used video transcripts, it would require doubling the 26 lawyers in the office who defend criminal appeals.
"It's a lot quicker to read the transcript of what someone says than to sit down and watch it," Creason said. "When you got to a point where you wanted to be precise about what that witness was saying, you had to go back and rewind it and watch it several times," he said, noting attorneys ended up doing a fair amount of their own transcription while watching the court video.
"It's not a very efficient way of going through a trial transcript. We felt like the entire briefing process was of lesser quality and reliability than it would have been if we had paper transcripts," Creason said.
Trial court judges and lawyers, however, saw many pluses with the technology.
Boyer
Allen Superior Judge Nancy Eshcoff Boyer said lawyers in the civil trials in her court quickly adapted to and made use of the real-time benefits of the technology. For instance, some litigators would download the day's video and incorporate snippets of key testimony into their PowerPoint presentations during closing arguments.
"How much more compelling and persuasive is that than reading off a typed page?" Boyer said.
Likewise, Marion Superior Judge Mark Stoner said the technology is valuable in trial courts despite resistance from the appellate bar. Stoner and Boyer are retaining the systems installed during the pilot project and using them in various ways with the Supreme Court's permission.
"I think the Supreme Court got a pretty good idea it didn't work so well for the appellate bar and there's a lot of resistance to that," Stoner said. "If the appellate bar doesn't want it, it's not likely to happen."
 Marion Superior Judge Mark Stoner demonstrates the video recording system controls in his courtroom. (IL Photo/Eric Learned)
On the other hand, "technology is something new trial lawyers ought to be using because in so many ways it's cleaner, faster and just makes the point a whole lot better. … It would be a tragedy to take them out," Stoner said of the cameras in his criminal division court.
The system in his court is being used by trial advocacy classes from the Indiana University Robert H. McKinney School of Law to help students critique and sharpen their courtroom skills. "We do still have authority to tape actual trials," he said.
Appellate practitioners' concerns that they would have to watch entire trials to find key points on appeal are overblown, Stoner believes. He said consultation between trial and appellate counsel fairly easily could highlight where to cite in the video transcript.
Boyer said she's grateful the system will remain in her court, and not just because of opportunity for attorneys to use video in making their cases. She continues to use the system in her court just as she did during the pilot, only it's no longer the official transcript.
"I can't frankly see any downside to it," she said.
Because Boyer has hearing loss in one ear, she likes the system's superior audio clarity. "The court reporters really like it," she said. "It's easier for them to listen to the trial as they record. I think it's a great thing, and that's why we wanted to keep it."
Boyer agrees with Stoner that concerns about AV transcripts could be overcome. "There are only going to be so many critical areas in a trial that would be appealable," she said. She and Stoner also believed resistance to change may be motivating opposition to wider use of AV transcripts.
"They've been using it for (32) years in Kentucky," Boyer said. Then again, she added, "I'm not writing the appeal."
The systems are furnished by Jefferson Audio Video Systems of Louisville. JAVS also provides equipment for Kentucky's courts.
Tippecanoe Superior Judge Faith Graham's juvenile court also was equipped with a JAVS system, but it was removed after the pilot concluded. Graham said because the only AV transcripts generated in her court were from termination of parental rights cases, the court couldn't justify the cost. Her court already had AV capability, so keeping another would have been duplicative, she said.
Graham
At the end of the pilot, courts were given the option of keeping or relinquishing the AV systems, installed for a total cost to the state of about $56,000, Remondini said. But counties are responsible for maintenance and ongoing costs now that the pilot's over.
"I would say at first the attorneys struggled a bit with the change, as is common," Graham said. "The feedback I received was sometimes it was difficult for them to prepare briefs, and they had some difficulty in finding a piece of evidence they were looking for."
Graham and Stoner said the system automatically switched to whichever person was talking at a particular time, which could be disorienting when more than one person spoke. But the judges were able to control cameras to alleviate some of that. Graham said she locked the camera on the witness stand, and Stoner said that's what he did most of the time, too.
Mark Decker, vice president of sales for JAVS, said officials in Kosciusko and Vanderburgh counties are looking into possible purchases of systems. He said the courts in Allen County and Marion County have agreed to serve as demonstration sites for county courts and other entities that may have an interest in the technology.•
Please enable JavaScript to view this content.