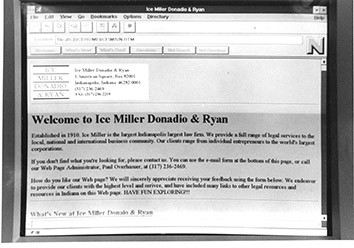 Twenty-five years ago, people needing legal help either met with an attorney face-to-face or made a phone call. Person-to-person, they explained their problems and made up their minds if the lawyer had the answers.
Today, when picking a lawyer, clients first visit the Internet. Even if they have a referral from a trusted friend or business associate, clients click on websites before they call and talk to the attorney.
Lawyers and their offices have responded by staking out their own properties in cyberspace. Law firms of all sizes are taking advantage of the Internet to introduce their attorneys, highlight their practice areas and show off their expertise, all in an effort to cultivate and keep clients.
These sites require daily upkeep. Some firms tweak their Web content multiple times a day, updating the information to make sure clients and potential clients can find them.
Not having complete information or the latest developments on the websites could have the same impact as ignoring a client's phone call.
"I think we'd miss opportunities," said Melanie Green, chief client development officer at Faegre Baker Daniels LLP.
She explained the world is constantly evolving so the firm has to continually update and add relevant content to its website. Clients might surf right over Faegre Baker Daniels, thinking the firm cannot help them.
No brochures
 Today, law firms use more graphics and photos to connect with potential clients.
Presentation matters, so the content on a Web page can no longer be a stagnant, word-laden sea of gray. To lure and show readers how their attorneys can help, law firms enhance their pages with pictures, graphics and videos.
In terms of content, less is truly more, Green said.
Blocks of text are divided by subheads and often the information is presented in a bulleted form or as a list because people tend to scan, rather than read, Internet pages.
According to Pardot's market study, "2013 State of Demand Generation Report," 76 percent of business-to-business consumers return to Google as many as three times to research a specific topic. Moreover, 77 percent of consumers want different information at each stage of their search.
Ice Miller LLP builds its website to address a client's question early with relevant and valuable content. Then, said Katie Gilmore, marketing and business development director at Ice Miller, the firm provides more-detailed content as clients search deeper into the site.
For example, the firm might post sections in its blogs of a new publication by its lawyers and then give a link to the guide for readers who want more information.
The goal, Gilmore said, is to show clients the firm has the legal knowledge to address their problems.
Building relationships
Firms also are using their websites to demonstrate their attorneys are thought-leaders in their practice areas. Since people are making decisions based on what they read about the lawyers, the websites have to start building the foundation for the client-attorney relationship.
Attorney biographies receive the most traffic on the Faegre Baker Daniels' website, Green said. But more than listing the lawyers' areas of expertise, the bios also tell something personal about them, like their family life or hobbies.
Clients like to know whom they are going to be working with, Green said. They spend time with their lawyers so, on the website, these attorneys need to let their personalities show.
James Reed, partner at Bingham Greenebaum Doll LLP, said relationships are at the heart of that Internet searching and researching. Clients want attorneys they can get to know on a personal level.
The content on the website must not only introduce the attorneys, he said, but also give an assurance these lawyers understand the clients' problems and can help them find a solution.
New mobility
Law firms, like all companies with an Internet presence, must be able to adjust and adapt their websites for people on the go. Clients and potential clients increasingly are accessing the Internet through their smartphones, laptops and tablets.
Web pages have to download quickly and be easily navigated on a small screen. Web designers have to evaluate the sites in terms of how individuals are using their mobile devices and reading the information.
The Pew Research Center did a study of mobile technology in January 2014 and found that 90 percent of American adults owned a cellphone while 42 percent owned a tablet computer.
Of the cellphone owners, 60 percent said they used their devices to access the Internet.
Whether the page is accessed on a desktop computer or a mobile device, the content still has to be broken into smaller chunks to accommodate people scanning through the information, Gilmore said.
Ron Brumbarger, president and CEO of BitWise Solutions Inc. in Carmel, leaped on the Internet wave just as it was starting 25 years ago and has built websites for a variety of clients, including Ice Miller and other law firms. Brumbarger believes firms should incorporate technological capabilities into their websites.
He thinks lawyers could benefit from expanding their websites' features to allow clients to fill out and file forms or to pay bills. Clients would hit "Submit," sending the completed document to the firm and enabling attorneys to reduce what he called their paper-swapping duties.
Yet, having worked with law firms on websites, Brumbarger does not expect a quick embrace of new technology. He said the big difference between working on a law firm website and working on a website for another business is that the firms have lots of partners and lots of politics, which makes for a slower decision-making process.
"They are a tough breed to change," he said.•
Please enable JavaScript to view this content.