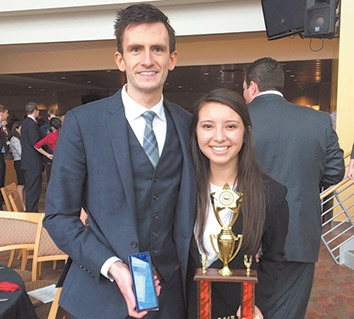 Dawson Robinson remembers getting the shocking news that his mock trial coach, mentor and friend Drew Haase had died at age 31. "My heart dropped," the rising University of Notre Dame senior said.
Haase died on April 1, just 16 days before his beloved Fighting Irish were to make their first appearance in five years at the American Mock Trial Association national championship tournament. Haase's cause of death is pending autopsy results.
"One of my first thoughts was, 'How can we go on from here?' We've just lost our mentor, our leader, the heart and soul of this team," said Melange Gavin, a rising junior and member of the Notre Dame mock trial team. But she said that thought was fleeting. "It would be an insult to his memory if we didn't go through with it."
The team surprised, Gavin said, earning an honorable mention among the 48 teams in a tournament ultimately decided by a Harvard championship victory over Yale. Robinson was named an All-American and received the first perfect score in national tournament history, as did another mock trial lawyer from the University of Washington, tying for top individual honors.
"I was just in shock. I couldn't move," Robinson said upon learning of his score. "Finally I got up, and I was fighting back tears just thinking of my coach. … There is absolutely no chance I could have won that award had Drew not been my coach."
Haase's mother, Kelly Haase, and his girlfriend, Jessica Welborn, made the trip to Cincinnati to watch the Notre Dame team compete in Haase's honor. "Drew was beyond proud when Notre Dame qualified for the nationals," Kelly Haase said. "He was beaming with pride for the team and their accomplishments.
"Unfortunately, after Drew's unexpected and untimely passing, he was unable to be with his team as they prepared for and competed at nationals. Instead, the team took it upon themselves to 'Do what Drew would do,'" she said. "They worked hard, and they did it for Drew."
Lifelong passion
Kelly Haase remembers her son competing in mock trial for the first time in Grade 6. Every year after, from high school through Notre Dame as an undergrad and at Notre Dame Law School, Haase sharpened his trial advocacy skills in the competitions.
Haase became sharp enough to work for several years at the Chicago big-law firm Jenner & Block. Last year, he chose to come back to South Bend to serve as a law clerk for Judge Jon DeGuilio in the U.S. District Court for the Northern District of Indiana. Haase also joined the Notre Dame Law faculty as an adjunct professor, but the mock trial team remained special to him.
"His love of Notre Dame and his love of teaching drew him back as much as anything," DeGuilio said. "You could tell when you talked with him about his classes or mock trial competitions over the weekend how much he loved teaching and being around students and the sense of satisfaction he got when he saw them progressing in their skills."
DeGuilio said Haase was everything he could ask for in a law clerk – an excellent legal mind, conscientious, sincere and a pleasure to be around.
Welborn said she's adjusting to life without the person with whom she had planned her future. But she recalls how Haase carried himself with poise and confidence and how he selflessly devoted his time to coaching the mock trial team. "It truly, truly was his passion," she said.
"I think Drew saw a lot of himself in those kids. He actually included me in so much of it, and it was my absolute joy to see Drew coaching the kids," Welborn said.
Rallying around
Krista Pikus had been the mock trial team's teaching assistant and was finishing up her third year at Notre Dame Law School when she received word that Haase had died.
 Drew Haase, 31, died April 1, just 16 days before his Irish Mock Trial team was bound for its first national championship appearance in five years.
"I was just in utter shock," she said. "It was a difficult situation. For one, we were overwhelmed with so much emotion, and you needed to process it, and at the same time … I was nervous about it because finals were coming up."
But Pikus, who herself has a long involvement with mock trial, said she had to make time to help the team prepare to compete in Haase's honor. "Given the situation, this had to be the top priority," she said.
"I think Drew had them trained very well," Pikus said. "Personally, I never had a thought that the team couldn't do it; I think it was just going to be a stressful couple of weeks for us."
Gavin said the team rallied and became stronger as the competition neared. "We were very much considered underdogs," said Gavin, who expects to compete in mock trial in coming years. She said the results were exciting for the program.
"It's definitely important to note the incredible effort Drew put into our team and into our school," she said. "It's a huge testimony to his character and leadership."
Lasting legacy
Haase had his own mock trial heyday, competing on an Irish team in 2004 that combined a rare Top 10 national finish with the Spirit of the AMTA Award for exemplifying the highest professional standards. At the time, Haase wrote:
"In the seasons to come, Notre Dame hopes to continue this tradition that has been established – being competitive in tournament, but never losing focus on what is truly important: honesty, fair play, civility and sportsmanship."
Haase "loved to win, but at the same time, he made sure I and everybody on the team realized what this was all about," Robinson said. "It's all about forming the skills of representation … developing the skills that will allow you to be somebody's spokesman before the law."
Taft Stettinius & Hollister LLP partner Thomas Barnard's son, Doug, and Robinson have been friends for years and room together at Notre Dame. Barnard said Robinson will walk into law school with a sharp understanding of the rules of evidence and experience with public speaking in pressure-packed situations. Of Haase, Barnard said, "It's remarkable he committed so much time to this team."
 Members of the University of Notre Dame Mock Trial team pose after an emotional national championship experience in Cincinnati. From left are team members Cole Wintheiser, Brendan Besh, Grace McCormack, Ben Gunning, Dawson Robinson, Melange Gavin, Sarah Koop, Ryan Rizzuto, Melchior Perella-Savarese, Erin Nguyen, and teaching assistant Krista Pikus. A third-year law student at Notre Dame, Pikus took over coaching responsibilities after the death of Drew Haase. (Photos courtesy of Dawson Robinson)
Gavin said her exposure to mock trial has been an epiphany. Haase, she said, "opened my eyes to a completely new activity that I didn't even know existed. … I want to become a lawyer someday, and that's 100 percent because of him."
At the national competition a few weeks back, the honor Haase's 2004 team received, the Spirit of the AMTA Award, was renamed. Going forward, the team best reflecting the ideals of fair play, civility and sportsmanship will receive the Drew Ryan Haase Award.
"It was evident while watching the team during the trials at nationals, that the team exemplified Drew in their command of the law," Kelly Haase said. "They also exemplified Drew beyond the classroom … with goodness, kindness, respect, humor and grace.
"Those lessons hopefully will be carried throughout the lives of Drew's students," she said.•
Please enable JavaScript to view this content.