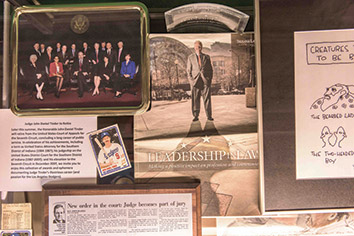 John Tinder has a prestigious lifetime appointment on one of the nation's most influential federal courts. He serves alongside judges on the 7th Circuit Court of Appeals in Chicago who he says have had an outsized influence on American law for decades – a couple of whom remain active just shy of age 90.
But at 65, Tinder is walking away. He's submitted his final written opinions for circulation among panel judges, he said, and could be finished in just a couple of weeks.
"It's not an easy decision," he said in an interview. "On the other hand, I'm actually eager to trysomething else."
Tinder said the gravity of his decision a few months ago hit home when judges on the court presented him with a going-away memento: a signed placard bearing the court's seal. Among the kind words and well wishes jurists scribbled in black marker, most expressed regret — and a few disappointment — that Tinder was leaving after just eight years.
Tinder said the sentiments of his colleagues made him re-examine his decision. "I'm leaving a job I really enjoy," he said. He's hard-pressed to recall another federal judge who called it quits as soon as he or she reached retirement age.
"There's not a well-worn path from our court back to the private sector," he said in his chambers at the Birch Bayh Federal Courthouse in Indianapolis. But he has notions of things he hopes to do in a new phase of his career that will begin when he leaves the court, likely around mid-August.
"I kind of stay away from the term 'retirement,'" he said.
The right time
While Tinder's service on the 7th Circuit will end sooner than his colleagues would like, he said he feels a motivation to blaze a new trail.
"It would certainly be a great honor and privilege to continue," he said. "I have a sense, though, there's sort of a window that if I were to stay another five years, another 10 years, there would be less opportunity to do other things.
"You can wear out," Tinder said.
Before his eight years on the 7th Circuit, the Indianapolis native sat for 20 years as a federal judge on the U.S. District Court for the Southern District of Indiana. Before that, he served as the U.S. attorney for the Southern District, and he earlier worked a few years in private practice.
The notions he has in mind for his life after public service are general, but he knows what he probably won't be doing. "I can't see myself as a lawyer standing up in front of a judge or a panel of judges with my knees knocking to argue a case," Tinder said.
Next chapter
Tinder hasn't made any arrangements for post-bench work, but he expects to seek opportunities to assist parties with litigation consulting, compliance and arbitration. He's not sure whether he may go to work for a big firm or do something independently.
As a consultant, he figures his bench and prosecutorial experience could be of use in helping put together effective trial presentation, or deconstructing and analyzing complex events. While working on compliance issues, he said, sometimes people with expertise outside organizations can better see potential problems than insiders. And his bench experience would lend to arbitration if the matters were things he was interested in.
But that might not be all.
"There are some public interest things I might want to undertake, and I parked my First Amendment rights about 1987," he said.
Fond farewells
Old scrapbooks and personal keepsakes crowd Tinder's desk, behind which is a fine view of the south face of the Indiana War Memorial. He thumbs through photos of people with whom he's served. He points out fresh-faced young lawyers who clerked for him and went on to make names for themselves in the profession.
"It's been grand," he said with a smile.
A sense of Tinder's legacy is conveyed in the words of tribute from his 7th Circuit colleagues that are on display at the federal courthouse.
Judge Frank Easterbrook wrote, "We'll never forget both your wisdom and generosity in our mutual work." Judge Diane Sykes' sentiments were, "I'm grateful for your friendship and will miss your quick brilliance and wit." Judge Richard Posner said of Tinder, "Yours is the ideal judicial temperament, sagacity and graceful expression."
His way
Tinder leaving on his own terms seems fitting in some respects. After all, he's a judge on the Chicago-based Circuit Court who arrives for work most days at his chambers in Indianapolis. Often at the end of a 12-mile bicycle ride from home. Occasionally wearing gray socks with red, white, blue and black dots. And yes, he's worn those socks on the bench.
As he fruitlessly scoured half-empty desk drawers for memorabilia from his beloved Los Angeles Dodgers, Tinder recalled the time an Indianapolis News sports editor slipped his name into the fine print of a Dodgers box score. The sneaky scoreboard page record's not bad for a judge called on to pinch-hit: one hit in one at bat.
"That's the closest I ever came to fraud," Tinder quipped.
Tinder said he's viewed his role on the 7th Circuit as coming to court prepared for as many as six arguments in a day and being willing to listen to arguments he may not have considered.
"You try to do a good job on every piece of work that goes out with your name on it," he said. He may have learned that from his father, John G. Tinder, who was a Marion County prosecutor.
"Dad had, of course, a big role in the legal community here," Tinder said. "His nickname was 'Honest John' Tinder. You feel you have to step up to that."•
Please enable JavaScript to view this content.