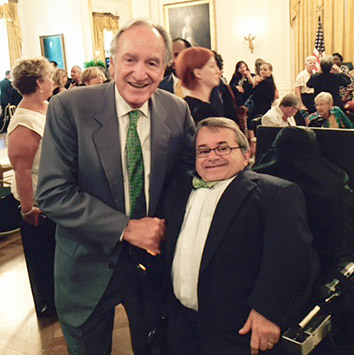 Indianapolis attorney Greg Fehribach remembers July 26, 1990, as a hot, albeit electrifying, day at the White House. It was the day President George H. W. Bush signed the Americans with Disabilities Act into law.
Also known as the largest civil rights act in the U.S., the ADA prohibits discrimination based on disability.
"It's analogous to the Civil Rights Act of 1964," said Fehribach, of counsel at Doninger Tuohy & Bailey LLP and founder of The Fehribach Group.
"The country always had civil rights, (and) we tried to protect civil rights for people of color in the beginning of it. But along with that came race, women, religion, et cetera. The problem was, it did not address people with disabilities."
The ADA was introduced in 1988 by Sen. Tom Harkin, D-Iowa, who also authored the final version. During this time, Fehribach made his mark in Washington, D.C., by giving testimonies and going through hearings in an attempt to ease worries that the bill would end up costing a great deal of money. He believed it would instead leave a positive, lasting effect, and he was right.
Initially, so many people were apprehensive about the ADA's impact that its first enactment date was set a year and a half after it was signed in 1990. Despite the delay, Fehribach still looks back on that hot summer day with fond memories.
"It was quite remarkable," Fehribach said. "The entire South lawn (of the White House) was full of folks from all over with disabilities. It was a huge crowd and it was extremely festive. … It seemed as if everybody was very excited."
Since then, Fehribach has made it a priority to improve accessibility issues around the state. In Indianapolis, places his impact can be seen and felt include Bankers Life Fieldhouse, Lucas Oil Stadium, Victory Field, the Indiana State Museum, Central Library and the JW Marriott. According to Fehribach, it all comes down to a sense of inclusion.
"Friends and families go with each other to events," Fehribach said. "When I was (young), we didn't get to sit with each other. The ability to sit and enjoy a football game, or baseball game or racecar event where you were fully included in that process is something we started here in Indianapolis. Our work here has been not so much the building of ramps or spaces, it's the ability (to build) an inclusive society that allows us to fully go into a facility, get a concession, use the bathroom, hang out with friends and family … and just enjoy the venue like everybody else."
Juli Paini, former director of the Indianapolis Office of Disability Affairs, worked with Fehribach on implementing ADA standards. In 2012, the two attorneys helped create the most accessible Super Bowl ever held.
"To have accessibility be part of the host community was really something unique and significant for Indy," Paini said.
Gossett
Fehribach and Paini's access efforts have not been overlooked. Katrina Gossett, associate at Faegre Baker Daniels LLP, has noticed the local improvements and appreciates the change.
"Living downtown, I feel like a lot of changes (are) taking place, especially through design and making (places) more accessible for wheelchairs," Gossett said. "It's great for everybody. It's not just beneficial for those with disabilities. Improved access can benefit everyone."
Although Gossett was a child when the ADA was passed, she continues to appreciate what it stands for.
"I've been here (Indianapolis) my entire life," Gossett said. "I haven't lived much of my life not under the ADA, but it came in at a very good time for me. I got access to education and opportunities that allowed me to practice law."
On the other hand, Fehribach recalls job prospects being quite different as he entered the workforce.
"I began to practice law in 1986, and in 1986 you could discriminate against me," Fehribach said.
So, in addition to being of aid in the passing of the ADA, he also coordinated the Disability Project at Ball State University. Founded by Fehribach in 2009, the project "helps identify, address and eliminate the barriers to employment that college educated people with disabilities often face." In addition to connecting students with private and not-for-profit sectors, the project focuses on inspiring students to be more independent and self-reliant.
Paini also sees employment as a necessary focus within the disability community, especially because people with disabilities often require additional income for everyday means such as transportation and housing. Paini and Fehribach say providing job opportunities to those with disabilities will help the economy.
"We all experience the consequences when 20 percent of the population (is) excluded," Paini said. "Anyone can develop a disability at any time, (and) it's in our best interest to include everyone."
Although employment issues have been recognized, they're still far from being fully resolved. According to Fehribach, only 17 percent of people with disabilities in America have jobs that allow them to live equally in society.
"The poverty level of people with disabilities is huge," Fehribach said.
And, there's the issue of transportation.
"If I could wave a magic wand and say one thing that needs to be created better for people with disabilities, (it's) transportation," Fehribach said. "Transportation is the biggest barrier in Indianapolis and central Indiana."
"As we're talking about transportation, we need to make sure that people with disabilities are part of the conversation, especially technology wise," echoed Paini. "As we have those discussions, we need to be mindful of where there are still gaps in access so that we can be very strategic and mindful about design and infrastructure."
Despite improvements that still need to be made, the ADA has come a long way. Last month, Fehribach found himself at the White House again, but this time to celebrate the ADA's anniversary.
"It was reflective upon where we've come as a country and where we've come as individuals," Fehribach said.
As he looks forward, Fehribach plans to continue making improvements for people with disabilities. He's already seen success in the areas of architecture, construction and space inclusion, but with additional efforts he'll continue to see more.
"A lot of people think, the ADA is 25 years old, we've answered all the questions," Fehribach said. Not yet.•
Please enable JavaScript to view this content.