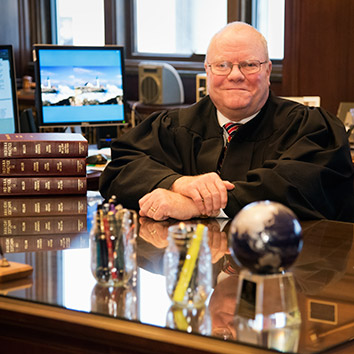 At one point in the heated trademark infringement dispute between AM General and DaimlerChrysler, a section of a South Bend parking garage was commandeered for a display of the vehicles at the center of the fight.
The SUVs were backed into the parking spaces to display their front grilles. Already the courtroom of Judge Robert Miller Jr. was crowded with easels holding various designs of the auto parts, but still the judge stepped down from the bench and went to the nearby garage to walk through the row of vehicles with a group of attorneys trailing behind him.
"That's an example of the lengths Judge Miller goes to understand the subject matter of what's coming before him," said Barnes & Thornburg LLP partner Timothy Abeska, who was one of the lawyers in the dispute.
The grille case, AM General Corp., et al. v. DaimlerChrysler Corp., is a highlight in Miller's career that includes nearly 30 years serving as a judge in the U.S. District Court for the Northern District of Indiana. On Jan. 30, 2016, Miller will celebrate the anniversary of his swearing-in ceremony held in 1986, and on Jan. 11, he will hit another milestone when he takes senior status.
With the exception of the year he spent clerking for the late U.S. District Judge Robert Grant, Miller has spent his entire working life wielding a gavel. He served for 11 years in St. Joseph Superior Court before his appointment to the federal bench.
Miller is noted for his calm demeanor, thoughtful judicial reasoning and respectful treatment of everyone who walks into his courtroom. He has presided over criminal matters, civil disputes and multidistrict litigation. He also wrote go-to references for Hoosier lawyers – the Courtroom Handbook on Indiana Evidence, and the multi-volume Indiana Evidence.
David Capp, U.S. Attorney for the Northern District of Indiana, was a newly hired assistant U.S. attorney when he first faced Miller in federal court. In fact, the judge had not been on the bench for one full business day before he was presiding over a criminal trial Capp was prosecuting.
The attorney described Miller as an outstanding trial judge.
"I think everybody in my office and every private attorney would agree, they like to practice in Judge Miller's courtroom because of his temperament, his attention to detail and his thorough knowledge of the law," Capp said.
No interest in law
The son of an attorney and state court judge, Miller was certain of one thing when he began his undergraduate studies at Northwestern University – he did not want to become a lawyer. Such a sentiment was planted and nurtured on the Saturday mornings a very young Miller had to spend in his father's law office.
"There's no place more boring," Miller said.
However, he was equally uncertain about what he wanted to study and ended up changing his major three times during his first quarter. When graduation arrived, he did not feel prepared to do anything other than continue his education, so he enrolled at Indiana University Robert H. McKinney School of Law.
There he discovered an affinity for the law and the critical-thinking skills the practice requires.
Miller was prompted to become a judge by the change in St. Joseph County's judicial selection process. He added his name to the list of potential candidates and, to his surprise, Gov. Otis Bowen picked him in 1975.
About midway through his tenure in state court, Miller was assigned a sensational murder case transferred from LaPorte County. A 19-year-old man had confessed three times to killing and dismembering the son of a police officer in a drug deal gone bad.
Newby Lewis Kaminski & Jones LLP partner Martin Kus defended the accused with the argument that someone else was responsible for the crime. The two-week trial was emotional and tense.
Then came a hiccup. A juror told a bailiff she'd had a dream that identified the culprit. Miller called the defense and prosecuting attorneys into his chambers and spelled out the situation.
Although he wanted to know who the dream pointed to, Kus did not ask and neither did the prosecutor. In the end, Miller and the parties decided to continue the trial that ended in an acquittal for the defendant.
At that time, Kus witnessed Miller's skills and analytical ability to sort through difficult issues. He called Miller a "lawyer's judge" because his legal analysis confronts the law and anticipates the direction it's headed, but he doesn't make new law.
Good luck wishes
Becoming a senior judge likely will not diminish Miller's workload. He is in the middle of multidistrict litigation over Biomet's hip implant products, and earlier this month he was assigned to handle the MDL over the data breach involving Medical Informatics Engineering in Fort Wayne.
However, with senior status, he will have more control over his docket. Miller plans to take a break from the "gun and drug" criminal cases.
"Frankly, they're getting harder," he said. "I can't say why, but somehow they're getting more difficult."
Shortly after Miller was appointed to the federal bench, Congress started taking a harder stance toward crime and established mandatory minimum sentences. He, like many other federal judges, did not like the new guidelines because the punishments seemed harsher than what was needed.
Still, Miller followed the law, imposed the sentences and tried not to think too much about it.
"I think a lot of it is just accepting," he said. "I'm not out there trying to judge a defendant as a human being or to look into their soul. I'm just trying to look under a set of facts what is a reasonable sentence under the law. It is a lot easier to do that if you don't then ask whether the law is reasonable."
When sentencing, Miller always gave the defendant time to speak then thanked the individual and wished him or her good luck. That kind of respect also carries over into his written opinions where he forgoes the legalese in favor of plain English.
Miller learned the value of writing in common language from Judge Grant. Miller writes in plain English so the litigants know he understood their arguments and did not ignore their concerns.
"At the end of the day, there are winners and losers," Kus said. "It's very hard sometimes for your client to get negative news from the court but the way it's delivered helps."
In the AM General grille case, Miller paid attention to the delivery.
He denied DaimlerChrysler's motion for preliminary injunction, finding the automaker did not show the court that the front-end grille of the Hummer infringed on a similar-looking grille outfitted on a line of Jeep SUVs. The 7th Circuit Court of Appeals affirmed in 2002.
But after he rendered his ruling, Miller again stepped down from the bench and this time shook all the attorneys' hands, complimenting them on their hard work.
Thinking back on that case, Miller acknowledged he learned a lot about grilles.
"Twice as much as I ever though possible," he chuckled.•
Please enable JavaScript to view this content.