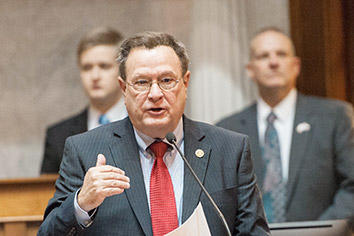 A federal appeals court rocked the Marion County court system last fall when it quashed its unusual judicial election process, saying it burdened the right to cast a meaningful vote.
Now the court's fate is in the hands of lawmakers, who will get a crack at replacing the election system the federal judges ruled unconstitutional. But it's unclear whether the issue will gain enough traction to be tackled this spring in what is a crowded, short session of the Indiana General Assembly.
At issue is how to balance the goals of having a qualified, impartial bench while giving voters a meaningful role in the process.
"There's never one system that everyone lands on and goes, 'Ah-ha,' and makes everyone happy," said Marion Superior Judge Timothy Oakes. "Do you want [judges] to make decisions based purely on the law, or do you want them to be accountable to voters, which brings a shadow to their independence?"
The only thing clear now is that Marion County is scrapping a system the 7th Circuit Court of Appeals said didn't exist anywhere else.
Here's how it worked: Judicial candidates were endorsed, or "slated," by the major political parties after paying the party a slating fee, which typically cost more than $10,000. People who ran against the party's endorsed candidates in the primary almost never won.
In the general election, the parties would run equal numbers of candidates – and just enough in total to fill the open seats. The partisan balance was a product of Watergate-era politics, designed to prevent total judicial bench turnover. (Republicans won all the seats in the 1970 election, only to be totally swept away by Democrats in 1974.)
Take the 2014 election as an example: Indianapolis voters technically elected 16 superior judges that day, but there was no real contest because eight Democrats and eight Republicans – all chosen in the May primary elections – appeared on the ballot unopposed.
"Someone who's not voting in the primary never had a say," said Joel Schumm, a professor at Indiana University Robert H. McKinney School of Law who recently taught a course on judicial selection processes.
Other ways to do it
Lawmakers can look across the state for a way to proceed: Most of the 92 counties use traditional, partisan elections to choose judges. Vanderburgh and Allen counties use non-partisan elections. And St. Joseph and Lake counties use a "merit-selection" process that has a committee vet candidates, with the governor making the appointment from a list of finalists.
State Sen. Mike Young, R-Indianapolis, is authoring legislation to revamp the way Marion County voters elect judges. Young wants to maintain a partisan balance in the system, but critics say that could run into legal issues. (IL Photo/Eric Learned)
Republican state Sen. Mike Young, a lawyer from Indianapolis who is the ranking member of the Senate Judiciary Committee, said he plans to file a bill that would establish a system that keeps partisan balance on the bench. But he declined to elaborate on specifics.
"We want to ensure we have a system similar to what we have now where the makeup of the judiciary we have is divided equally and that voters have a meaningful way to participate," Young said. "There won't be slating as we know it anymore."
But he said he's not keen on the idea of having a nominating commission recommend judges, especially without elected officials on the commission.
"Some people want to have all the power and not have voters have power in picking judges," Young said.
"Somebody has to pick them," he said. "I'd be more afraid of one person picking them than letting all the voters decide."
But Schumm said an election that required a balanced partisan outcome could end up running into similar legal issues.
"If his proposal is that there's an equal number of Democrats and Republicans that win, some of the candidates who get elected are not going to be the people who get the most votes," Schumm said. "I think there could be a legal challenge from voters who question how their vote counted if the candidates who win are not the ones with the most votes."
State Rep. Ed DeLaney, D-Indianapolis, said he appreciates Young's goal to have both parties represented but agreed the desire for a "50-50" split is a dilemma.
"I have been thinking about minimum seats for parties as opposed to equal seats, which would reflect more what the electorate is like," DeLaney said.
A merit system?
Good-government advocate Common Cause Indiana, which brought the original lawsuit questioning the constitutionality of the system, backs a merit-selection system.
"I think it's far less likely you get a bad judge as opposed to a winner-take-all election," said Julia Vaughn, the group's executive director.
Vaughn
Vaughn said she would advocate a merit system for the initial selection of a judge, followed later by a meaningful retention vote that required more than 50 percent of voters to cast a ballot to keep the judge on the bench. That way, she said, voters would still play a big role in deciding who stays and who goes.
"There should be surveys done of judges and a way for a public to understand, 'What kind of job are they doing?'" Vaughn said.
State appellate judges are chosen through a merit system and then face retention votes. Judges on the Indiana Court of Appeals and Indiana Supreme Court are almost never unseated under the system.
Still, retired Indiana Supreme Court Justice Ted Boehm said electing judges on a partisan basis means you "might as well elect your neurosurgeon."
"It ought to be in the hands of people who have a better understanding of what's required of a judge, who is not supposed to be a partisan or a policymaker," Boehm said. "Having the process be in the hands of the political party apparatus is exactly counterproductive in that respect."
However, partisan elections do tend to work well in smaller communities, Schumm said.
"People know who the candidates are," he said. "If someone is doing a good job, that person is going to get re-elected."
In some Republican-heavy counties, "judges who are Democrats get re-elected again and again," he said. "To me, the Democrat that gets elected in a Republican county suggests that voters are able to look past partisan labels for judicial races."
But he said Marion Superior Court is a little different, given the county's size.
The court's 36 judges typically resolve nearly 40,000 criminal cases, 200,000 traffic cases and 50,000 civil cases each year. That's 20 percent of all cases filed and disposed statewide – despite being one of 92 county court systems.
Schumm said Vanderburgh County's non-partisan election system has created a tricky situation in which candidates have to raise more money to inform voters about their positions on various issues.
"That money is going to come from lawyers," Schumm said. "It's a bad appearance at a minimum if you have lawyers appearing before judges who gave substantial contributions."
A two-year window
Indianapolis-area lawmakers say it's imperative that lawmakers establish a selection process now, because the next judges are due to be chosen in 2018.
House Speaker Brian Bosma, R-Indianapolis, said the issue is a priority for him but probably not for his caucus. "If we can get the right plan on the table, we will take a hard look," he said. "Personally, I'm a fan of merit selection. But there's a strong inkling for folks to elect."
But DeLaney said he is worried that the current session already has too much "heavy lifting" for lawmakers to tackle. "It's doubly tough when 91 of the counties have no direct interest in this," he said.
But Young said he would push the issue.
"We're going to do it this year," he said. "There's no reason to wait. It gives the judges more time to prepare for whatever system we have."•
 
Please enable JavaScript to view this content.