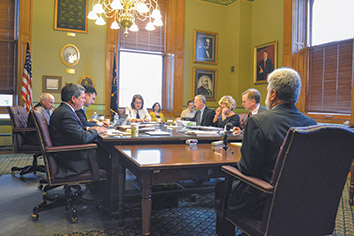 Two judges with extensive business litigation backgrounds and an Indianapolis appellate litigator were named finalists to succeed retiring Justice Brent Dickson on the Indiana Supreme Court.
After nearly six hours of deliberations March 4, the Indiana Judicial Nomination Commission selected St. Joseph Superior Judge Steven L. Hostetler, Boone Superior Judge Matthew C. Kincaid and Geoffrey G. Slaughter, partner at Taft Stettinius & Hollister LLP, Indianapolis, from among 15 semifinalists. Their names will be submitted to Gov. Mike Pence for his appointment within 60 days of receiving the JNC's report.
Here are highlights from the finalists' interviews before the commission on March 3 and 4.
Judge Steven L. Hostetler, St. Joseph Superior Court, South Bend
Judge Steven Hostetler told the commission he didn't entirely agree with the observation of U.S. Supreme Court Justice Thurgood Marshall that a judge should do what's right and let the law catch up. "We get in trouble many times when we try to decide what is right" when the law may dictate a different result, he said. He then was asked if his view of judicial restraint would have resulted in a different outcome than the U.S. Supreme Court's 1954 Brown v. Board of Education decision blocking segregation in schools.
Hostetler
"First of all, I would handle it the same as the court did in that case – you have to recognize the civil rights of everyone," he said. While he believes in judicial restraint, he said, "It would have been inappropriate to restrain the power of the court," and the court could not abdicate a responsibility in the case.
As a transactional and business lawyer for about 20 years before becoming a judge, Hostetler said he had seen more emotion in board rooms and conference rooms than he's seen in domestic relations cases. He said he had to learn to be neutral when he came to the bench. "I feel I'm a good listener," he said. "It's so important not just as a judge or as a Supreme Court justice, but in life."
He said he didn't believe a statute had to be terribly explicit to supersede common law. He said he would look to "why did the Legislature do what it did if it didn't mean to replace common law. I don't think that has to be expressed." He also said that justices "should not replace common law when it doesn't need to be replaced." In deciding close questions where a right isn't enumerated, he was asked whether he would likely recognize the right or allow the democratic process to decide. "I would have to say I am such of lover of human rights and freedoms I'm probably going to err on the side of recognizing" the right, he said.
Hostetler said he sees a growing rift between the judiciary and the general public. "We're drifting farther apart, and we're seeing that in the pro se legal problem" and with the public defender system. "I believe society depends on and needs a strong legal system."
Judge Matthew C. Kincaid, Boone Superior Court 1, Lebanon
Judge Matthew Kincaid was asked by Chief Justice Loretta Rush who the first three people he would call if he were appointed to the Supreme Court. He'd call his wife, his father (and mother), and a local lawyer and mentor. Kincaid said he's been blessed with mentors, including former Boone County jurist and now Justice Steven David. "I spent many years with him on the bench," Kincaid said. Asked how he'd fare if he had to dissent in an opinion, he said, "I'm not going to get pushed around by my mentor," though he'd listen to what he had to say.
Kincaid
Kincaid nuanced his view of the comment of Marshall – that a judge should do what is right and let the law catch up. "If he did say that and it was true for him, he's smarter than me," Kincaid said. Rather than determining what the law ought to be, he said, "it's hard enough to figure out what the law is."
Commission member Charles Berger asked, given his view of judicial interpretation, where Kincaid would have come down on the Brown v. Board decision.
"The justices understood the importance of what they were doing at the time," he said, describing it as revolutionary change. "I think it's honorable for the court to come together on important issues." Nevertheless, he said, "I think it's with great caution that we depart from precedent."
He said circumstances dictate when a court should find a specific legal issue not specifically mentioned in the Constitution or in case law. "We find our law in what the Legislature provides and what the Constitution provides," he said, but also in common law. "I think you can find those rights in places other than statutes."
Asked about times in his prior practice or on the bench when he's provided legal aid to someone who could not afford it, Kincaid said it happens on a daily basis in court when he has to decide who has a right to a court-appointed attorney. He said he errs on the side of providing an attorney in close cases. Legal representation, he said, "is the key to the adversarial system."
Geoffrey G. Slaughter, Taft Stettinius & Hollister LLP, Indianapolis
Geoffrey Slaughter said the next justice will have to help legal professionals through a tough time.
"No doubt the profession is going through profound changes," he said. For instance, the rise of services such as LegalZoom comes as many young lawyers can't find work. He said the problem of underserved litigants is one he sees as president of the Indiana Bar Foundation, and he's hopeful programs can evolve that connect litigants to lawyers and route lawyers who are "ambitious, hungry and eager to learn the practice of law, (and) send them to communities where their services are needed."
Slaughter
With a philosophy of textualism and originalism, Slaughter said the genius of the Framers was the recognition that times will change and people would respond to those changes. He said the U.S. Supreme Court correctly decided the Brown v. Board case when it ruled that Brown reflected the Equal Protection Clause of the 14th Amendment even as it disposed of 60 years of precedent. "They recognized the tension and it needed to be reconciled," he said.
Slaughter said he would be able to smoothly transition from his role as an advocate if appointed to the court. The judicial oath and black robe, he said, symbolize the different role the judge takes on. "I take seriously the importance of what the court does, the neutrality of those who serve as justices." He said the learning curve would probably be his biggest challenge transitioning to the court.
"A judge's most solemn obligation is to apply the law as it's been written by others to give the greatest fidelity to what the law is, as best we can discern," he said. In the case of a close call where the questions were equal, he said he would be willing to rely on empathy if it were the path of least resistance to a resolution. If it's not a close call, he said, "It seems to me the law needs to trump the value judgment."
Slaughter said he has signed up for e-filing and looks forward to using it, but admitted technology wasn't a strong suit. He noted he carries an iPhone with access to WestLaw and other legal services, though. "I'm comfortable with technology," he said. "If it's user-friendly, I can keep up with the best of them."•
Please enable JavaScript to view this content.