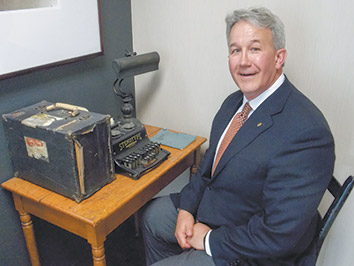 In certain situations, Tom Richardson will watch two attorneys in a deposition and will know one is going to get stuck with a bigger bill for the same service.
Richardson, president of Stewart Richardson Deposition Services, said national court reporting companies are shifting costs – and skirting the rules and ethics of the profession – by giving the lawyer who hires them a discount and making up for the loss by charging the opposing lawyer a much higher rate.
Local court reporting firms are caught in the middle because the national entities, Richardson said, will contract with local firms to do local jobs. The Indiana court reporters will then submit their invoices to the national firm that ultimately sets the prices and determines who pays what.
Local firms have no control over the final charges, which can be two to three times what they would normally bill.
Continuing on this path unchecked, Richardson believes individuals, especially plaintiffs who are often the ones getting the bigger bill, could become discouraged from pursuing their rights or seeking legal remedies.
"From my perspective, there's always a need for the best service, the best product, reliability, integrity," he said. "There's always a need for those kinds of people and the question then becomes from a justice standpoint, is … our case worth spending that amount."
The problem Richardson highlights is not new. Allegations of cost shifting and gift-giving have swirled around national court reporting firms for 20 years. Occasionally lawsuits have been filed against the big vendors to try to stop these practices, but usually victories at the trial level are overturned on appeal.
In February 2016, the latest salvo in this battle was launched in the state of Washington. A class action was filed against U.S. Legal Support Inc., charging the national firm violated the state's consumer protection act.
Richardson is hopeful if the Washington complaint is successful, the Indiana judiciary will take note and perhaps enact new rules that will curtail this practice.
He conceded stopping the national firms will likely take action from the courts or the Legislature. The local firms are ethically prohibited from colluding to deny services to the big companies, and pushing back individually could hurt them financially.
"I believe that in a perfect world that they would prefer not work for the national companies," Richardson said. "(But) when it comes to starving or working, you're going to work."
Turning into a commodity
The Washington lawsuit, Kendall Baker, et al. v. U.S. Legal Support, Inc., et al., 16-2-03910-3, argues that the national court-reporting company entered into exclusivity or bulk purchasing agreements with "institutional litigants" such as insurance companies and charged a higher rate to plaintiffs for services. In the complaint, the plaintiffs note, "Undisclosed, unequal rates and terms (between litigants to the same case and receiving the same reporting services) function as 'cost-shifting' mechanisms subsidizing part of the insurance carrier's litigation costs at the expense of injured individuals."
Other lawsuits and stories describe local charges being inflated so that one side will have to pay a couple of thousand dollars for a copy of a transcript while the other side is charged only a couple of hundred dollars.
A trio of lawsuits, informally consolidated under Adelson v. U.S. Legal Support, 10-12998, asserted the national court reporting firms were violating the Florida Deceptive and Unfair Trade Practices Act by overcharging for computer-generated indexes. The complaint estimated the amount exceeded $5 million.
Ultimately the case was dismissed.
Client companies that have entered into contracts with national court reporting firms are subsequently telling their attorneys to call the 800 number when they need to arrange a deposition. Personal relationships between local attorneys and local court reporters are being usurped.
James Connor of Connor Reporting said the trend is turning his profession into a commodity.
Indiana court reporters are concerned over what they see as unfair treatment of the parties. Many times, they have relationships with clients on both sides of the disputes, but working through a national firm, they have no control over how the attorneys are treated or billed.
"We don't want to do work for a national company, but we feel like we're forced to do it because if we don't, someone else will," said Rita Pratt, managing owner of Circle City Reporting.
Local companies say they have no choice because if they refuse to take a job, the national firms will contact court reporters individually. They may reach out to reporters working at local firms or independent reporters not connected with any one company.
Consequently, some maintain that requiring court reporters in Indiana to be certified would help tamp down on the national firms' ability to operate in the state. At present, anyone who has a tape recorder and can transcribe can work as a court reporter here. Requiring certification would shrink the pool of available reporters and better ensure the quality of the final work product, local companies say.
Anti-contracting statute
In an email, the National Court Reporters Association said it does not have a position on the Washington lawsuit or on cost shifting. However, it "absolutely supports the right of states to enact laws governing reporters in those states and that NCRA members should comply with those laws."
To Richardson, Indiana already has a law that prohibits this practice, the anti-contracting statute. National firms are violating Indiana Code 33-41-3, which bans court reporting services from entering into a contract with a person interested in the outcome of a litigation proceeding, he said.
The law was enacted during the O'Bannon administration specifically to stop national court reporting firms. But the companies have gotten around the statute by enlisting the local firms on a case-by-case basis rather than contracting with them.
Richardson said simply letting attorneys and national firms know this law is on the books might help. Also, he is pushing for a code of conduct like the one in Washington state that requires court reporters to offer equal services and fees to all parties.
Pratt interprets the anti-contracting statute more narrowly, believing the law bars contracts between attorneys and court reporters. A solution might be to cap the charges, she said. Limiting how high the national companies can mark up the costs could not only reduce cost shifting but also possibly force some national firms to quit doing business in Indiana because of the lower profit margin.
Richardson, a court reporter since 1975, holds to the ethical codes of his profession.
"We're here to serve," he said. "That's what we do and we want to give our clients and the citizens of this state the very best possible services in a way that we feel that we are living within the guidelines and ethical standards that are set forth, even on a national basis."•
Please enable JavaScript to view this content.