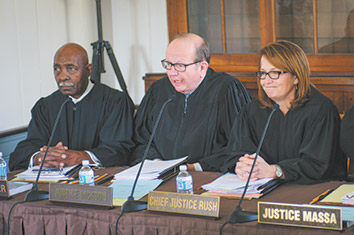 Indiana Supreme Court Justice Steven David posed a graphic hypothetical to an attorney defending a liability suit against a homeowner who hosted a party where a guest died after a fight. David's scenario encapsulated the justices' apparent concern over a trial court's grant of summary judgment in the homeowner's favor.
"If you're hosting a social party … a guest in your home falls down the stairs in front of you and collapses in front of you, and is visibly unconscious, and you see bones protruding, your position is that there is no legal duty of the host to dial 911," David posited to Fort Wayne attorney Jane Malloy. "Is that your position?"
"It is," Malloy replied, "because under the law, even knowledge of an injury does not give rise to a duty."
The case, F. John Rogers, as Personal Rep. of Paul Michalik, Deceased, and R. David Boyer, Trustee of the Estate of Jerry Lee Chambers v. Angela Martin and Brian Brothers, 02S05-1603-CT-00114, involves a dram shop liability claim. Angela Martin and her then-boyfriend Brian Brothers hosted a birthday party at which Paul Michalik was a guest with his partner, Jerry Lee Chambers. Michalik was involved in a fight with Brothers as the party wound down while Martin was asleep.
Brothers woke Martin to inform her Michalik was unconscious in the basement. After she checked on him and asked if he was OK, she went back to bed but asked Brothers and Chambers to make sure Michalik left, according to the record. Michalik was carried out of the house in Huntertown and later was found dead in the front yard. The Indiana Court of Appeals reversed the trial court and remanded for a trial, after which the Supreme Court granted transfer.
Several justices took exception to Malloy's interpretation of law and precedent during oral arguments April 20 at the historic Indiana Courthouse in Corydon. Chief Justice Loretta Rush acknowledged the argument marked the court's observation of Indiana's bicentennial and also was the final argument for retiring Justice Brent Dickson. Rush yielded to her predecessor as chief justice, who presided over his last of more than 1,400 arguments, during which he grilled Malloy.
Dickson cited Burrell v. Meads, 569 N.E.2d 637 (Ind. 1991) and Pfenning v. Lineman, 947 N.E.2d 392 (Ind. 2011), which both make the statement: "A landowner owes to an invitee or social guest 'a duty to exercise reasonable care for his protection while he is on the landowner's premises,'" Dickson said. "Isn't that the duty here that's reasonably breached?"
Malloy responded that the question of a duty to render aid to a social guest is a far different analysis than the duty of reasonable care that's rooted in premises liability law. She also cautioned against widening duties of social hosts.
"Of course in any case there are humanitarian concerns, but if humanitarian concerns were the benchmark here, then the duty to render aid would be the general rule and not the exception, and there would be no reason to limit this to social guests," she said, implying motorists could be held liable for failing to render aid to someone they see who is visibly injured, for example.
But plaintiffs' attorney Andrew Teel of Fort Wayne argued the case was clear cut, and Martin should have simply called 911 when she saw Michalik unresponsive. Teel said Michalik was a victim twice the night of the party, "once of a savage beating by a drunken Brian Brothers, and the second time by the callous indifference of Angela Martin. The question before the court today is whether (Martin) can escape all civil liability for her conduct despite providing the alcohol to Brian Paul Brothers and despite failing to render any manner of aid to Paul Michalik despite full knowledge of his condition."
But Dickson, David, Rush and Justice Mark Massa posed questions to Teel regarding facts that Brothers had purchased the alcohol and helped planned the party, and that there was commingling of funds between Martin and Brothers in Martin's account that Brothers had used to buy a keg of beer. "If we consider this (Brothers') beer, how can Angela be charged with or attributed to furnishing him his own beer?" Dickson asked.
Teel said on at least one occasion, Martin poured a pitcher of beer, delivered it to the basement, and placed it on a card table for Brothers and guests. But Malloy said this does not meet the requirement for dram shop liability in Indiana Code 7.1-5-10-15.5, which requires that someone furnish or provide alcohol to a visibly intoxicated person.
Justices spent less time with the issue of control, returning repeatedly to a duty of reasonable care analysis.
"What is wrong with simply imposing upon (social hosts) the possibility of liability for failing to call (911)?" Massa asked Malloy. "The question is, as a matter of law, can it at least be possible for a jury to find a breach of a duty of reasonable care for failure to pick up a phone and call?"
Malloy said she didn't believe so in this case, relying on Restatement of Torts language that relieves a host of liability when a person is left in the care of someone else, and in this case, that would have been Chambers. Justice Robert Rucker seized on this line of defense.
"Wouldn't that be for a jury to determine?" Rucker asked. "That's a great jury argument … but as a matter of law, why would you want to cut off the jury from making that determination?" Malloy again cited the Restatement language.
Dickson questioned Malloy's reliance on the Restatement of Torts that he said are recommendations not binding on the Supreme Court. "You're quoting it as if it transcends or is more important than our own decisions" in Burrell and Pfenning, he said.
In closing, Teel referenced language in Dickson's opinion in Pfenning that courts will find a duty where, in general, reasonable people would recognize and agree it exists. Teel told the justices that if they affirm the trial court, "What you will be finding is that Hoosiers have a right to ignore the obvious needs of their guests and allow them to die in their front yard."
"Or," Rucker interjected, "We could be arguing that counsel didn't persuade the court that his interpretation of law was correct."•
Please enable JavaScript to view this content.