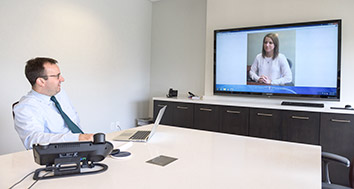 Attorney Nick Levi estimates he's in depositions six to 12 days a month, but the way he conducts them has changed significantly in the 13 years he's been in practice. More and more, especially when the witness is far away, he's deposing someone who's on the other end of a video connection.
"When I started, it was the exception and not the rule in my practice," the Kightlinger & Gray LLP partner said of long-distance depositions done by video teleconference. "Now it's probably the other way around. … For me, 10 years ago, we probably asked, 'Is this a deposition we can do by video?' Now we're asking, 'Why wouldn't we do it by video?'"
As technology makes video conferencing more seamless, Levi and other lawyers said the advantages far outweigh the drawbacks in many cases. Levi estimated he takes about a third of all his depositions by video. "I think it's a very easy way for us to deliver quality service to our clients efficiently, a very easy way to reduce litigation costs and develop the case earlier."
"It's definitely more common and a great way to control litigation costs when you're taking the deposition of someone in California and you don't have to travel out there or bring them to you," said Krieg DeVault LLP partner Jeff McDermott, who chairs the firm's litigation section.
Levi
Levi, whose diverse practice includes insurance, consumer and creditor defense litigation, said doing video depositions when witnesses are far away saves lawyers time out of the office, especially for fact witnesses who aren't parties to the case or key witnesses. "I think there's some efficiency to doing those early for the client and knowing how the person is going to testify."
But Levi said decisions on how depositions are done are up to the client: It's a judgment call on whether a deposition is important enough to warrant the time and travel for the lawyer to ask questions in person.
Some attorneys, meanwhile, aren't so sure that video depositions are worth the purported savings.
Barnard
Thomas A. Barnard, a Taft Stettinius & Hollister LLP partner, said he's unconvinced technology can ever take the place of conducting a deposition in person and may put a litigator at a disadvantage. He said he takes around 75 to 150 depositions a year, nearly all of which require travel. He rarely has been involved in video depositions.
Barnard said there are subtleties in a witness's responses that a video camera might not pick up, such as body language. The camera may also miss the reactions of other people in the room. These cues can sometimes change the course of questioning: "No matter how well you prepare for a deposition, you've got to be flexible," he said.
"You have to be able to interpret the witness's responses, and I don't think you can do that adequately with an important witness remotely," said Barnard, a litigator whose practice includes environmental defense that involves heavy discovery and motions practice. "There's no substitute for your in-person evaluation."
Barnard acknowledged his clients are likelier to insist on in-person depositions than a client who may have a primary concern of controlling litigation costs. He said while he's receptive to new legal technology, he doubts it will ever be sufficient compared with an in-person, face-to-face deposition. "I don't see it as a total replacement," he said.
While videoconference depositions can save firms and clients travel expenses and time, court reporters remain required to prepare transcripts and mark evidence and exhibits. Videographers also are an expense. Many firms have their own in-house video conferencing capabilities, while others rely on services provided by court reporting firms.
Stewart Richardson Deposition Services video production manager Andy Grove said offering and facilitating video depositions helps the company be flexible and accommodate law firms' needs. "I've definitely noticed an increase" in video depositions, he said. "I think that's becoming more and more common.
"There are getting to be a lot of web-based programs that are pretty good for doing remote depositions," Grove said. He noted, though, that some lawyers are concerned about presenting documents or evidence during a video deposition. Some prefer to send paper or email documents to a deponent ahead of time; others use technology enabling document sharing directly from their computer desktops to monitors that will be seen by the witness and in some cases parties in multiple locations.
Grove said lawyers who've used such technology — even less tech-savvy ones — have been impressed. "They're starting to get in tune with how things are moving," he said.
Connor Reporting President James P. Connor said the company's new Exhibeo system has been used in remote depositions and can be used to facilitate depositions anywhere. The system allows users to store an unlimited number of documents electronically, and those exhibits can be shared between iPad devices through a secure, portable router. The system also allows witnesses and lawyers to make notes and highlight or annotate exhibits on their iPads, and those notations can be mirrored to all those on the closed network. It's been a boon for lawyers trying to go paperless, he said.
"If they're doing it via video conference, (lawyers) don't want to ship documents," Connor said.
The system also gives lawyers control of when a witness sees a particular document and whether the document is shared only with the court reporter. When documents are shared, Connor said, "it's instantaneous, and you don't have to worry about anyone in the cloud hacking this."
Connor video production manager Brad Dalton said the company trains anyone who'll use the system prior to a deposition, which takes about five minutes. In his experience, lawyers who had doubts about the system are "flipped" once they use it. "Reporters, lawyers — they all love it," he said.
McDermott
Despite leaps in technology, both McDermott and Levi said there are instances in which they would advise against video depositions, such as when the witness is a party to the case, or when someone's testimony will go to the heart of a matter.
"In the right cases, for efficiency and cost-effectiveness, it's a very good option," McDermott said of video. But he said along with what happens off camera in the deposition room, there are other things video won't capture. It will miss what happens outside the room and what's said during breaks. Video won't give an attorney the opportunity to talk with opposing counsel during those times or observe how people act when the deposition goes off the record.
"We're always doing the cost-benefit analysis," he said. "But if it's a critical witness or a party, I would still, nine times out of 10, prefer to do it live."•
Please enable JavaScript to view this content.