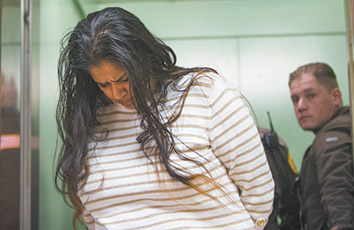 The Indiana Court of Appeals recently heard arguments in a case that could impact any pregnant woman whose actions result in the death of her unborn child.
On July 13, 2013, Purvi Patel delivered a baby in the sixth month of pregnancy. She later showed up at a hospital bleeding from her pelvis and after some pressing from staff, admitted she gave birth and discarded the body in a dumpster. It was learned later that Patel took drugs to help end her pregnancy.
The state charged her with feticide and neglect of a dependent resulting in death. She was convicted last year and sentenced to 20 years in prison.
Patel is the first person in the United States to be charged, convicted and sentenced on a feticide charge after attempting a self-induced abortion. The ruling expands Indiana's feticide statute, which makes it a crime to "knowingly and intentionally" end a pregnancy with a goal other than to produce a live birth or remove a dead fetus, from third parties to anyone who attempts to end a pregnancy.
More than two dozen women's rights groups and other organizations were listed as friends of the court in Purvi Patel v. State of Indiana, 71A04-1504-CR-166, in which the Court of Appeals heard arguments May 23. Those organizations feel that upholding Patel's convictions would have terrible consequences for other women who they say will not be able to then fully control their pregnancies.
"The ramifications of punishing women for their pregnancy outcomes are profound," the National Advocates for Pregnant Women wrote in its amicus curiae brief filed with the court. "Allowing the judicial expansion of Indiana law to prosecute women in relation to their own pregnancies endangers public health and the civil rights of all people who are or may become pregnant."
In another amicus brief filed by the International Human Rights Clinic, Amnesty International and the Center for Reproductive Rights, those organizations call expansion of the feticide statute "manifestly unfair."
"It is inappropriate to criminalize women for their pregnancy or childbirth outcomes, particularly through statutes designed to regulate the conduct of individuals in other contexts," they wrote. "A fetus cannot be viewed as a separate entity from a pregnant woman. Any regulation or restriction to protect a fetus will inevitably interfere with a pregnant woman's ability to control her body and health and to make autonomous decisions about her life."
The case also has racial implications. In their amicus brief, various Asian-American and Pacific Islander organizations note the only two women in Indiana charged with feticide have been Asian women and write "this selective enforcement is tragic and unconstitutional."
They write that affirmation of Patel's convictions "will likely deter Asian women who are struggling with serious health conditions or medical emergencies to seek out the healthcare services they desperately need," because they may be reported to law enforcement.
In 2010, Chinese immigrant Bei Bei Shuai took rat poison while in her third trimester in an attempt to end her life after her baby's father jilted her. Days later she gave birth to a baby girl in Indianapolis, who lived for just a few days. The state charged her with murder and Class B felony attempted feticide in 2011.
A split Indiana Court of Appeals upheld the charges against Shuai. Judge Patricia Riley dissented, believing it was never the intent of Legislature that the feticide statute should be used to criminalize prenatal conduct of a pregnant woman.
Shuai later pleaded guilty to Class B misdemeanor criminal recklessness about a month before her trial was to begin in September 2013.
Indiana Court of Appeals Chief Judge Nancy Vaidik and Judges Terry Crone and L. Mark Bailey heard arguments in Patel's case in a full Indiana Supreme Courtroom.
In Patel's trial, there was a question as to whether the baby was born alive. On appeal, Patel's attorneys didn't challenge that it was; they argued Patel had no knowledge of the baby being alive when she delivered it.
Patel, who became pregnant through a secret relationship with a co-worker, wanted to end her pregnancy because she did not feel she could raise a child. She took pills to end the pregnancy that were obtained by her friend, a licensed medical assistant. She delivered the baby in her bathroom and disposed of the body in a bag behind a Moe's Southwest Grill.
"There had to be some actual testimony in order to prove an element that she had conscious awareness," Patel's counsel Lawrence Marshall argued.
Marshall said those inferences would have been that the baby would have made some sound or noise, which it didn't.
Crone pointed out that Patel tried to hide her actions. Deputy attorney general Ellen Meilaender also returned to this topic several times in her arguments, saying that Patel lied about having a baby and then threw the baby in a dumpster. Marshall argued that evidence is not enough to confirm Patel knew the baby was alive.
"Is it evidence? Yes. Is it sufficient evidence without other strong evidence? No," he said.
The judges also asked Meilaender if she had any evidence that the baby was alive and that Patel knew it was alive.
"You can't endanger a dead baby, can you?" Vaidik asked when Meilaender admitted she did not know whether the baby was alive when Patel put it in the trash.
Bailey again asked later if there were any admissions in the record that Patel knew the baby was alive, and while Meilaender said no, she did say Patel held the baby closely and looked at it. Bailey kept looking for specifics, however, and wanted evidence that Patel knew it was alive.
Marshall also argued there was nothing that Patel could have done to keep the baby alive once she delivered, so the resulting in death part of her neglect charge should be dropped.
"To prove resulting in death, the prosecution needs to prove that there were things that she could have done that would have in fact allowed the baby to survive. There simply is no evidence of that, and no basis for an inference of that," Marshall said.
Vaidik said that Patel could have done things that would have allowed the baby to survive for a number of minutes, and asked if that wasn't for a jury to decide.
Meilaender tried to argue that it was Patel who caused the birth to happen in the bathroom and there would have been a higher chance of survival if the baby had been born in a hospital. But Vaidik said Indiana law prevents the court from looking at actions pre-birth.
"It's the failure to obtain the medical treatment that is the conduct that is the neglect. But when the defendant tries to argue that nothing could have been done because the baby needed medical care and I wasn't close enough, it becomes relevant if it's the defendant who caused that," Meilaender argued.
The judges were wary of deciding a case that would punish the mother too much for normal activity, as Bailey described. Patel took the drugs, but the consequences of those were unknown.
"One pack of cigarettes a day, or a fifth of whiskey a day, I mean what is it that we're going to start prosecuting here?" he said.
Vaidik asked about the feticide statute, and what evidence there was that the Indiana Legislature intended it to criminalize a pregnant woman's conduct.
"The plain language that they used," Meilaender answered. "They said a person who engages in this conduct commits the crime, and they defined person in relevant part as a human being, and a pregnant person is a human being," she said.•
Please enable JavaScript to view this content.