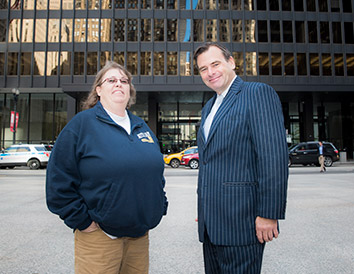 Within the first nine pages of its opinion, the 7th Circuit Court of Appeals affirmed a district court's ruling that sexual orientation is not protected by Title VII of the 1964 Civil Rights Act. And there, as Judge Ilana Rovner wrote, the panel could have ended its discussion.
But Rovner continued writing for another 33 pages in Kimberly Hively v. Ivy Tech Community College, 15-1720, and spotlighted the growing confusion in the courts of when, exactly, sexual orientation crosses the line into gender nonconformity.
She carefully dissected the many times federal courts have grappled with this issue, which has resulted in an "odd state of affairs in the law." Gays and lesbians who meet society's stereotypical expectations about how they should act are covered by Title VII, while those whose mannerisms and dress conform to heterosexual stereotypes are not.
Indiana employment law attorneys were not surprised by the decision affirming the dismissal from the U.S. District Court for the Northern District of Indiana. They, like Rovner, pointed to 7th Circuit precedence and said the panel's hands were tied.
Yet, the attorneys believe the opinion, which took nearly 10 months to write, will resonate across other circuits, especially those that do not have strong precedent on this subject. In particular, Evans v. Georgia Regional Hospital in the 11th Circuit could reach a different conclusion.
Groth
"I think she's performed a very important service by calling out some of the inconsistencies and absurdities as (Title VII) applies to gays, lesbians and transgender people," said William Groth, partner at Fillenwarth Dennerline Groth & Towe LLP.
He noted that although it was a majority opinion, "it casts doubt on the wisdom" of the 7th Circuit's current interpretation of Title VII. "You just don't see a federal circuit judge doing that on a regular basis."
Rovner also called upon either the Supreme Court of the United States or Congress to reconcile the disparity between sexual orientation and gender nonconformity. Lawyers expect one of the two entities to address the issue.
In the meantime, the 7th Circuit could take another look at Hively. Since the July 28 ruling, plaintiff Kimberly Hively and her attorneys from Lambda Legal have decided to petition for a rehearing and a rehearing en banc.
Leonard
Arthur Leonard, professor at New York Law School and editor of LGBT Law Notes, sees the possibility the 7th Circuit may reverse its precedent. A three-judge panel, he said, cannot rule contrary to previous opinions but if the entire court considers Hively, it might go in a different direction.
An avenue to reverse
Hively decided to pursue a Title VII discrimination complaint against her employer, Ivy Tech Community College in South Bend, after she was passed over five times for full-time status.
The math teacher had sought representation but a local employment attorney told her that basing her claim on sexual orientation was an unwinnable strategy. So she went to the federal courthouse and filed her case pro se. Her motivation was simple — "They should not be allowed to get away with what they were getting away with."
In a statement, Ivy Tech denied Hively's allegations.
"Ivy Tech Community College values and embraces diversity," the institution stated. "It is an equal opportunity employer that does not condone, and in fact explicitly prohibits, employment discrimination based upon a person's sexual orientation."
Lambda Legal attorney Greg Nevins, who represented Hively in her appeal, said he tried to provide an avenue for the 7th Circuit to rethink its precedent by linking same-sex relationships to the ban on discrimination against interracial couples. He argued that Title VII protects race, in part, by prohibiting ill-treatment of an employee for marrying someone of a different race. Consequently, the Act should also be applicable to sex by banning bias for marrying someone of a gay or lesbian sexual orientation.
Ivy Tech, represented by Barnes & Thornburg LLP partner John Maley, pushed back. It reiterated its overriding argument that sexual orientation is not covered by Title VII. Congress has not enacted any provision prohibiting discrimination on the basis of sexual orientation, and the courts would violate the separation of powers by taking a broader view of Title VII.
Rovner, however, seemed to agree with Hively.
"If Title VII protects from discrimination a white woman who is fired for romantically associating with an African-American man, then logically it should also protect a woman who has been discriminated against because she is associating romantically with another woman," she wrote.
Employers and employees
The opinion in Hively is unlike anything Donald Smith has read in more than 30 years of practice. The employment law attorney at Riley Bennett & Egloff LLP sees the court as almost apologizing for its position and calling upon Congress or the U.S. Supreme Court to do something.
"I'm not convinced by the opinion," Smith said. "I don't think the 7th Circuit was convinced."
Even though the 7th Circuit has re-established the law, Smith is still advising his employer clients to prepare for a change. He does not expect the current status to remain much longer.
Until Capitol Hill or the Supreme Court acts, Fox Williams & Sink LLC attorney Ryan Fox said employee counsel will still need to carefully consider their client's claim. The only viable action for plaintiffs is to show evidence they were treated differently because they looked and behaved in ways society stereotypes gays and lesbians to act.
Although the court did not break new ground, Fox applauded Rovner's opinion.
"I think that it was time for the 7th Circuit to take this up and do a complete analysis for everyone to see how far we've come recently," he said, adding that the court seems to be noting that despite recent rulings extending rights to gays and lesbians, it is bound by precedent. "They recognize this issue needs to be addressed specifically by Congress or the Supreme Court because courts are struggling with it."
Court or Congress
As for the possibility of the Chicago court overruling itself, Fox was doubtful. He pointed to the last paragraph of the opinion that maintained only the members of Congress or the justices could expand Title VII protections.
Attorneys differ on who would be better to address the matter. Smith maintained the Supreme Court should handle it, while attorney Kyle Biesecker of Biesecker Dutkanych & Macer LLC said Congress should.
Any language passed on Capitol Hill would likely be challenged in court, which would delay the implementation of an expanded Title VII, Smith reasoned. However, if the Supreme Court rules on the subject, it could put the matter to rest because it would be unlikely the Congress would act to overturn.
Biesecker said Congress should add language to Title VII. In order to expand protections, the Supreme Court would have to read the expansion into the statute, which would incite continual questions since "sexual orientation" is not actually there.
"I think Congress amending Title VII to specifically include sexual orientation would settle everything," Biesecker said. "It would be much better coming from Congress."•
Please enable JavaScript to view this content.