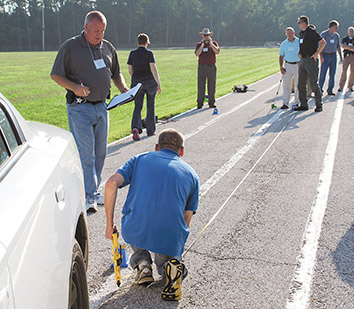 Many officers and prosecutors who witnessed a demonstration where a fireman's dummy was struck by an oncoming vehicle swore the car was going 40 to 45 mph. Despite the violence of the impact, the car was traveling at just 30 mph.
"It's really an educational experience, and you can't get it any other way," said Chris Daniels, traffic safety resource prosecutor for the Indiana Prosecuting Attorneys Council. Daniels directed a four-day training session recently in Plainfield that provided crash-reconstruction demonstrations and education for 41 law-enforcement officers and 21 prosecutors from around the state.
"It helped re-sharpen some of my skills," said Kip Shuter, president of the Indiana Association of Certified Accident Investigators, and a captain with the Warsaw Police Department. "This helps bring it back to the central focus." IPAC, Certified Accident Investigators and the Indiana Law Enforcement Academy sponsored the training.
Participants took three days of instruction from authorities on crash reconstruction then witnessed a series of live demonstrations. The program was designed for participants to execute a case from the crash through the courtroom, "from the time law enforcement gets that first dispatch all the way to how we testify and how we prove the case," Daniels said.
"The past year or two, we've actually seen increases in road-based fatalities," Daniels said. "There are a thousand contributing factors to that, but we thought it was a good time to be doubling down on training to both cops and prosecutors."
Daniels and Shuter both said the training could play a role in reducing traffic fatalities by providing law enforcement the tools to get dangerous drivers off the roads.
Along with pedestrian strike demonstrations involving the dummy, live demonstrations included a static crash scene in which investigators analyzed skid marks, victim evidence and a vehicle's event data recorder evidence. This allowed participants to reconstruct the crash using time-distance-speed analysis and determine a cause of the crash.
Shuter said training such as this is vital to make sure law enforcement and prosecutors get it right. "It's essential, because lots of times there are accidents," he said, when brakes give out, a pothole pops a tire, or other factors result in a crash. But he said when a driver has committed a crime that results in a crash, particularly one with an injury or fatality, it's essential that investigators have the tools, skills and resources to fully document and determine what happened.
"It's what justice requires us to do," Shuter said. Having more people trained in crash reconstruction "gives us the ability to have people we can refer to and contact in case we don't have the means" or a particular piece of equipment to assist in investigating a crash.
Along with Daniels and Shuter, other Indiana crash reconstruction experts who assisted with the training included Indianapolis Metropolitan Police Sgt. Doug Heustis, Indiana State Police Sgt. Mark Helms, Plainfield Police Officer Scott Poston and Mishawaka Police Capt. Tim Spencer. Experts who provided instruction included national crash reconstructionist John Kwasnoski, who testified in the notorious Susan Smith drowning case in South Carolina, and forensic pathologist Dr. Joye Carter.•
Please enable JavaScript to view this content.