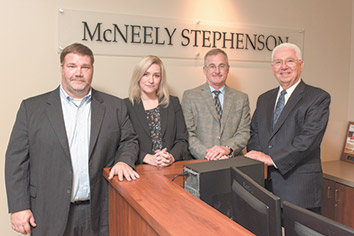 As merger fever continues to spread through the legal community, a Shelbyville-based firm is spreading out.
McNeely Stephenson, founded in 1976, has been expanding by opening new offices in markets where it is known but has no physical foothold. About a month ago, it unveiled an Indianapolis office, and the practice it started along the Ohio River in New Albany in 2010 is claiming more office space to accommodate its growth. The firm of 25 total attorneys has solidified its presence in these new locations primarily by bringing in lateral hires who have built their careers in those communities.
Meanwhile, the pace of law firm mergers continues unabated in the United States, according to Altman Weil, a management consulting company serving the legal profession. Through the first half of 2016, 48 law firms had announced deals to merge, which puts this year in line to meet the record 91 combinations reported in 2015.
Altman Weil also noted the merger activity in the second quarter of 2016 centered on smaller firms. Of the 28 deals announced in the April-June period, 93 percent were acquisitions of firms with fewer than 25 attorneys and, of the firms doing the acquiring, 43 percent had 50 or fewer lawyers.
McNeely Stephenson founding partner J. Lee McNeely described his practice as a "small-town firm" and, even while his business expands, he has no plans to join the ranks of the big 100-plus lawyer operations. He acknowledged that by being small, his firm cannot represent everybody, but he is targeting a specific type of client.
"Our model is that everybody doesn't need a national law firm," he said, explaining people need good representation from quality attorneys and they do not have to go to a big practice to get that.
McNeely Stephenson serves individuals and businesses, with the "sweet spot" client being a company with 100 to 300 employees. Also, it provides brief representation for certain clients of larger firms when conflicts of interest arise. McNeely and his team will handle the case and when finished, give the client back to the national firm.
"We put clients first," McNeely said before conceding, "Everybody says that, but do you really do that? We do."
A local address
McNeely Stephenson has opened an office in Indianapolis. Attorneys, from left, Paul Jefferson and Caroline Richardson appear with founding partners M. Michael Stephenson and J. Lee McNeely. (IL Photo/Eric Learned)
McNeely Stephenson capitalized on a lateral hire to open an Indianapolis office. Attorney Paul Jefferson decided to join the firm after his two-partner practice Jefferson & Brewer LLC dissolved. He already had the office suite downtown, so rather than scouting potential locations for its newest outpost, McNeely Stephenson just had to stencil its name on the front door.
The Circle City office has four attorneys including Jefferson who all mostly practice business law. To keep overhead low, the office has no support staff locally but instead relies on the Shelbyville office to handle administrative tasks.
Joining McNeely Stephenson made sense, Jefferson said.
"He's got a lot of integrity," Jefferson said of McNeely. "He has a very practical way of approaching legal issues that works well with the way I want to work."
In New Albany, the office is taking three offices on the floor above its current space. The southern Indiana operation currently has four partners, two associates, two paralegals, four administrative assistants and two part-time assistants.
Lawyers in the New Albany office are, from left, Jason Lopp, Steven Langdon, Dana Eberle-Peay, Larry Church, Marc Tawfik and Gary Banet. (Photo submitted)
New Albany managing partner Larry Church helped start the office. He attributes its growth to getting out into the local community namely through sponsoring concerts and festivals as well as by expanding into new practice areas, such as family law and criminal litigation.
Although McNeely Stephenson did work in New Albany prior to opening an office, Church explained that having a street address in the community is important to attract clients. The office in the revitalized downtown has tied the firm to the city and enabled residents to get to know the attorneys as neighbors.
Attorney Steven Langdon, partner in the New Albany office, moved to McNeely Stephenson from Frost Brown Todd LLC's Louisville office, taking six months to decide to take the "leap of faith." Both he and Church, who came from Wyatt Tarrant & Combs LLP, credited their experience in bigger firms with providing invaluable experience. But just like not all clients need national firms, not all attorneys fit in large practices.
Langdon said since moving to a smaller firm, he has come to enjoy practicing law again. "I never thought I'd say this as a lawyer, but I don't mind going to work in the morning," he said.
Keeping rates low
To compete as it expands, McNeely Stephenson keeps a close watch on its rate structure. The hourly rate for associates is less than $250 and less than $400 for partners.
Jefferson believes clients want value that can be measured not only by the cost for service but also by the experience and quality of the attorney. He touted the firm as being able to offer sophisticated legal help at lower rates because of the practice's small size and low overhead.
The New Albany office has taken a nontraditional approach to building revenue by discarding the billable hour requirement. Church sees the billing mandate as hindering attorneys because then they focus on the clock rather than building their practices.
Apparently the strategy is working. McNeely said the gross income of the southern Indiana location doubled between 2010 and 2015 and is expected to grow another 45 percent by the end of 2016.
As it grows its revenue, Church often has conversations about the future of the New Albany office. In particular, he does not want to lose the character of being a small law firm and anticipates that swelling beyond 12 attorneys will change the relaxed, friendly atmosphere of the office.
At that point, Church said, McNeely Stephenson might be looking to expand again by opening an office in Louisville, Kentucky.•
 
Please enable JavaScript to view this content.