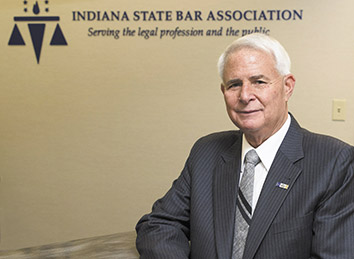 Mitchell Heppenheimer calls himself a "traditional lawyer."
He goes into his brick-and-mortar office six days a week for a total of 50 to 60 hours. He meets one-on-one with clients to develop personal relationships. He does not rely on paralegals to help with the workload. He reconciles the bank statements he gets in the mail every month, and he carefully tends to his reputation as a straight shooter who doesn't sugar coat the truth or holds his clients' hands.
That is the way he has practiced law since he joined his father's law firm in South Bend in 1976.
However, he is not dismissive of new ideas or new ways of doing things. The world is changing as more and more people are comfortable going online for goods and professional services, so lawyers have to adapt.

Discussing how technology has impacted the practice of law, Heppenheimer acknowledged millennials coming into the profession (he dubbed them "nontraditional lawyers") are embracing technology to establish virtual offices and only meet with clients online. It is certainly different than when his dad started practicing in 1953.
"My father would be turning over in his grave," he chuckled. But then he reiterated the reason for the change in how legal services are provided and why attorneys have to adjust. "That's what the public is asking for."
As the incoming president of the Indiana State Bar Association, Heppenheimer, partner at Heppenheimer & Korpal P.C. in South Bend, knows the legal profession likely cannot survive if it refuses to adjust to market demands.
Outgoing president Carol Adinamis is confident Heppenheimer will be an excellent leader for the association.
"He has an incredible ability to make everyone comfortable and seems to make friends with everyone he meets," she wrote in an email. "His wealth of experience as an attorney and as a leader, not only in St. Joseph County but also across the state of Indiana, will serve him well as he leads the ISBA. He is well prepared for this position and we are fortunate to have someone of his caliber as president of this organization."
Heppenheimer's agenda for his term at the helm is focusing on ways to help Hoosier lawyers be successful in the shifting landscape. In particular, he plans to launch a campaign to educate people on why they should turn to a lawyer for legal advice and that lawyers can be hired at reasonable prices.
The kicker is he wants to use primarily social media platforms for the campaign. Already he and ISBA representatives have connected with the Indiana University-Purdue University Indianapolis Department of Informatics and Computing, and he plans to reach out to advertising firms for help.
His confidence that social media can attract potential clients comes from his own experience. About two months ago, Heppenheimer switched his firm's advertising to the internet. Since then, the online contacts have exploded and he is overwhelmed.
Experience has also taught him that being an attorney is hard work and mistakes can happen. In 1999, he was reprimanded by the Indiana Supreme Court for two counts of professional misconduct. He was found to have represented a seller in a real estate transaction while his law partner represented the buyer, and to have improperly deposited client funds into his firm's operating account.
Getting the disciplinary letter from the Supreme Court shook him to his foundation, he said.
"I didn't take anybody's money, I didn't hurt anybody, nobody was harmed by my action," he said. "It's something I'm not proud of, but it's in my history and there's nothing I can do about it. It's there; I acknowledge it and go on."
His advice to younger lawyers who may face disciplinary action is to be honest and cooperate with the disciplinary commission. That same attitude — being a straight shooter — is reflected in his approach to the future of the legal profession.
He sat down with the Indiana Lawyer and outlined his vision for helping the profession move forward.
Indiana Lawyer: As you say, many people are looking to the internet for legal help. How can lawyers stay viable?
Heppenheimer: I think the public needs to be educated to know, first of all, that they have issues that need to be at least looked at by lawyers. And I think the public also needs to know that there are reasonably priced lawyers who can help with their legal needs.
How can lawyers compete with online legal service providers?
I think there can be competition as long as there is a level playing field. I represent a profession, I have ethical rules that I am bound by. Ethical rules tell me what I have to do; my profession tells me how I should perform my services. I think that puts me in a unique position to address the legal needs of society. The other alternative legal services, I don't know if they have that same professional standard.
Should the profession rethink some of its rules of conduct?
We do need to stay true to our core values of professionalism. I think there's a sea of change that is occurring in the profession and I think we need to evaluate the ethical rules, the advertising rules, to meet those changes and to adapt to meet the change in society. But at the end of the day, I don't believe our core values should change. We're involved in a profession. I do not want to see that legal profession be minimized in any way.
Interestingly, you are not advocating protectionism. You want to position the profession to engage in head-to-head competition with the online startups.
That's how it has to be. At the end of the day, we're talking about client protection, not about lawyer protection. … Competition is a good thing. The way the attitude of society is and the way technology operates, lawyers who want survive have to adjust their business models to that.
Younger lawyers are already adapting their practices. What can the ISBA offer them?
One of the goals I have for the ISBA is to support those nontraditional lawyers. Make the ISBA attractive to them, afford to them skills and services, CLE opportunities, law practice management opportunities to support their practices. That is a segment of the legal profession that needs to be supported and nourished, and I'm hoping that ISBA takes steps to accomplish that.•
Please enable JavaScript to view this content.