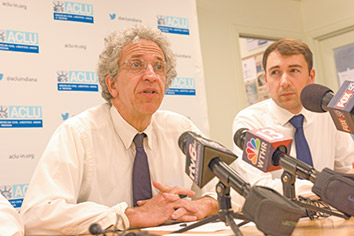 Gov. Mike Pence's fight to keep Syrian refugees out of Indiana may continue — as his term is expiring, he hasn't said whether he will appeal federal court rulings that his position is discriminatory. Nevertheless, the candidates vying to succeed him as governor oppose the stance he's unsuccessfully fought for.
During and after a debate earlier this month between gubernatorial candidates Rex Bell, Eric Holcomb and John Gregg, each rejected Pence's anti-Syrian refugee position he adopted in the wake of last year's terrorist attacks in Paris. Pence announced then that the state would suspend federal funding that would assist in the resettlement of Syrian refugees in Indiana. District and circuit courts have blocked his policy and ruled it discriminates on the basis of national origin.
Republican Holcomb, Pence's lieutenant governor, told WFYI after the debate, "I would continue to allow the refugees to come in here and find safe haven." Democrat Gregg said during the debate, "It's wrong to ban people based on their ethnicity, their race, their religion, and their nation of origin. It's just wrong." Libertarian Bell agreed: "To place an entire nation and group them all together, it just doesn't sit well, and it's something we would look to end."
Pence, now the Republican vice presidential candidate, refused to comment after repeated requests to address whether he would appeal a case his successors indicate they will not. Spokeswoman Kara Brooks on Oct. 11 repeated an earlier statement, "We are continuing to evaluate the ruling." Likewise, outgoing Republican Attorney General Greg Zoeller rejected requests for comment other than to say through a spokesman that the 7th Circuit Court of Appeals ruling against Pence on Oct. 3 was being reviewed.
Meanwhile, Pence's quest to block funding to help war victims fleeing Syria could be among the costliest cases in which the state, under his direction, has acted in ways that violate federal law or constitutional rights. IL has learned the legal bill to date for the ACLU of Indiana to represent Exodus Refugee Inc. is approaching $145,000.
While ACLU of Indiana has yet to petition for those fees, the organization is entitled to reasonable fees for prevailing in such a suit against a government entity. Under Pence, fees paid by taxpayers to ACLU prior to the Exodus case more than doubled to $1.4 million, compared to about $700,000 in the second term of his predecessor, Mitch Daniels. These fees were paid to ACLU of Indiana on cases that included those that challenged restrictive abortion laws, state opposition to marriage equality, and restrictions on who could perform marriages.
The legal fees taxpayers will pay ACLU of Indiana in the Syrian refugee case don't include those from the national ACLU that involved three of its leading immigration lawyers from New York and San Francisco. An estimate of those fees could not be provided by IL deadline.
"We obviously felt very strongly that the sorts of measures that Indiana and other states have taken to restrict refugee resettlement are illegal for a number of reasons," ACLU Immigrants' Rights Project senior staff attorney Omar C. Jadwat said of the national organization's involvement in Exodus v. Pence. "We have worked to try to make sure that these measures got stopped in the court and that that happened promptly. … It would appear to be a waste of the state's resources to keep litigating this issue."
ACLU of Indiana Legal Director Ken Falk said after the ruling that organization would like to see the state stop defending a divisive policy. "From day one, I think most people recognized this was exactly what Judge (Tanya Walton) Pratt and the 7th Circuit yesterday recognized it to be — blatant discrimination based on nationality, which is prohibited not just by federal law, but by the United States Constitution."
But after the 7th Circuit affirmed Pence's position was discriminatory, Brooks issued a statement that said, "The safety and security of the people of Indiana is Governor Pence's highest priority. The state of Indiana took decisive action last year to suspend resettlement of Syrian refugees after the terrorist attack in Paris and because the FBI and the Department of Homeland Security acknowledged security gaps with regard to screening refugees from Syria. In addition, as recently as September 21, the State Department spokesman is quoted as saying he 'wouldn't debate the fact that there's the potential for ISIS terrorists to try to insert themselves' into the refugee program."
Such arguments were loudly rejected by the 7th Circuit panel during oral arguments. Judges Frank Easterbrook and Richard Posner said the policy was clearly discriminatory and that refugee resettlement and immigration are matters of federal, not state, policy. But during his debate earlier this month with Democratic vice presidential candidate Sen. Tim Kaine of Virginia, Pence said, "I stand by that decision. And if I'm vice president of the United States or Donald Trump is president, we're going to put the safety and security of the American people first."
Exodus executive director Cole Varga, though, said Pence's proclamations have villainized a vulnerable population. "They're a bit confused by it, as we all are," he said, "because they're not who Pence and others claim they are. They're not terrorists. They're just young families who have had to flee for their lives and are seeking the same safety and the same protections and the same futures for their children that any of us do in Indiana."
"We're going to continue serving this population," Varga said. "One of the most important things we do as a country is to welcome people in their time of need and at Exodus, of course, we are incredibly proud to take this stand for the state of Indiana and to open up hospitality that the Hoosier state is known for."
The 7th Circuit said the state's brief contains no evidence terrorists are posing as Syrian refugees and there's no record of a Syrian refugee ever being arrested or prosecuted for terrorist acts or attempts in the U.S.
"I do think this decision points out the fact that although there was resistance — verbal and I guess written resistance from governors around the country about the influx of Syrian refugees — it was only Gov. Pence who took this next unlawful step" of seeking to withhold federal funding to assist them, Falk said. "I wish that had not been done, and I wish that this population of refugees, most of whom are women and children and disabled persons, did not have to deal with the potential of being treated this way."
Falk said the aid Exodus receives from the federal program Pence sought to suspend for Syrian refugees amounted to about $1 million for all the refugee populations it serves. As a small organization, losing that funding would have been difficult, he said. But because Pratt issued an injunction blocking Pence from withholding funds, Exodus lost no money.
Varga said Exodus has assisted with the resettlement of 142 Syrians in the past two years as the U.S. met its goal at the close of the fiscal year ending Sept. 30 of admitting 10,000 refugees. He said those numbers likely will increase.•
Please enable JavaScript to view this content.