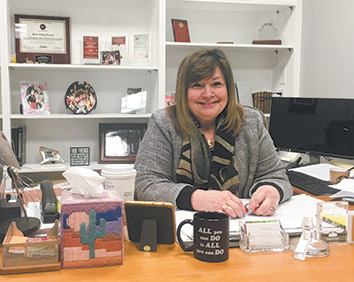 It was supposed to be a routine mammogram, just something she had to do. But then the results came in, and suddenly Mary Foley Panszi's life and career changed.
Breast cancer. When the words entered her vocabulary in 2011, Panszi, a family law attorney, was shattered. She had never engaged in habits, such as smoking, that could increase a person's risk for developing breast cancer, and there was no history of the deadly disease in her family.
"I never thought it would happen to me," Panszi said.
Nevertheless, the stage 1 diagnosis became a part of her reality, and Panszi, then 63, was forced to make room for cancer in her life without pressing pause on her legal career.
Becoming a lawyer was something of a second life for Panszi, who started working in the legal field in 1988 after spending the first part of her career working in the medical business industry.
Panszi began her legal career working with a partner in her own private practice before joining Lewis Wagner LLP as a partner in 2003. Her time at Lewis Wagner was spent serving as the firm's family law department, handling divorces, family mediations and other similar family law issues.
A self-described intense person, Panszi said she was and still is the type of attorney who takes her work home, especially if a case involves children. But then she got the diagnosis and was forced to withdraw from her work and focus on her health.
During the surgeries that were necessitated by her cancer, she temporarily left her post at Lewis Wagner, but quickly returned to her career while she was still receiving her daily, six-week radiation treatment. Panszi would receive radiation in the morning and return to work in the afternoon, or vice versa.
But underneath the tough exterior of a woman willing to continue on with her heavy legal workload even in the face of radiation therapy, Panszi admits that during the treatment and recovery process, she feared death.
Panszi stayed with Lewis Wagner, feeling an obligation to her firm to continue being a productive partner. Although she enjoyed her job, she said she began to feel a desire to dictate her own career, set her own hours and, in general, be her own boss.
So at the age of 68, nearly 30 years in the legal field, Panszi left Lewis Wagner and struck out on her own.
Foley Panszi Law LLC opened in July 2015 in a 100-year-old bank-turned-law office in downtown Zionsville. With each of her clients electing to follow her in her new venture, the meat of Panszi's solo firm, which still focuses on family law, was already in place from day one.
But what weren't in place were the other facets of a successful law firm — the office supplies, the client meeting schedules, the mountains of paperwork that accompany every case and other similar tasks that, before, Panszi would have been able to delegate to a paralegal or office assistant. At Foley Panszi Law, all of that responsibility rests squarely on Panszi's shoulders, an adjustment she said took some time to get used to.
But the freedom that comes with setting her own schedule and being her own boss makes the stress of running her own practice and juggling each of her cases on her own worth it, she said.
"I think I've become much stronger as I've gotten older, much more confident in what I do, and I think that also comes with being able to make your own decisions," she said.
Although she still considers herself intense, Panszi said she is now more intentional about stopping to take a breath for the sake of her health when her workload becomes too much.
That attitude of preferring calm over stress is reflected in her line of work as a collaborative law professional and family law arbitrator. Panszi offers her clients an out-of-court option for settling divorce and custody suits, as long as all parties agree to maintain open lines of communication and civility.
The collaborative law approach is rewarding because it promotes a peaceful resolution to the end of a marriage over the vitriol often associated with divorce, especially if children are involved, Panszi said.
Although being diagnosed with cancer, undergoing radiation and subsequently starting her own law firm was a stressful time in her life, Panszi said there is a confidence that comes with knowing she was able to overcome her situation and continue — and even grow — her legal career despite her health problems.
And if she ever begins to feel sorry for herself, Panszi said she is stayed when she thinks of another colleague who was also diagnosed with breast cancer, but whose career was affected in a dramatically different way.
Meyer
Less than a year before her diagnosis of stage 3 breast cancer in December 2009, Tammy Meyer, and her husband, Gary Miller, had opened their firm, MillerMeyer LLP. Meyer worked on a diverse caseload with a variety of clients, from drug and device companies to trucking companies and more.
But then she was diagnosed with cancer, and Meyer, 45 at the time, was forced to undergo reconstructive procedures, a double mastectomy and a chemotherapy treatment regimen that attacked her bones and joints and left her with a pain she described as 10 out of 10. By 2013, she was unable to work at all.
"We closed down our firm, and that was one of the saddest things I ever had to do," Meyer said. "That hit me almost as bad as the breast cancer."
After a long, uphill battle on the road to recovery, Meyer was able to return to work in 2014, and she currently works part-time as an attorney at Metzger Rosta LLP in Noblesville.
But when she's not at work, Meyer said she is working tirelessly to rebuild her practice by encouraging her former clients to bring their business back to her now that she is healthy again.
From Panszi's perspective, Meyer's recovery and determination to stay active in the legal field is an inspiration when she begins to doubt her own health and abilities.
For both women, beating breast cancer was both a physical and a mental battle that was strengthened by two core elements in each of their lives: their desires to stay with their families and to continue working in the legal profession they had built their lives around, no matter what.
But even for busy, successful women with their eyes fixed on growing their legal or other careers, Panszi has one piece of advice she hopes they'll take to heart: don't let the day-to-day activities of life and work get in the way of taking care of yourself.
"Get the mammogram," she said.•
 
Please enable JavaScript to view this content.