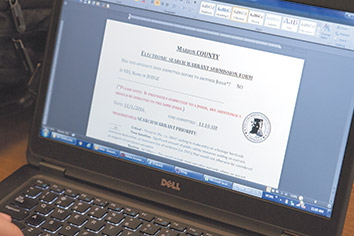 Police working a crime scene who need a search warrant sometimes feel they can't wait, but they often have no choice. For law enforcement agencies in Marion County, though, the wait is decreasing due to a new electronic system for requesting and approving search warrants.
At crime scenes, police might have personnel "sitting outside for hours," waiting for a warrant to be approved, said Marion Superior Criminal Division 17 Judge Christine Klineman. "We wanted to help streamline that process."
Police in Marion County who needed a search warrant for a home, a car, a cellphone, a blood draw or another purpose until recently followed a time-honored tradition. An officer would type up a request detailing the cause for a search warrant, print it, take it downtown, find an available judge, and wait for the judge to read the warrant and approve it or deny it. If approved, the officer would carry the warrant back to the scene.
Klineman
For situations in remote parts of the county, this could take two hours, sometimes longer. Now, Klineman said, an officer can sit in the patrol car and request a warrant directly from his or her laptop and expect a decision in minutes. Marion County courts, the Marion County Prosecutor's Office and the Indianapolis Metropolitan Police Department have developed an "e-warrants" system that comports with the growing shift toward electronic filing of court records.
"It's the easiest way to do a search warrant, for sure," said Polly Beeson, director of the Marion County Arrestee Processing Center, who assisted with development of the system. Beeson said Indianapolis' warrant system is among the first of its kind, and other municipalities are watching to see the results. "We're the only county in Indiana on a 24/7 operation" for electronically processing warrants, she said.
And to the relief of Marion County judges, the new system reduces the need for overnight shifts at the APC as the on-call judge reviewing warrant requests in the wee hours. In short, the new system allows any judge to review a search warrant request anywhere, any time.
Minutes, not hours
Indianapolis Metropolitan Police Department homicide detective Daniel Kepler explains how search warrants are now requested electronically by law enforcement and ruled on by judges. (IL Photo/Eric Learned)
IMPD homicide detective Daniel Kepler was among about 30 officers who began testing the e-warrants system in March. The system became mandatory for all Marion County law enforcement agencies in mid-October.
"It got to the point we were being asked to do other people's search warrants, and that trial period wasn't supposed to be that way," he said.
Kepler knows the search warrant drill well, including the experience of sometimes waiting hours. "This has changed that to the point where you can do that within 12 minutes," he said, pointing to the fastest turnaround time he's had in about 70 warrant requests he's submitted electronically.
Beeson said since the system has gone live, the average time from submission of a search warrant request to decision is about 22 minutes.
Marion County deputy prosecutor Dave Rimstidt said there are instances when time is everything in a criminal case, such as drunken driving. In such cases, particularly those involving injuries or death, if a driver suspected of operating while intoxicated refuses a breath test, the next step is a blood draw that requires a warrant. "Minutes and hours are very valuable in getting a blood draw, because alcohol dissipates over time," Rimstidt said.
Kepler said detectives increasingly want warrants for cellphone data, but these aren't nearly as time-sensitive once police have the device. Often, however, multiple warrants are required for a single cellphone — one to access the device and another to serve on the service provider for communications records.
Technicalities
Amitav Thamba has worked on numerous system upgrades as Marion Superior Courts' chief technology officer, but few this cool, he said. Partnering with Pennsylvania-based IT process automator BerkOne, Thamba said stakeholders pitched the kind of system they wanted. The resulting secure web-based system gives easy access to law enforcement officers and judges.
Kepler explained that when he creates a search warrant request, the system automatically fills in his name, the date, time and other standard details. He then chooses one of three categories for the warrant — critical, time-sensitive or routine. Documents supporting the warrant request are uploaded and submitted to the clerk.
Officers requesting a warrant will receive three emails in response, Kepler said — one confirming the clerk received the submission, another saying the submission is in the review process and assigning a case number, and a third when a warrant has been approved or denied.
One thing hasn't changed, though: officers still must serve a paper search warrant. Some officers have printers in their vehicles, but Kepler said police usually are within minutes of a district location where an officer can print a warrant and bring it to the scene in a critical case.
On the judges' end, the system sends alerts to them when a warrant has been in a queue for 15 minutes without action. Klineman said when law enforcement officers submit critical warrant requests, they also typically call to prompt quicker attention.
Thamba said Marion County got its customized software system for a one-time fee of $20,000 and an annual fee of $48,000 for secure server hosting. He said the savings in gasoline and staff time alone likely will be greater than the annual fee.
"That's a bargain," Thamba said of the annual cost for a city of Indianapolis' size.
Learning curve
Rimstidt noted there are about 16 law-enforcement agencies within Marion County — from smaller city police departments such as Beech Grove and Lawrence to private organizations like Marian University Police. Each of these units is now required to submit warrant requests electronically.
Rimstidt led a training session for these organizations and said those that rarely ask for warrants will still be able to bring paperwork downtown, where a clerk will scan it into the system.
For more common requests such as for blood draws after OWI refusals, Rimstidt said templates have been developed and built into the system to further expedite the process.
Kepler expects the new system may result in more warrant requests. Officers in remote districts or outlying departments may have been reluctant to take the time to seek a warrant in what he called "middle of the road" cases if they had to make the trip downtown. Now that they can ask for warrants from their desktop, that could change.
Rimstidt said he didn't believe there were any Fourth Amendment concerns implicated by the expedited system. "I think this whole thing is Fourth Amendment-neutral," he said. "We trust our judiciary enough that the neutrality of the judiciary is not going to be affected one way or the other."
Klineman believes the defense bar should favor the e-warrants system. "There's always the fear when you have the officer there, they might be adding orally stuff to get you to grant the motion that's not contained in the four corners of the document, which is what the law requires," she said. "Just avoiding that, I think, is good."
Indiana Prosecuting Attorneys Council Executive Director David Powell said he was unaware of other jurisdictions that have switched exclusively to e-warrants, but some have used email for search warrant requests.
"There is a trend nationally, and certainly in Indiana, to go to electronic filing on about everything," he said. "It's sort of the wave of the future."•
Please enable JavaScript to view this content.