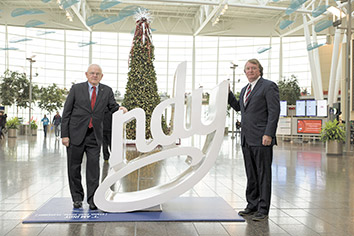 Rex M. Joseph Jr.'s nearly 29 years as counsel for the Indianapolis International Airport Authority Board included helping land the airport at an entirely new location after some of the most turbulent times in the nation's modern history.
"After 9/11, we were one of the first, if not the first, airport to be totally constructed anew," Joseph said. That included not just a new terminal west of the former airport, but also a new fire station and tower, all built to heightened security specifications after the 2001 attacks.
"It's so different than the ones that have been around forever," he said of the airport dedicated in 2008. The difference is also a distinction: Indianapolis International Airport has been rated North America's best airport for the past four years by Airports Council International, the trade association for airport authorities. The airport has also won accolades from business and leisure travelers. It ranked No. 1 in consumer satisfaction among medium-sized airports in J.D. Power's survey of 38,000 air travelers released this month. The survey measured traveler satisfaction with terminal facilities, accessibility, security, baggage, food and beverage and retail amenities.
Helping navigate the board through redevelopment of Indianapolis International is a highlight of Joseph's legal career that's winding down in January. He plans to retire from the practice of law he's enjoyed since 1970 and close his south-side solo practice. He's served as an Indianapolis hearing examiner, as a bankruptcy trustee, and as counsel for the town of Homecroft, among other things.
Joseph was hired out of law school by the predecessor firm of Ice Miller LLP, joining a dominant firm of about 35 lawyers at the time. "I tell people I started at the largest law firm in the state and worked my way down to the smallest," he quipped.
Stepping in
Brian Tuohy of Doninger Tuohy & Bailey LLP is the airport board's choice to succeed Joseph. Tuohy's no stranger to airport matters, having clients who've leased space from the authority or had zoning issues near airport property, for instance. But he confesses he's got a tough act to follow.
"I kind of feel like I'm following in the footsteps of John Wooden or something," Tuohy said.
"The first challenge would be to try to get up to speed as fast as possible with all the institutional knowledge Rex Joseph has," he said. "The second challenge will be to develop a sense of how the airport board operates and what they expect from their counsel. Rex has been terrific in tutoring me on that."
But Tuohy also arrives with a bit of institutional history of his own. His father, the late James Tuohy, also was an attorney who served on the airport board in the 1990s.
Joseph confesses, "When I became the airport board attorney, I knew nothing about aviation. … I think what happens when you're board attorney is you need to know more about how things are going to be approved, and how things are handled in the government." Joseph said he also had a good grasp of municipal law, finance and good people and organizational skills that smoothed his transition.
Two institutions
Joseph also had a colleague named Robert Duncan, who retired in 2014 after 41 years with the airport authority — general counsel for the first 34 years and executive director for the final seven. When Duncan came aboard, then-Weir Cook Airport had two intersecting runways generally in the shape of an X, and the master plan that became the current facility was still years from even being drafted.
Duncan
Duncan takes in stride his and Joseph's long service, though he observes he was associated with the airport almost half of its existence, and Joseph about a third.
"Once you get into the aviation business, you tend to fall in love with it," said Duncan, who was a pilot before he began taking night classes at law school. "As long as you do a competent and credible job for your employer, you stay. That's certainly what happened in my case, and with Rex."
"He took me under his wing," Joseph said of Duncan, who continues to practice aviation law at Norris Choplin & Schroeder in Indianapolis. By Joseph's count, he's represented the board through 38 different members under five mayoral administrations.
Tuohy noted he's had zoning and real estate issues that came before Joseph as a hearing examiner. He won some, lost some. "But in all those rulings, I felt like he gave both sides careful consideration," Tuohy said. "He gave you a fair shot to make your case.
"The way I would describe Rex is he's a lawyer's lawyer," Tuohy said. "And by that I mean, he's a good listener and he weighs all sides of an issue pretty carefully, and then, in my experience, he makes a reasoned judgment or decision.
"I bet he's done that with the airport board," he said. "I'd like to try to replicate that."
Politics aside
Ice Miller LLP partner Lacy Johnson said Joseph is part of what he called "one of the most amazing things I've ever encountered in Indianapolis politics."
Johnson
When Democratic Mayor Bart Peterson took office in 2000, Johnson was appointed chairman of the airport authority board. Joseph, a Republican who'd been appointed by former GOP Mayor William Hudnut and served through the term of Republican Stephen Goldsmith, thought his time was up.
"Rex came to me unsolicited and offered his resignation as board lawyer," Johnson said. "I said, 'Why are you doing that?'" Johnson said rather than wanting to fill the position with a political appointment, "it was quite the contrary. We wanted stability and we wanted someone who was a good lawyer and would put the airport first.
"Never once from my perspective did (Joseph) ever let politics enter into any decision he ever made, or advice and counsel he gave the board," Johnson said.
Duncan said the board is somewhat, but not entirely, insulated from politics. The mayor of Indianapolis appoints five of nine members, but may appoint only three from the same political party. The Indy Chamber, Hamilton, Hancock and Hendricks counties also each appoint one member.
Now departing
Joseph said he'll have plenty to occupy his time when he calls it a career. He and wife Carol are history buffs who love to travel and visit presidential libraries and sites, and he's got 10 grandchildren to dote over. His time with the airport and his travels allowed him to see every president since Lyndon Johnson in person.
Joseph's legacy at the airport goes beyond its reconstruction. He's proud the massive project was undertaken without taxing central Indiana property owners. There's also more attention paid to the board these days, and to the airport's economic impact on central Indiana.
When he became board attorney in 1988, "if we had one or two people attend a board meeting, we thought we were in heaven," he said. Now, crowds of 100 or so are routine. "It's almost a fellowship thing anymore among a lot of people who have an interest in the airport authority."
Tuohy and Joseph's colleagues say his tenure during such a prolonged period is remarkable, but he's modest about it.
"I like to think I operated in a way where I was not trying to get any glorification for me, and remain under the radar," Joseph said. "My job was to make sure we didn't get into the paper with any problems, and represent the whole board."•
Please enable JavaScript to view this content.