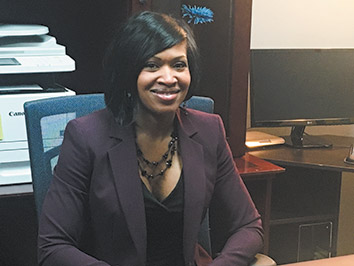 As early as her second year as a law student, Indianapolis attorney Felicia Locke decided that she would not practice law in Indiana.
The Hoosier law market was competitive, but more importantly to Locke, the market was not very diverse, specifically in terms of black attorneys in partner positions. Instead, Locke had planned to take the bar in Texas, where she had several family members who, like herself, were black business owners.
Although her eventual marriage kept Locke in the Hoosier state, the attorney said she remains discouraged at the state of law firm diversity in Indiana. Locke's feelings are not unique among Indianapolis attorneys, and a recent study from the National Association for Law Placement shows low representation of minority attorneys in partner and associate positions remains a nationwide issue.
According to NALP's 2016 Report on Diversity in U.S. Law Firms, the percentage of minority partners and associates at large law firms has steadily increased in post-recession years, with minorities now representing 8.05 percent of partners in major firms and 22.72 percent of associates. But black attorneys, in contrast, represent only 1.81 percent of partners and 4.11 percent of associates, the lowest representation among the three ethnic minorities counted — Asian, Hispanic and African-American.
While the percentage of black partners now is higher than it was in the immediate aftermath of the Great Recession, when 1.71 percent of partners were black, the percentage of black associates is lower than the 4.66 percent who were represented in large law firms in 2009.
Specifically in Indianapolis, of the seven offices included in the report, only 0.87 percent of partners were black in 2016, compared to 0.58 percent who were Asian and 1.17 percent who were Hispanic.
The NALP report does not speculate as to why there are fewer black attorneys in partner and associate positions than other minorities, but anecdotal evidence suggests that the low representation is caused by one of two reasons, both of which are embodied in Locke's story.
First, Indianapolis legal diversity leaders suggest that as fewer black lawyers take upper-level positions in large law firms, fewer up-and-coming black attorneys will pursue those positions because it is more difficult for them to picture themselves as partners.
"It's easier to be what you can see," said Ice Miller LLP partner Myra Selby, chair of the Indiana Supreme Court's Commission on Race and Gender Equality and the first female and African-American justice of the Indiana Supreme Court.
That "be what you can see" mentality is what drew Locke to Texas. She knew she wanted to start her own firm, and she further knew that being surrounded by family members who successfully launched businesses as black entrepreneurs would provide her the support she needed to get her firm off the ground — support she did not think she could find in Indiana.
Cunningham
Norris Cunningham, an attorney with Hall Render Killian Heath & Lyman P.C, took that mentality a step further and said during his tenure as 2017 chair of the Indiana State Bar Association's Diversity Committee, he wants to make progress toward ensuring that minorities can picture themselves in upper-level legal positions not just at large law firms, but across all areas of the judiciary, including courts.
Cunningham pointed to comments recently made by retiring Indiana Justice Robert Rucker, who is the only minority justice currently on that court. At an earlier press conference to discuss his retirement this spring, Rucker said he wanted the court to become a place where people of all backgrounds felt they were represented.
"Justice Rucker is interested in trying to make sure there is a more diverse applicant pool perhaps than they had in the past, and I think that's a good thing for Gov. Holcomb if he has a more diverse pool to begin with," Cunningham said.
Aside from the possibility that black attorneys struggle to see themselves rising to high positions within the legal community, anecdotal evidence also suggests that fewer black attorneys are pursuing those positions and instead are choosing to strike out on their own, though the reasons they may choose to do so are varied.
Locke, for example, described herself as having an entrepreneurial spirit, so starting a solo firm was a natural fit for her.
Similarly, Selby said her observations have shown her that some black attorneys are not interested in the traditional partner track. Describing the decision as a lifestyle choice, Selby said some black attorneys are choosing earlier in their careers to be their own boss after spending years working for others during law school, internships and clerkships.
But Locke also said there are still some instances where black attorneys are passed over for promotions simply because of their race, a fact that can discourage their desires to continue working at large firms. Similarly, Cunningham said some black attorneys may believe they don't fit in at larger firms, which causes them to pursue other options.
If larger law firms want to increase the representation of black attorneys in partner and associate positions, Cunningham said there need to be stronger efforts toward recruitment and retention of those attorneys, an issue he plans to address as Diversity Committee chair.
Some large firms are already takingsteps toward improving their minorityrecruitment and retention practices. For example, Barnes & ThornburgLLP recently named one of its partners in the Fort Wayne office,Dawn Rosemond, as directorof diversity, professionaldevelopment and inclusion. As diversity director, part of Rosemond's role is to work with the firm's partners in charge of recruiting to ensure that there are strategic plans in place to recruit and attract a diverse pool of talent, including lookingat a diverse group of students in law school.
Rosemond
Rosemond said Barnes & Thornburg believes the most effective way to diversify the firm's ethnic makeup is to take a top-down approach, which is why she works with partners and other high-level employees to create recruitment and retention strategies.
Retention is also a key part of improving law firm diversity, Cunningham said, so large firms need to examine their practices to overcome some of the issues that could drive black attorneys away.
Aside from diversifying law firms, Cunningham said his goal as Diversity Committee chair will be to take a comprehensive look at diversity in the state as a whole. To accomplish that goal, Cunningham wants to engageboth law firms and bar associations to create a collaborative approach to addressing diversity issues.
Similarly, Selby said her commission plans to launch public forums in the coming year in cities such as Gary, Evansville, Indianapolis, Lafayette and Fort Wayne to discuss people's concerns about diversity and equality in the state's judicial branch.
Additionally, Cunningham said he wants to look to the example of other states that have already made diversitya commitment within their legalprofessions.
For example, the state of Michigan offers a "diversity pledge" that law firms can sign and then post on their websites, letting potential clients know that the firm is dedicated to providing counsel who can represent a wide range of views.•
Please enable JavaScript to view this content.