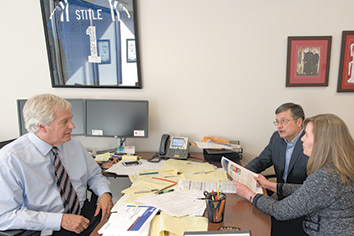 Just about every day Stephen Stitle, managing partner at SmithAmundsen LLC in Indianapolis, gets a phone call from another law firm asking how his office has been able to grow.
Since opening in the Circle City in 2013 with five attorneys, the office has grown to 23 lawyers, eight non-attorneys and seven practice groups. Also, Stitle said for the past two or three years, the office's revenue has been doubling.
A key to the Indianapolis office's success has been experience, specifically the kind that comes from enticing established attorneys to jump to SmithAmundsen. The Chicago-based firm has relied overwhelmingly on lateral hires to grow its offices around the Midwest, including in Indianapolis.
SmithAmundsen isn't alone. Since the Great Recession, many law firms have been opting to hire attorneys with experience rather than law school graduates. Major Lindsey & Africa, a legal talent recruiting firm, saw lateral hiring explode in 2015. Its just-released report, "BigLaw 2017: A Look Ahead," is predicting the trend will remain strong among elite firms and possibly accelerate this year.
Nye
Ron Nye, managing partner of MLA's Chicago office, sees the pace of lateral hiring being driven by market demands.
Corporate clients nationwide are outsourcing less of their legal work and shortening their lists of law firms they will ask for help. Firms are responding by bringing in experienced attorneys to broaden the expertise available in the office, not only to keep these clients but also to get assigned more sophisticated transactions and cases.
Conversely, the changes a firm may make to survive could, as Nye explained, cause some attorneys to consider different opportunities elsewhere. Pressure to raise rates, a conflict of interest that develops and impacts a key client, or just having a practice that has outgrown the firm are all reasons lawyers eye other firms.
"I think attorneys have become much better about managing their careers so they are much more willing to look at opportunity or take a meeting than they were pre-recession," Nye said.
New normal
 Amundsen
Glen Amundsen, founder of SmithAmundsen, linked the firm's lateral hiring to its philosophy. When the firm goes into a new market, it looks to bring on local attorneys who have solid reputations and are known in that legal community. SmithAmundsen believes this enables the new office to be part of the fabric of the city or town rather than being a Chicago law firm that does business in the community.
The firm had been looking at moving into the Indianapolis market when the opportunity arose to pick up five attorneys displaced from the closure of Stewart & Irwin P.C. in 2013. Making the group particularly attractive was the inclusion of three intellectual property lawyers. SmithAmundsen wanted to expand its capabilities in that practice area, so it grabbed the five.
Stitle joined in September 2015, making the leap from Krieg DeVault LLP, where he had been for nearly four years. He said SmithAmundsen's culture of collaboration and client focus, as well as the chance to help build the Indianapolis office, convinced him to move his practice.
Lateral hiring has become so common that law firms no longer raise their eyebrows when they interview an attorney who has worked at several different places, said Jim Bindley of Bindley Associates, an attorney search firm in Indianapolis.
He has helped large, medium and small firms find laterals who have two to 10 years of experience. The reasons for bringing on such attorneys can vary. Some firms may want to build a new practice group or help partners in an existing practice area while others might need younger attorneys who will be able to fill leadership positions as older partners retire.
Neither Bindley nor Nye sees lateral hiring declining. Firms have to hire, Nye said, or else they're shrinking. Even law offices that want to remain as they are have to bring on new attorneys.
The Evansville office of Wooden & McLaughlin LLP opened a couple of years ago with seven experienced attorneys and has been looking to expand its footprint in the Ohio River city. It has advertised for additional lateral hires to strengthen its employment, business and real estate practice areas and bring in new business.
Rudolph
Still, partner Ross Rudolph doubts lateral hiring will continue in the legal industry beyond the short-term period. The growth in the economy, he said, will create more demand for legal services, making laterals with many years of experience less desirable. Firms built solely with these attorneys will risk aging themselves out of the market very quickly.
Looking before leaping
Amundsen anticipates his offices will stick with lateral hiring because clients expect their work to be handled by attorneys who know what they are doing. These clients do not want brand new lawyers being trained on their dime, he said.
Although SmithAmundsen made such a commitment to lateral hiring that it did away with its formal summer associate program, it has been considering bringing the program back. Amundsen said his firm wants to continue to be known in law schools and be in a position to pick up high-caliber young lawyers.
Rudolph sees career goals as a main difference between new and experienced attorneys. While the paycheck is always important, recent law school graduates are particularly focused on compensation because of their student loan debts. Experienced attorneys thinking about joining another firm tend to pay more attention to what they will be doing in their new job and who their colleagues will be.
The culture of Wooden & McLaughlin attracted Rudolph to help build the new office in Evansville. As a young lawyer in the 1980s, he left his first employer to help start Mattingly Rudolph Fine & Porter, which later became Rudolph Fine Porter & Johnson. When the firm merged with Jackson Kelly PLLC in 2014, Rudolph decided he would fit better at Wooden.
Rudolph credits his career path with teaching him a lot about the practice of law as well as law firm management. Despite the benefits of making a lateral move, he knows the process of deciding to leave and finding a new job can be difficult and create anxiety for the attorney. He doesn't like to see lawyers leave, but he knows such movement is part of today's work environment.
"If they feel like they need to leave, obviously I wish them well," Rudolph said. "I hate to lose people, but I want them to be happy and successful."
To ensure the firm and the attorney are right for each other, SmithAmundsen typically engages in a long courtship with potential lateral hires. It prefers to spend six to 18 months interviewing single or small handfuls of attorneys and beginning the integration process at the first interview.
To overcome the difficulty in mixing together attorneys from different firms, SmithAmundsen looks for laterals who have similar values and career objectives.
The firm also closely examines how the lawyer will fit professionally by working at the outset with the potential hire on a business plan. That roadmap will detail how the attorney's skills and the firm's resources can come together to maximize results or, as Amundsen explained, how one can be added to the other to equal three.
Recruiting and hiring a lateral is a painstaking and time-consuming task, but Amundsen said his firm does not want a lateral just coming from across town to do the same job. "We want people to choose SmithAmundsen not just because of the size of the firm and the pay, but because it's a good place to work."•
Please enable JavaScript to view this content.