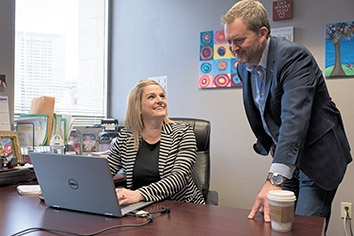 There were a lot of lightning bolts that led to the start of the legal technology company Case Pacer.
The software, which has a heavy dose of artificial intelligence; the financing mechanism that funneled the cash to launch the business; and the pricing method that made the product affordable to plaintiff attorneys, were all sparks of inspiration.
But the lightning bolt that came in November 2016 was unexpected and devastating. Kevin McCarthy, the visionary and energy behind Case Pacer, was killed in an auto accident along with sales representative Casey Speckman.
McCarthy built the company, knew the customers and had a clear picture of what the business needed to do to continue growing. The blueprints for the future were all in his head and when he was gone, no one person at Case Pacer had the complete master plan.
However, the vision was spread among the employees, said investor Gary Brackett, the retired Indianapolis Colts linebacker, now a restaurateur and entrepreneur. Each worker understood their area of the company, whether sales, technology or financing, and together they could recreate the roadmap.
"While it's hard to replace a Kevin McCarthy, we all pieced together all of our knowledge that we had," Brackett said. "We're really working together with everyone getting on the same page and creating a new vision in Kevin's legacy."
Today Case Pacer is moving forward. It and its sister company, Express Medical Records, have 25 employees, including software developers and sales representatives, and Case Pacer has a customer base of about 70 law firms around the country. Revenue for both companies in 2016 came in slightly north of $2 million, according to Interim CEO Dan Carroll.
"Kevin was a special person and this is a special company," Carroll said. "We need to put on the track shoes and run like hell because we are in great situation and we have to take advantage of that to fulfill Kevin's vision and legacy in the process."
Customizing and ticklers
The software offers a cloud-based management system specifically designed for trial lawyers. (IL photo/Eric Learned)
Case Pacer, launched in 2013, is a case management system specifically geared for plaintiff attorneys. The seed that grew into the company was actually planted by Carmel personal injury lawyer Vaughn Wamsley, who developed the underlying intelligence of the software and obtained two patents in the process.
Two key features of the technology are the ability for attorneys to customize the program and the tickler system. Both enable lawyers to keep track of the progress of their cases, know what their employees are working on, and see what steps need to be taken next.
Law firms can design Case Pacer to follow the procedure they take when prosecuting a personal injury, medical malpractice or workers' compensation claim. A firm that first gets the medical records then moves to the deposition of medical experts, and another firm that prefers to start with the accident report, can each have the software molded to fit their unique workflow.
"What Kevin was very right about was saying he didn't want to create software that forced law firms to practice law the way he felt it should be done," Carroll said. "(Case Pacer is) ultimately customizable."
Once the attorney begins using the software, reminders, or what Case Pacer calls "ticklers," will appear identifying what steps need to be taken to keep the case moving. The tickler system does have an artificial intelligence component. If an attorney combines two steps or the case moves in such a manner that certain steps can be skipped, the system adjusts and points to the next appropriate step.
Fort Wayne trial lawyer Roger Finderson credits Case Pacer with helping him sleep at night. When he wakes up and begins worrying about a case, he can grab his smartphone, log on to the software, double-check whatever is bothering him, then relax.
"I sleep so much better," the solo practitioner said.
Finderson began using Case Pacer when he opened his office April 1, 2014. He had become friends with McCarthy and, being a computer programmer at heart, saw how the software could benefit his practice.
Relying on referrals, Finderson knew he had to be able to take the clients that were sent to him. Turning people down because he did not have the time to handle their cases could have eventually stopped referrals from coming. Instead, he said Case Pacer has allowed him to keep a heavy workload, estimating the software has enabled him to boost his caseload by 25 percent without having to hire another attorney.
And just like he can do at night, whenever a client or opposing counsel calls, he can quickly access the case file and see what has been done as well as what needs to be done next.
"It does send the message that you can think what you will of me but at least I know what I'm doing," Finderson said.
Value proposition
Brackett was an early financial backer of Case Pacer, immediately seeing the value of the technology. He and his five siblings had filed a medical malpractice lawsuit after his mother died, and from that experience, he remembered how the process can exhaust and financially strain clients.
As plaintiffs' cases trudge along, bills can pile up and mortgages go unpaid. Lot of clients need money immediately so getting the restitution potentially six months faster for a nominal cost, Brackett said, would be a "no brainer."
"That ability to streamline the process was really appealing to me," Brackett said. "I really thought it was a viable product just because what I went through in the process, and I understood what it meant to have that case close sooner."
From the beginning, Carroll said, McCarthy realized developing the Case Pacer software would take years and lots of money. So he first created and launched Express Medical Records, which is a medical records retrieval service helping trial lawyers get the physician and treatment information they need for the clients' cases.
The revenue generated from Express was used, in part, to support the work on the case management program. Just as importantly, by introducing the medical records program to law firms, McCarthy was able to build relationships with attorneys, which later led to sales of Case Pacer.
Introducing the software to law firms and getting them excited about the capabilities were not difficult, but setting the price was. Carroll said he and McCarthy struggled with how to get firms to, literally, buy in. McCarthy hit upon the solution.
Case Pacer devised a payment mechanism whereby law firms get the software for free and the costs are shifted to the attorneys' clients as a modest user fee of $150 for two years of document storage. Once the case is finished and the settlement check is in hand, then the Case Pacer charge is added to the list of other fees that are paid by the plaintiff, such as the costs for filing and depositions.
Laura Williams, Case Pacer director of operations and client relations, said most firms do not believe the offer initially. Often they follow up the conversation by asking her to send a billing agreement so they can read the terms for themselves.
"I think they think we're going to change our minds," Williams said, laughing.•
Please enable JavaScript to view this content.