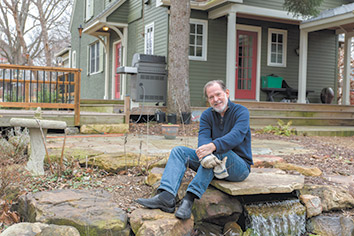 Don Lundberg now has time to stop and smell the roses. And to root out all those pesky invasive plants lurking in the garden outside his Irvington home.
Mark Waterfill spent some time in Vegas last week on business. His own business.
Lundberg and Waterfill, for years well-known and well-regarded leaders in their practice areas at major Indianapolis law firms, have gone solo.
Lundberg, who represented and counseled attorneys on professional ethics and was deputy general counsel for Barnes & Thornburg LLP, now works at home for Lundberg Legal. Waterfill, an authority on employment law and litigation, departed Benesch. He's now Mark Waterfill, attorney at law, when he's not being president of a police and fire training business he acquired last year.
'The great unknown'
For Lundberg, the decision to leave Barnes wasn't easy, and he prepared for it for about a year before his last day on Dec. 30. Formerly an 18-year stalwart of the Indiana Supreme Court Disciplinary Commission and a 15-year veteran of Indiana Legal Services Inc. before that, going solo would mean working without the camaraderie and support of other lawyers for the first time after 40 years in practice.
"I'm a pretty gregarious person. I like to be around other lawyers, and so that was a change and something I needed to think about," Lundberg said.
"It's the great unknown, and another way to put it is, it's a great adventure. … When I finally kind of got myself to sit down and do the pros and cons, the cost-benefit, what have you, the decision fell into place for me pretty readily."
Lundberg estimated he worked about 3,000 hours a year on average at Barnes, about two-thirds of that time dealing with his deputy general counsel duties. And those hours weren't regular — he'd often get a call in the middle of the night from one of the firm's 600 lawyers, but he said he never regretted that. Lawyers at the firm are encouraged to talk through potential ethical issues before those situations arise.
Ken Inskeep is a Barnes partner who recruited Lundberg from the Disciplinary Commission. He said Lundberg had a unique practice and often worked from 7 to 7, then gave continuing legal education ethics presentations or provided other service to the profession.
"That reflects Don's love of lawyers and his passion to help lawyers be better lawyers, because he thinks they're so important to society," Inskeep said. "I think Don, head and shoulders above any other lawyer in Indiana, would be viewed as the lawyer's lawyer, in terms of what it means to be a very ethical attorney and very devoted to the legal profession."
Lundberg said he still plans to write and lecture as he's done for years, at least in the near-future. It didn't hurt that his name is nearly synonymous with legal ethics, attorney disciplinary issues and regulation of the profession. Most of his clients followed him from Barnes, and he doesn't expect any lack of potential clients.
"I felt like they would find me," he said.
But at 67 — "I'm no spring chicken," Lundberg said — cutting back his practice to about half-time made sense and put his career on what he calls a flight path toward retirement.
"There are lawyers, good lawyers, fine lawyers, who love the practice of law and plan to be intensively involved to the maximum extent for however long," he said. "I'm not one of those people."
Fittingly, on a recent spring-like February weekday, the only matters of immediate concern for Lundberg involved some early gardening.
"I'm kind of the master of my own destiny," he said.
'Wanted to be my own man'
Former Benesch lawyer Mark Waterfill enjoys a break in Las Vegas, where his company, Public Agency Training Council, recently was instructing about 300 police officers at a convention. (Photo submitted)
Waterfill also left his former firm, Benesch, late last year. Like Lundberg, he's well-known among lawyers for the expertise he's shared in presenting CLEs on employment law and litigation matters — by his count more than 500 over the years. He also intends to continue doing those.
New opportunities arose for Waterfill last April when he purchased Public Agency Training Council, which he said is the largest professional training organization in the nation for police and fire departments. "The law practice and the business work hand-in-hand very well," he said. "It's gone great and I'm very happy."
After practicing law in downtown firms for 30 years, Waterfill now has a short drive to offices at the Ameriplex business park on the southwest-side of Indianapolis. "I have always wanted to be my own man," Waterfill said. "I went to lunch with a friend and he said, 'Are you missing downtown?' and I said, 'No, not really,' and I love downtown. But now I don't have to fight traffic, and I come home when I want."
Last week, Waterfill joined some of PATC's 11 employees and 60 trainers who deployed to Las Vegas to train more than 300 police officers. Ten classes were taught, ranging from hostage negotiations to search and seizure laws. Waterfill said he's still working about as much as he did at Benesch, though differently.
"I'm much freer to do what I want when I want to," he said. "My time isn't taken up with administrative issues nearly as much." He also said that now that he's not working in a firm with nine offices from Indianapolis to Shanghai, there's no concern about potential representation conflicts, which he called a "constant problem" in larger firms.
Now, "I can take the clients and the cases that I want to take with no need to argue or discuss," Waterfill said. "I know I can take litigation cases without being worried."
Most of Waterfill's clients followed him, though some with more complex, highly specific issues stayed with the firm. His clientele includes entities from Waffle House Inc. to local Chrysler dealerships.
"For clients who were looking to me for general business or employment law or litigation, the transition was very smooth," he said. Working for himself, he said he also was able to please clients by slashing his hourly fee from $545 to $250.
"I had a friend of mine who's been solo for many years," Waterfill said, "and he said it's amazing how little work you need to be completely busy."•
Please enable JavaScript to view this content.