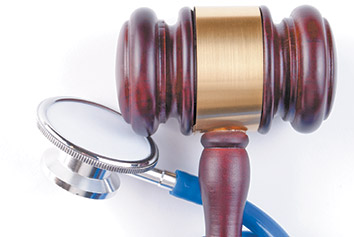 A little more than a year ago, something happened that hasn't occurred in almost 30 years: The number of Americans receiving Social Security disability payments declined. And in a little more than a week, new rules could make it more difficult for claimants to prove they're entitled to benefits.
The 8.89 million people receiving SSD in January 2016 marked the first time that the number of people receiving disability decreased year over year since at least 1988, the earliest data available. The trend continued in 2017, as the number of payees fell, slowly but steadily, to 8.79 million in January — the lowest level in almost five years.
At the same time, annual applications for benefits also fell after peaking at 2.93 million in 2010. The number plunged to 2.32 million last year. Despite that decline, fewer claimants are being approved for benefits. In 2002, 44.6 percent of applications were approved. Since 2002, approval rates have declined, with rates hovering around 32 percent since 2014.
And after March 27, a treating physician's opinion won't mean as much to a claimant's case, either. The Social Security Administration has adopted new rules for agency review of disability claims filed after that date. Notably, the new regulations eliminate the "treating-physician rule," which requires Social Security adjudicators to give significant weight to the evidence of disability presented by a claimant's medical treating sources.
Lisa Ekman, director of government affairs for the Washington, D.C.-based National Organization of Social Security Claimants' Representatives, said the group "strongly opposes" the new regulations. The rule changes are likely to decrease transparency, she said, and allow administrative law judges reviewing claim denials to give equal or greater weight to medical testimony of health care sources who may not have treated a claimant, including those working with the agency.
"The reason for the treating-physician rule to begin with was actually due to court rulings telling the agency they weren't giving enough weight" to treating health care sources, Ekman said. "We believe these new regulations are probably not going to pass muster in the courts."
But the rules published in the Federal Register Jan. 18 are aimed to comply with the Bipartisan Budget Act of 2015 and "reflect changes in the national healthcare workforce and in the manner that individuals receive healthcare, and emphasize the need for objective medical evidence" in disability cases, according to the agency.
"We are revising our rules to state that our adjudicators will articulate how they consider medical opinions from all sources, regardless of whether or not the medical source is an (acceptable medical source)," the revised rule says. Social Security also will no longer give added weight to disability determinations of other government agencies such as the Department of Veterans Affairs.
Harsh words on appeal
Indianapolis attorney J. Frank Hanley II has been handling disability cases for 46 years. He said a treating health care source's evaluation has always been critical. Still, some adjudicators "are looking for a reason to deny the claim," he said. "They're doing it more now than they used to."
Hanley estimated his clients win about 85 percent of cases appealed to federal and circuit court after denials in the Social Security administrative process. He's handed off seven cases to appellate counsel who tried them at the 7th Circuit Court of Appeals, and his clients prevailed on six, he said. The key is a good record on appeal and an emphasis on the testimony of the treating health source.
"They fling them back with some tough words," Hanley said of 7th Circuit remands.
Representative of those opinions is Michael E. Garcia v. Carolyn Colvin, 13-2120. In that case, an ALJ gave no weight to the opinion of Michael Garcia's doctor, who said Garcia was disabled and unable to perform any workplace functions. Circuit Judge Richard Posner ridiculed the agency for using boilerplate language to deny the claim of "one of the most seriously disabled applicants for Social Security disability benefits whom we've ever encountered," and noted, "We are surprised that the Justice Department would defend such a denial."
The 7th Circuit's admonishments of recent years are reflected in some district court decisions. Federal Judge William T. Lawrence on March 2 remanded a denial of disability benefits in Charles White v. Nancy Berryhill, 1:15-cv-2067, and cited the court's warning in Israel v. Colvin, 840 F.3d 432, 439 (7th Cir. 2016) that ALJs should not "play doctor."
Part of Charles White's claim included intermittent pain, numbness and tingling in his legs that Lawrence said the ALJ discounted without apparent medical support.
"(T)he ALJ should have asked the medical expert at the hearing about (the possibility of intermittent symptoms), and should do so on remand instead of succumbing to the temptation to play doctor to White's detriment," Lawrence wrote in a concluding footnote.
"They're definitely out in front of the other circuits," Ekman said of the 7th Circuit's jurisprudence on disability cases. She said the 9th Circuit also is seen as a leader for adopting a "credit as true" rule regarding a treating medical source's testimony.
This year in the U.S. District Court for the Southern District of Indiana, of the 19 SSD cases closed through March 5, almost half — nine — were remanded to ALJs with decisions favorable to plaintiffs.
Grueling process
One thing is unlikely to change in disability cases — the time it takes for initial denials to be appealed.
Lewis
"What happens is it takes about two years to get a hearing" before an ALJ, said Indianapolis disability attorney Scott Lewis. "It takes so long a claimant's health condition could change in a bunch of different ways."
He said he had a client who died just a few weeks after a hearing before an ALJ. "The chances of that happening are there."
Ekman said about 1.4 million people are currently waiting for a disability hearing, and the delay from initial denial can be devastating to those with no income and who are unable to work. She blamed "chronic, inadequate funding Congress has provided to the Social Security Administration" for the backlog.
Still, Lewis said ALJs are doing the best they can with the resources available.
According to the SSA, the wait time for a hearing before an ALJ from the time of request is 16 months in Fort Wayne, 18 months in Evansville and 19 months in Indianapolis.
According to data from Oct. 1, 2016-Feb. 24, 2017, ALJs in Evansville denied 30.9 percent of appeals during that time, compared to a denial rate of 29.9 percent in Indianapolis and 44.1 percent in Fort Wayne.
Despite a process that can be challenging for claimants and their advocates, Lewis, who is legally blind from an eye disease contracted while serving in the Army National Guard, said the work is satisfying when people in need receive benefits that will help them survive.
"It's pretty rewarding," he said.•
Please enable JavaScript to view this content.