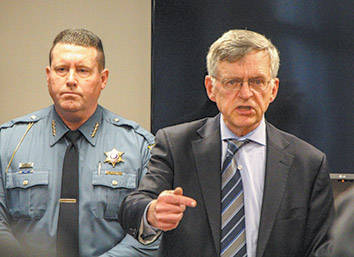 David Capp was never shy about publicizing his phone number.
During community meetings or media interviews, the former U.S. attorney for the Northern District of Indiana would tell the audience that if they had seen something or witnessed something, they should call his direct office line.
Ordinary citizens were key players in Capp's long tenure uncovering and prosecuting public corruption. He started rooting out government misdeeds shortly after he joined the U.S. attorney's office in 1985 and kept his hand in the effort as he rose to first assistant, then as interim U.S. attorney three times before finally being confirmed as the top lawyer in the Northern District in 2010.
He continued the pursuit until he stepped down March 11 as one of 46 U.S. attorneys offering their resignations at the request of President Donald Trump.
"Citizens deserve to have elected officials doing the work for the citizens they represent," Capp said, explaining his tenacity toward holding corrupt elected officials accountable. "It's just fundamental to the success of the operation of our system of government."
The eldest son of a Presbyterian minister, Capp credits his parents with instilling in him a strong moral compass. Why he chose the law is a more difficult question for him to answer.
He cannot point to the moment when he decided to become a lawyer. His interest in government, the judiciary and particularly the courtroom took root while he was a student at Lew Wallace High School in Gary and grew during his undergraduate studies at the University of Wisconsin-Madison.
But after receiving his bachelor's degree, he returned to the blast furnaces in the steel mills where he had worked since high school. He was considering taking the offer of a management position when a foreman called him aside and advised him the industry was declining so he should not link his future to steel.
Eventually he enrolled in Valparaiso University Law School. Describing himself as a "run-of-the-mill" student, he found his footing in trial advocacy.
"I just felt I got an outstanding education at Valparaiso Law School," Capp said. "I look back on those years fondly."
He joined the Merrillville firm of Cohen & Thiros after he graduated in 1977 and spent much of his time in the courtroom. The work ranged from contract litigation and personal injury to criminal defense.
When James Richmond was appointed U.S. attorney for Northern District of Indiana, Capp approached him for a job. Like he did with all his new hires, Richmond asked Capp to sign a three-year employment contract. Although the agreement was not enforceable, the new U.S. attorney wanted to impress upon his staff they should take their job very seriously and not view it as a stepping stone.
Capp refused to sign, saying he only intended to stay two years. Richmond, noting Capp was a good lawyer who was very smart, very fair and loved cases of first impression, hired him anyway. Soon, Capp was put in charge of Operation Lights Out, which investigated crimes by public officials and business leaders.
Prosecuting a public corruption case was complex and tedious work. The attorneys would have to comb through reams of documents and reconstruct the paper trail. Often the work flowed into evenings, weekends and holidays. The goal was to find the invoices and memos that would support a witness's testimony and convince a jury.
The most difficult part of the job, Richmond said, was not deciding who to indict but deciding who not to indict.
"The minute you indict somebody, you destroy his life," Richmond said. "Without regard to how the case comes out down the road, he's going to always be known as somebody who was indicted."
More than 60 elected officials from Northwest Indiana were charged with violating federal law from the beginning of Capp's tenure through mid-2014. The list includes former East Chicago Mayor George Pabey, Lake County Sheriff John Buncich and Portage Mayor James Snyder.
Among the more notable cases was the "Sidewalk Six," which charged East Chicago city officials with using public money to refurbish sidewalks and pour new driveways in exchange for votes during the mid-2000s. Councilman Joe de la Cruz and city controller Edwardo Maldonado served time in federal prison, but councilman Frank Kollintzas absconded before sentencing.
The lawyers who defended the councilmen and city controller were eventually ordered to repay the city more than $450,000 in legal fees.
Later in his tenure, Capp turned his attention to criminal gangs such as the Latin Kings and Imperial Gangsters that called the northwest corner of Indiana home. He told the Gary Post-Tribune that the 56 gang members his office arrested in 2016 were responsible for 36 homicides.
Kerry Connor, a Highland federal criminal defense attorney for 29 years, opposed Capp on many cases.
"David Capp sets the bar high in terms of professionalism and integrity," Connor wrote in an email. "He is living proof that one can maintain civility while still being a formidable adversary in the courtroom."
Capp's resignation came just a few months before he had planned to retire. Now he expects to tackle some long-neglected household chores before he decides what to do next.
Despite his intention to stay for just a couple years, Capp logged 31 years in the U.S. attorney's office.
"I truly have enjoyed every day of it," Capp said of his tenure. "It was an honor and a privilege for me."•
Please enable JavaScript to view this content.