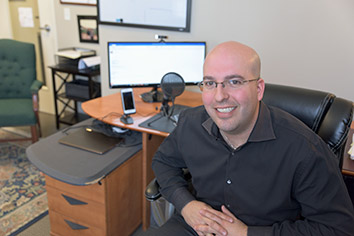 She had just finished law school and passed the July 2014 bar exam when she heard a podcast that spoke to her situation. Josh Brown, the host of the podcast "Franchise Euphoria," was discussing a topic that defined Stephanie Maris' philosophy when looking for her first legal job – "Stop dreaming and start doing."
Flash forward to November 2014, and Maris' decision to listen to Brown's podcast had landed her a job as an associate attorney in the Law Office of Josh F. Brown, a franchise law practice based in Carmel. Brown, who had himself embraced the "stop dreaming and start doing" attitude when he opened his own firm in 2013, had inspired Maris to reach out to him for a meeting. That meeting ultimately led her to the job she still holds today.
But Maris' situation isn't unique, at least not in Brown's world. Since the launch of Franchise Euphoria, which has been featured on iTunes' "New and Noteworthy" and "What's Hot" sections, Brown has added 22 clients to his franchise law practice purely through the publicity his podcast provides. Additionally, some 3,000 listeners from around the country and the world download Franchise Euphoria every month, each hoping to glean wisdom from the franchise-related topics covered in one of Brown's 180 episodes.
Sometimes the episodes feature only Brown as he shares his thoughts on a topic selected from a list he keeps handy each time he's ready to record a new installment. Other times, a guest will come on the show. Often those guests will reciprocate and ask Brown to speak on their shows. Among the franchise-related podcasts featured on iTunes, Brown's is consistently rated at the top, though he wryly notes that only five such podcasts exist.
Brown's journey to iTunes fame began after his graduation from Valparaiso University Law School in 2006. Having worked with franchises as a business marketing professional in the years before he entered law school, Brown's early legal career included clerking for now-Chief Judge Nancy Vaidik in the Indiana Court of Appeals and working in private practice as a small-business attorney.
But Brown said he always felt called to more — specifically, to opening his own practice. After researching franchise law and honing his practice in that area for a few years, the attorney said he realized franchise law was a niche practice area that had yet to be filled in Indiana. So in 2013, he finally took the plunge and struck out on his own, opening a practice that would combine his previous experience in business marketing with his knowledge of the legal side of franchising.
"Really, when you put yourself out there, you go out on your own and set up your own practice, it gives you a freedom to go and explore and do different things," Brown said.
That freedom allowed him to explore different avenues for sharing his knowledge with others interested in franchising. Initially, Brown created an online blog, and from that blog and his own interests in podcasts, Franchise Euphoria was born.
Creating a podcast is as simple as purchasing a microphone and as cheap as $100, Brown said. His recording studio is not an elaborate sound-proof room, but rather the corner of his desk where a $35 microphone, a pop filter and a laptop sit. And you won't find any high-tech editing equipment in Brown's office — free recording programs such as Audacity and Skype work well enough to produce a high-quality sound worthy of iTunes and other podcast platforms.
The content of Franchise Euphoria has evolved at the same rate as Brown's law practice, he said. For example, his work was initially focused on the franchisee perspective, which meant the podcast featured tips and advice from the same perspective. But when Brown expanded his work to also those wanting to turn their businesses into a franchise, the content of Franchise Euphoria likewise expanded.
Brown initially produced one podcast per week, but as his practice and family has expanded, he's slowed down production to one or two episodes a month. But that has not slowed Brown's notoriety – Maris said she frequently fields phone calls from people across the nation wanting a few minutes of Brown's time to seek franchising advice from the familiar voice behind the microphone.
"I talk to them when they call in and ask them how they found out about us, and a lot of them do listen to the podcast and are avid listeners who are eager to talk to Josh," Maris said. "I definitely think it does create a lot of cold-calling."
One such cold call came from Wisconsin last November. Al Whitfield and his wife, Kristin, own Bio Wisconsin, a company that specializes in cleaning up crime scenes and the houses of hoarders. The Whitfields were running into some franchising issues with their business, and they knew from frequently listening to Franchise Euphoria that Brown was the man with the answers.
"I thought, 'I love this guy, so why not call and ask him if he can handle it?'" Al Whitfield said.
Although the Whitfields live a few states away, Brown said federal laws governing franchising allow him to practice outside of Indiana. Brown was responsive to the Whitfields' needs even from Indiana, Whitfield said, and the advice he has offered the couple has helped them work through their business issues.
But Brown is careful to note that the information offered in his podcast is just that — information. Unless listeners such as Whitfield reach out to ask for his legal representation in their specific situation, he stresses he's not offering legal advice, but instead is sharing general knowledge he hopes will benefit his listeners — people who, like himself, know they are destined to strike out and be their own boss.
"The thing that I realized when I was working at a couple different firms before I went out on my own was that I was never really fully satisfied at those firms, and I didn't know why," Brown said. "And I didn't realize until I went out and launched my own firm was that the reason I wasn't satisfied was that I really just wanted to do it my way."•
Please enable JavaScript to view this content.