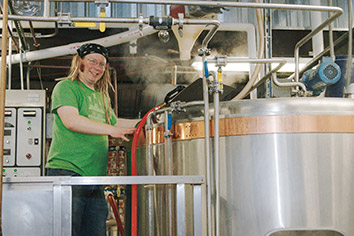 After talking about beer, learning about beer and sampling beer last week at the Brewers Association Craft Brewers Conference, David Waldman returned home to Indianapolis knowing he had some letters to write.
The director of operations for Triton Brewing Co. will be sending messages to the other brewers he saw at the convention whose names were too similar or outright duplicating Triton's trademarks. His tone will be polite and nice, but he will clearly explain Triton owns the brand and the recipients are infringing.
As the number of craft breweries in the United States has skyrocketed 5,234, a 16.2 percent increase from the year before, there has been a rise in trademark disputes. Beermakers are increasingly suing in federal courts to protect their brand names and logos.
The uptick in brawls is linked to growing sophistication in the industry. Artisans who just want to brew and give their neighbors something delicious to enjoy are being replaced by business professionals and investors more focused on expansions and profits.
As new breweries mushroom and established beermakers introduce new concoctions, a distinctive brand is vital to standing out in the market.
Waldman and his business partners selected their brewery name a couple of years before they opened their business but still had trouble securing the trademark. They wanted to name their brewery Triton, but a winery in Spain which had a small distribution to Boston was already using the moniker. An extensive series of hearings and filings followed until finally the wine makers relented.
Sun King barrel manager Andrew Hood works on crafting beer. The brewery has been involved in trademark disputes involving the names of its beer. The companies amicably worked out the issues. (Submitted photo/Chris Johnson)
The Indianapolis brewers wanted the Triton name because it helped tell the story of their beer. Waldman and his partners carved out their niche in the market by perfecting the primary ingredient beer — water. Prior to brewing, the water is put through a charcoal filter and reverse osmosis process which, Waldman said, creates a beer that has a velvety feel in the mouth.
Consequently, Triton — a god of water in Greek and Roman mythology — links to the brewery's method for making beer.
"It was the perfect name waiting to be plucked out of the air," Waldman said.
Crying in their beers
At the California law firm, The Craft Beer Attorney, lawyers regularly get calls from brewers wanting to know if the name they picked has been trademarked. Usually the conversations end with the anguished cry that all the good names have been taken.
The saturation of brands in the craft beer industry is not surprising. Stacy Hostetter of Craft Beer Attorney explained that not only do the individual breweries have names, the beers also have names.
The restraint becomes even tighter given the limited vocabulary of the industry. Producers want names that distinguish their beverages but yet are closely associated with beer in general so consumers can easily identify what it is. Since beers are primarily made with grain, hops, yeast and water, picking an associated moniker can quickly stir trouble.
Hostetter
Changing the name can be emotional because brewers often have attachments to their brands. They might have conjured up the name when they were still homebrewing, and when they realize their dream of opening a brewery, not being able to use their special name can be heartbreaking.
"Telling them to come up with a new name is like telling them to rename their child," Hostetter said. "The idea of changing is very painful."
In Elkhart, Chip Lewis and his wife Summer have a very strong connection to their brewpub's name but they have not trademarked it since it is not only distinctive but also practically unpronounceable. The business began as a hobby with Chip Lewis getting a homebrewing kit for Christmas. Friends who were invited over to sample would all raise their mugs and utter the toast, Iechyd Da!
The term (pronounced ya-key-dah) is based on Chip Lewis's Welsh heritage. Summer Lewis pointed out the added benefit is that the name is a conversation starter. Patrons come in with questions and the pub owners are able to make new friends, which can lead to repeat business.
In a town of roughly 51,300, the 75-seat tavern served 65,000 customers in 2016 alone. "It's been a race to keep up since (we opened)," Summer Lewis said.
Having a beer together
When they do decide to open for business, brewers are generally more focused on buying the equipment, obtaining the financing and getting the permits. Their brand and logo are important but either they do not realize they could be infringing or they do not want to spend the money to hire an attorney to search for trademarks.
Breweries tend to cover a small or regional geographic area and do not ship their product all over the country. While having a limited footprint reduces the potential for infringement because consumers would be less likely to confuse similar brands in different parts of the country, social media is redrawing the map.
Websites like ratebeer.com and aps like Untappd provide forums for customers to comment on what they tasted. If brands are similar, consumers could mistakenly write a bad review of the wrong beer.
Meyer
However, before an infringement case reaches court, the culture of the craft beer industry dictates that brewers first make a phone call or write a nice letter. Charlie Meyer, partner at Woodard Emhardt Moriarty McNett & Henry LLP, noted small beermakers tend to be a collegial group who want to reach an amicable agreement.
"Generally, I find most companies are reasonable if both sides are willing to work together," Meyer said.
Sun King Brewery has experienced two kinds of treatment in trademark disputes and now advocates for starting with a soft approach.
Shortly after Sun King opened, a brewery in Maryland sent a cease and desist letter, claiming its trademark was being violated by one of the Indiana company's beer names. Sun King vice president and general counsel Steve Koers thought about fighting, but his business partners decided keeping the name on a draft beer was not worth the expense.
Another time, the president of different brewery called. Sun King had a beer name that was similar to the brewery but after a conversation, the president agreed to let the Hoosiers sell the batch it had already canned before changing the name.
"You don't want to lawyer up right away," said Koers, who is also a partner at Lewis and Wilkins LLP. "You try and be nice about it by calling people in the other business if there are issues and you see if you can work it out."
A generic future?
Hutson
To Jeffersonville solo practitioner David Hutson, the rise of infringement lawsuits among craft brewers is a little disheartening. Litigation can divert investment from the beer and tarnish some of the excitement that comes with starting a business.
Hutson, who defended the brewpub Red Yeti in Jeffersonville in an infringement dispute with Denver's Great Divide Brewing Co., conceded startups may try to save money by searching for protected marks themselves and by not registering their own name. But they are risking a lightning strike that could harm their entire business.
Going forward, Hostetter expects trademark litigation to increase. Brewers will turn to the courts to protect their brands for a while but eventually, they will find all the work that goes into applying for trademarks, fending off litigation and preventing infringement is too much trouble.
At that point, the industry will shift. Hostetter believes brewers will turn from giving their beers creative names to generic labels.
Herriman
One thing likely to remain constant in the craft beer world is inspiration. Homebrewers will probably still nurse dreams of opening pubs and selling growlers.
"I doubt (the infringement lawsuits) dampen anybody's enthusiasm to get into the brewing industry," said Bart Herriman, hospitality lawyer with Clark Quinn Moses Scott & Grahn LLP. "Brewers are craftsman and artisans. They want to get into it."•
Please enable JavaScript to view this content.