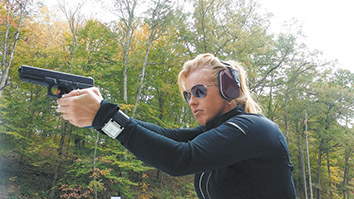 Supporters of a bill that would have allowed victims of domestic violence to carry handguns without a license say a broader effort to eliminate all carry permit requirements delayed needed protections for a vulnerable population and could muddle the issues.
"That bill was doing well on its own," Tami Watson said of House Bill 1071, which would have permitted a person with a protection order against someone to carry a firearm without a license for 60 days. An 18-year Indiana State Police officer who now is a firearms instructor at Watson-Chambers Defense Institute in Columbus, Watson testified for the bill after it passed the House, and she was convinced it could easily pass the Senate.
She was disappointed a Senate committee amended the bill, steering it toward a study committee that also would look at "constitutional carry" — scrapping the legal requirement that any eligible person obtain a license to carry a firearm. She called it a "huge distraction" for the Legislature.
"This bill has been wrapped up with constitutional carry and has been poorly branded," Watson said. "This is a victim's rights bill, not a Second Amendment bill." A bill that would have made constitutional carry Indiana law, House Bill 1159, failed to get a hearing in the General Assembly this session. The bill Watson lobbied for, HB 1071, was still in the reconciliation process between House and Senate versions at IL deadline.
But the bill Watson and others called a victim protection bill also has its detractors — domestic violence victim advocates who say introducing guns into violent situations can further risk victims' safety. Meanwhile, opponents of wider gun rights generally are organizing to oppose both the domestic violence aspect of HB 1071 and constitutional carry. They see a summer study committee as an opportunity to press legislators on safeguards they want to become law.
"We are looking forward to having a robust conversation about all of these issues," said Stephanie Grabow, Indiana chapter leader for Moms Demand Action for Gun Sense in America. About 50 members of the group met with lawmakers April 4 to advocate for a measure that didn't get a hearing this session: House Bill 1534, which would have required removal of firearms in domestic violence situations where a protection order is issued. Whether guns are removed now is left to a judge's discretion.
"We know a majority of Hoosiers, including a majority of gun owners, want better, stronger gun laws to keep our families safe, and we want our elected leaders to listen to their constituents," she said.
Personal stories
Among the Moms Demand Action members who converged on the Capitol was Danyette Smith, who had been in a 12-year abusive relationship before she obtained a protection order. "When that gun was placed to my head and I was told if I leave I would be killed, that's when the level changed," she said.
In her case, though, guns weren't removed from the perpetrator, so she remained fearful. A law requiring gun removal in situations like hers "would have given me a little more relief. When I took my kids to school, I wouldn't have had to look over my shoulder," she said.
Stephanie Grabow leads advocates who earlier this month urged lawmakers to support measures they say will reduce gun violence. (IL photo/Dave Stafford)
Grabow said it was important for members of her group to talk with lawmakers about the connections between guns and domestic violence and to raise their voices against measures they consider bad policy. "We understand that when guns are introduced into a domestic violence situation, a woman is five times more likely to be killed, so we're here educating our lawmakers about this fact," she said.
A gun, Grabow said, is "more likely to be taken away from the victim and used on her than she is to use it in her own defense."
Dawn Hillyer of Fort Wayne owns Hiding Hilda, a business that makes and sells purses and accessories for women who carry. Like Watson, she was a stalking victim who supports allowing domestic violence victims to carry a weapon without a permit if they would otherwise qualify. Such a law would safeguard victims from fear they could be victimized again if they chose to protect themselves with a gun before the weeks it often takes to receive a carry permit.
Hillyer
"To say that nobody should have that option is ridiculous to me," Hillyer said. She's offended by advocates who oppose the bill and say "women are too emotional to be responsible gun owners. … Honestly, I think it's absolutely demeaning," she said. "You can't put us all in one box."
Hillyer said she wishes senators had passed the bill and not mingled it with a broader gun-rights measure.
Constitutional carry
Second Amendment attorney Guy Relford testified in favor of HB 1071 and also supports constitutional carry. He said he was disappointed, too, that the domestic violence victim bill didn't get a vote on its merits. "I looked at it as, hey, it's a step in the right direction," he said. "These kinds of bills only give freedom to law-abiding citizens."
He agrees it's possible the domestic violence legislation could be overshadowed by constitutional carry, which is opposed by Indiana State Police, the Indiana Sheriffs Association and other law enforcement groups that traditionally have significant clout at the Statehouse. Authorities fear they could be left to try to determine whether someone is legally able to carry a gun if the permit was no longer required.
Nevertheless, constitutional carry is now law in 12 states, according to the National Rifle Association.
Relford said it's a misconception that constitutional carry would make it easier for criminals to carry. It's likewise a misconception that all gun licensing would end. Licenses still would be issued for reciprocity when crossing state lines, for instance. He said people who would be barred from obtaining a permit don't typically register anyway.
"When you think about it, what other constitutional right do you have to pay a fee to the state and bear the burden of establishing your eligibility to exercise that constitutional right?" he said. Fees range from $40 for a four-year permit to $125 for a lifetime permit, and the fees fund law enforcement firearm training.
Grabow wonders, though, what's to gain from scrapping a requirement that people obtain a license to carry a gun.
"We know that the current system we have for permitting works, and it keeps guns out of the hands of dangerous people, and we think we should not undermine the current permitting system that's in place," she said.
"We're going to continue to show up at every hearing. We're going to testify, and we're going to work to keep our communities safe."•
Please enable JavaScript to view this content.