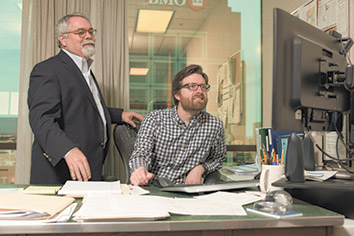 Looking ahead to the next 50 years, Indiana Legal Services Inc. is certain one thing will remain constant — the need for legal assistance among low-income individuals.
However, the manner in which clients come to the agency and the kind of representation offered will likely change.
"It's difficult to predict the future but there will always be a need for our services," said ILS Executive Director Jon Laramore. "We have to continue to look for ways to connect with clients and to deliver service in innovative ways."
This month, Indiana Legal Services is celebrating its 50-year anniversary. The nonprofit traces its roots to the late 1960s before it became a part of the national Legal Services Corp. Its history includes handling single cases, litigating class actions, and surviving budget cuts as well as restrictions imposed by Congress, but the focus always was on helping the indigent find relief.
Going forward, the organization will continue to do what all nonprofits struggle to do — stretch limited resources to provide better service. ILS sees its partnerships with community agencies as a key in identifying emerging legal needs and marshaling its efforts to meet those needs.
Alongside this push, the agency must also diversify its funding stream. ILS receives the bulk of its revenue — $6.65 million in 2015 — from Legal Services Corp., which receives its money directly from the federal government. Support from Washington, D.C., has always been unpredictable, but last month many were shocked when the budget proposal from the White House eliminated all funding for legal aid.
Indiana Legal Services responded by emailing supporters, notifying them of the Trump administration's budget cut. In return, the organization received about $5,000 in donations. Laramore maintains those dollars are an affirmation of the agency's work.
"They understand how important it is to provide access to the justice system to people who wouldn't otherwise have it," he said of the donors. "That's what we do. We are a guarantor of fairness in the system. Fairness is still an American value."
Fundamental changes
Ideally, legal aid would provide a lawyer for every client, but reality makes that impossible. The entanglements of poverty, such as depressed wages and unstable family life, mean more and more people need legal assistance, but the limited resources can't keep pace.
To help nonlawyers understand and navigate the legal system, Martha Bergmark, executive director of Voices for Civil Justice, advocates for changes to the system itself. The tide of unrepresented litigants coming into state courts is rising, and a system designed by lawyers for lawyers is hindering access to justice.
Information and forms posted on the internet along with materials written without legal jargon will help people look out for themselves, she explained. Expanding e-filing capabilities to enable supporting documents to be attached — such as having a bank include the papers to prove it holds the mortgage when a foreclosure is filed — would improve efficiency.
At Indiana Legal Services, Laramore is eyeing limited-scope services. This type of legal work gives some assistance to individual clients when full representation is not possible. The attorneys can help people fill out a form to apply for a child support modification then coach the person on what to expect in court.
ILS now offers limited-scope services, but Laramore expects this area of practice to grow and believes the private bar also will begin to develop and deliver these kinds of services.
"We like to think that providing direct services and full representation is the best service, but often someone who has good coaching can do just as well," Laramore said.
Elder law attorney Claire Lewis said the one thing that cannot change is the civil legal service framework. There is no other mechanism available that will represent indigent individuals who otherwise would go unrepresented. Pro bono efforts help, but they cannot provide the same level of assistance as an organization dedicated solely to legal aid.
"Hopefully there's enough support so the organization does not disappear," Lewis said. "I can't imagine the world without legal services."
Relying on partnerships
Lewis credits her legal career to ILS. She began at the nonprofit as a paralegal then remained while she attended law school and joined the staff as an attorney after graduation. She stayed for 20 years and endured some terrible times when federal budget cuts forced ILS to lay off staff.
Despite the worries in the office, Lewis said, the attorneys always fought hard for clients.
"It was really some of the most rewarding work a lawyer can do," Lewis said. "I feel like I helped some of the most vulnerable citizens in our state."
For low-income residents needing help today, finding legal services can be difficult. Usually they have to go door to door to find an attorney and, as Laramore noted, some may not realize their troubles have a legal remedy.
An example would be someone living in an unsanitary apartment who is suffering from a lot of health problems. When an attorney steps in and gets the landlord to clean the dwelling, the tenant's medical condition also may improve.
Partnering with community agencies can help clients find legal aid, but Laramore sees the possibility for these relationships to develop further. He is looking in particular at the medical-legal partnership model, where physicians, nurses and clinics identify the patients who need a lawyer and then make the referral to Indiana Legal Services.
Having clinics, homeless shelters and neighborhood centers refer people could lessen the screening burden on ILS.
"We spend a lot of resources on intake and we might choose to spend more of our resources on actually providing help and less on deciding who we give help to," Laramore said. "Our partnerships with other agencies in the community can be an important way to do that."
ILS board chair Judge Calvin Hawkins of Lake Superior Court wants to take the partnerships "up a notch" by building more relationships with the private bar. Cases outside of the agency's expertise, or even potential class actions that federal regulations bar ILS from filing, could be sent to law firms.
Hawkins emphasized that helping one client at a time, as ILS does, benefits those clients and sometimes can lead to significant changes in the legal system. Yet, he noted, the agency cannot do everything and outside attorneys could fill some of the gaps because they are not as restricted from handling certain cases.
Bill Marsh, founder of Indiana Federal Community Defenders Inc., began volunteering at ILS after he settled into retirement. He loves the work and approaches his cases with the primary goal of helping the clients live their life with dignity. Many of the people who come to his office need help getting government benefits that will give them the resources to move out of a hotel and into an apartment or to stay in their home.
But in talking about the people ILS has helped, Marsh reiterated the common refrain of legal aid. "The needs still aren't being met," he said. "There is still a great unserved need among the low-income population."•
Please enable JavaScript to view this content.