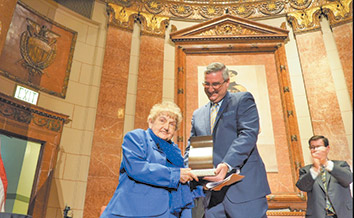 The United States judicial system is in flux, with the U.S. Supreme Court getting a new justice, the traditional law school system facing increasing scrutiny and a new presidential administration eyeing major changes to some laws. When the 7th Circuit Bar Association meets in Indianapolis for its annual meeting and judicial conference April 30-May 2, attorneys and judges from Indiana, Illinois and Wisconsin will embrace those issues head on, discussing how the legal profession and practice might look different just a few years down the road.
Welch
Bingham Greenebaum Doll LLP Partner Brian Welch is at the helm of the event as this year's 7th Circuit Bar Association president. The annual meeting returns to Indianapolis this year for the first time since 2014, following a rotation that sends the event to Chicago every other year, then alternates between Indianapolis and Milwaukee each off year.
The meeting will kick off with a cocktail reception and discussion about the movie, "Federal Justice in Indiana," a bicentennial documentary that chronicles the history of Indiana's federal courts. Doria Lynch, court historian for the U.S. District Court for the Southern District of Indiana, will discuss three key cases featured in the film — Ex parte Milligan; U.S. v. Ryan, et al.; and U.S. v. Board of School Commissioners of the City of Indianapolis, et al. — along with the filmmakers during a presentation at the Eiteljorg Museum of American Indians and Western Art.
The meeting will then move to the J.W. Marriott on May 1, where attorneys and judges will discuss how their profession has evolved over the years and how ongoing changes in the judicial system could continue that evolution.
For example, two plenary sessions offered on that Monday will tackle two of the biggest issues currently facing the American judiciary: the future of the U.S. Supreme Court and the future of law schools.
Clark
Led by former Indiana Justice Randall Shephard, "The Future of Law School" session will examine how issues such as declining bar passage rates and increasing law school costs and loans are affecting the traditional law school model, Bingham partner and meeting organizer Bri Clark said. Given the developments over the last year regarding Valparaiso University Law School's public censure and Indiana Tech Law School's planned closure this spring, the law school session will be particularly relevant to Hoosier legal professionals, organizers said.
Welch and Clark also expect poignant discussions will take place during the session on "President Trump and the Future of the U.S. Supreme Court." Now that Neil Gorsuch has been confirmed and sworn in to his seat on the nation's highest bench, Welch said the session will likely focus on how his ideas and influence could impact the court and federal law.
Aside from those two high-profile discussions, 7th Circuit annual meeting attendees will also have the chance to attend several other plenary and breakout sessions, covering topics ranging from data security to college sports law to "The Fun and Fear of Arguing in the 7th Circuit Court of Appeals."
While it can be difficult to know what legal topics might be relevant when the annual meeting and judicial conference rolls around each spring, Welch and Clark said they tried to develop session ideas that would generate widespread interest.
"You kind of have to get out in front of it and get some broad parameters pretty quickly," Welch said.
Though the panel sessions will be informative, Welch said the highlight of the event will be the annual dinner May 1, which will feature remarks from U.S. Supreme Court Justice Elena Kagan. The keynote address will then be delivered by Eva Mozes Kor, a Jewish survivor of the Auschwitz concentration camp.
Kor is shown at right holding hands with her twin sister, Miriam, as the Auschwitz concentration camp was liberated in 1945. (Submitted photo)
Kor and her twin sister, Miriam, were 10 years old when they were sent to Auschwitz and fell victim to the genetic experiments of Dr. Josef Mengele. The sisters and others were liberated in January 1945, and Kor has gone on to work as a human rights and forgiveness advocate since then, opening the CANDLES Holocaust Museum and Education Center in Terre Haute.
The state of Indiana recently honored Kor with the 2017 Sachem Award, the state's highest honor given to recognize both high achievement and exemplary virtue. Indiana Gov. Eric Holcomb presented Kor with the Sachem Award on April 13.
Indianapolis Mayor Joe Hogsett will make remarks at a May 1 luncheon. Clark said she is looking forward to Hogsett's presentation, given his experience as U.S. Attorney for the Southern District of Indiana from October 2010 to July 2014.
"He's got perspective on a lot of different local issues that impact the 7th Circuit," she said.
The 2017 annual meeting and judicial conference will close May 2 with breakout sessions for each judicial district, allowing legal professionals from each district court to meet to discuss more "mechanical" issues related to their specific jurisdictions. Additionally, the 7th Circuit judges and clerks of the court will meet in executive session on that afternoon.
All told, Welsh and Clark said they expect about 300 attendees for the conference, and about 400 attendees for the May 1 annual dinner. Though attendance by the 7th Circuit judges is no longer required, Clark said the 7th Circuit's annual event is among the most well-attended conferences in terms of judges, so most, if not all, of the 7th Circuit bench will be there.
Registration for the annual event will remain open through May 1, the organizers said, though they note that rooms for out-of-town attorneys and judges in the designated block at the J.W. Marriott are full. Registration and lodging information can be found online at www.7thcircuitbar.org.•
 
Please enable JavaScript to view this content.