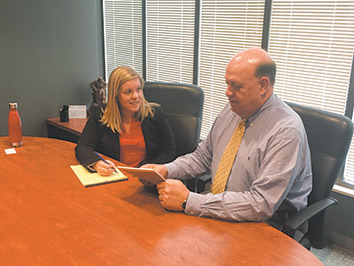 Across the U.S. workforce, millennial workers now make up the largest pool of available employees, outpacing the retiring baby boom generation that had dominated the market. Though baby boomers and millennials have grown up in different decades, a common thread runs through both generations: the goal of becoming partner.
According to a study recently released by Major Lindsey & Africa and Above the Law, roughly 44 percent of millennial law firm attorneys surveyed said they hope to someday make partner, either at the firm they're currently with or at another firm. That result came as a surprise to Major Lindsey & Africa partners who, like many older attorneys, bought into the assumption that the law's youngest employees were exploring options off the traditional partner track.
Ru Bhatt, managing director of Major Lindsey & Africa's Associate Practice Group, said the perception in recent years has been that millennials pursuing a career in the law prefer to become in-house counsel, a position that is often desirable because of its more flexible hours. John Trimble, a partner at Lewis Wagner LLP in Indianapolis, agreed, and noted that because of the flexibility in-house counsel positions offer, law firms are no longer competing with each other for associates, but rather with in-house opportunities.
But according to the survey, just 18.75 percent of respondents indicated they saw themselves working as in-house counsel 10 years down the road, compared to the 43.64 percent who want to make partner.
"(The results) are the opposite of what the perception is out there," said Michelle Fivel, a partner in the Major Lindsey & Africa's Associate Practice Group. "It's very eye-opening."
However, attorneys who are members of the millennial generation — which is roughly defined as those 18 to 35 years old — say the results of the survey are not that surprising.
Laura Walker, a 27-year-old associate at Lewis Wagner LLP, said the partner track has been her career goal since she first stepped on the Indiana University Robert H. McKinney School of Law campus in 2012. The allure of becoming a partner today is the same as it would have been for baby boomers when they began their law careers, Walker said — the satisfaction of knowing your firm has enough confidence in your legal abilities to promote you to a supervisory, rather than a supervised, position.
Coleman
Similarly, 28-year-old Kristina Coleman, a 3L at IU McKinney who plans to join Faegre Baker Daniels LLP as an associate after graduation, said becoming a law firm partner is still perceived as the traditional trajectory for a law career, even among millennial attorneys.
"I think, for me, it's that you've kind of made it to the next level," Coleman said. "You've put in the time and you've accumulated a wealth of knowledge, you've served your clients well so that you've been able to achieve this honor of being partner."
But Walker and Coleman acknowledge members of their generation are redefining what it means to be on the "partner path." While members of the baby boom generation were more inclined to take a job at a firm out of law school and stay with the firm for the span of their career, the results of the survey show roughly one-quarter of millennial associates intend to work at their current firm for two years or less. That number rises to one-third when discussing junior associates.
Trimble, who identifies as a member of the baby boom generation, said those results don't come as a surprise to him, especially when discussing big law firms. When associates leave a firm, they are likely going in search of in-house or government work or judicial clerkships that will pay more money to help pay down their student loans, he said.
Coleman agreed that economic considerations are a driving force behind millennials' tendency to move from job to job. Though the legal market has recovered significantly since the Great Recession, it never recovered fully, Coleman said, forcing young attorneys to think creatively when considering their career paths.
The abundance of positions once open to associates is no longer there, so millennials must consider all options and stay alert for the next opportunity that might provide more security, the 3L said. Outside of partner or in-house counsel, survey respondents indicated they were interested in pursuing careers in government or nonprofit work, working at a solo or small firm or choosing a non-legal career such as real estate.
Despite their tendency to leave firms after only a few years, roughly 70 percent of millennial attorneys surveyed indicated they consider themselves either highly or moderately loyal to their current firm.
Though that result might seem to contradict the data showing millennials frequently leaving their jobs, Fivel said the discrepancy actually might represent a changing definition of "loyalty."
"They're defining 'loyalty' as meaning they're going to be a good associate and do good work for partners and not bad-mouth the firm," Fivel said. "It's not loyalty meaning they're going to stay and make partner."
Coleman and Walker, however, said from their perception, "loyalty" still means staying at a firm, even if their fellow millennials might define the term differently. But Walker also noted that even though she has no plans to leave Lewis Wagner, she would be willing to at least consider other offers that arise.
That consideration is another key difference between baby boomer and millennial attorneys, Walker said. Whereas partners, when they were just starting out, were not inclined to entertain other job offers if they were not ready to leave their firm, Walker said her generation is always willing to hear what the offer is before turning it down.
"But I don't think that means we're going to bounce, which I think is what the older generation thinks — because we're open to hearing it, that means we might bounce — but I don't think that's necessarily the case," Walker said.
Understanding millennial attorneys and their perceptions of their work is key to retaining those attorneys and grooming them to one day take over a firm's leadership, Trimble said. But at the same time, associates who are beginning to build their careers must also recognize there is a lot they can learn from generations before them, he said.
"The younger lawyers who will be the most successful will be the ones who realize it's a two-way street," he said.•
Please enable JavaScript to view this content.