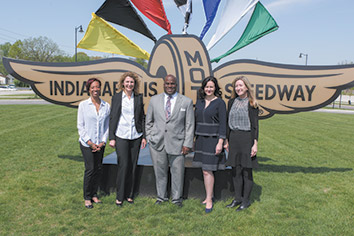 Jimmie McMillian traded his partner position at the state's largest law firm a year ago for a new legal career at perhaps Indiana's most iconic and storied place, Indianapolis Motor Speedway. But like any top-level racer living the dream, McMillian's fast to pass praise to his crew.
"We have this theme, the greatest in racing," he said. "I really feel like I'm with the greatest legal team in racing."
After a decade at Barnes & Thornburg LLP that included some representations that connected with IMS parent Hulman & Co., McMillian came aboard last May as senior corporate counsel. When the opportunity arose, he joined a legal team led by Hulman Vice President and General Counsel Gretchen Snelling that has deep connections to IMS.
As McMillian likes to say, it's always sunny at the Speedway. "I feel so blessed to be able to say, 'This is what I love, and I can do it every day," he said.
Personal and professional
For each member of the team that also includes corporate counsel Meghan Pitcher, paralegal René Cooper and
executive administrative assistant Tanysha Lipman, working in IMS's legal department is personal and professional.
Lipman worked at law firms before joining IMS a few years ago, and she talked about how much it meant for her daughter to visit the track on a school field trip coordinated with the Speedway. "Fourth-graders throughout the whole state of Indiana have an opportunity to come here and learn about the history of the Indianapolis Motor Speedway and the Hulman Company," she said. "It's very inspiring for us, knowing we're a part of that."
Always a car and motorcycle buff, McMillian said, "When I was in college, I used to work at a Firestone, and the guys at the Firestone used to tease me … you know, black people don't know anything about racing, and I learned about racing working at a Firestone and listening at the shop to races. And then I started coming to races … and I loved it."
Pitcher was an executive assistant at the Speedway before getting her law degree. She says she's sometimes humbled by the history and tradition she's charged with honoring and protecting. "What gets me is the massiveness of the place," she said, especially when the track is quiet.
When Cooper was going to school, she grew up close enough to hear the roar of race cars and dreamed of someday working at the Speedway — a thrill she said still hits her every time the gate arm raises when she arrives.
Snelling said her father will be going to his 68th race this year, having come to the track since age 10. "It's pretty cool to work in a place that has meant so much to your family," she said.
All this may lend to the collaboration Pitcher said is key to the legal team's work. "Gretchen has this philosophy — five heads are better than one. We all involve each other. I always enjoy bouncing things off this group," she said.
Countless contracts
As action at the Brickyard heats up this month with the IndyCar Grand Prix and the weeks leading to the 101st running of the Indianapolis 500, Snelling said the legal team's work won't slow down.
"We don't ever catch a breather," she said. Last-minute deals or unforeseen issues may crop up during May's events that demand immediate attention. Meanwhile, the team is working on nailing down contracts, reviewing insurance policies and analyzing deals while looking ahead to an ever-expanding slate of events, most notably IMS's other marquee race, NASCAR's Brickyard 400 in August.
The Speedway legal team has a project to try to tally the total number of contracts and agreements, but it's a moving target. Suite agreements, licensing deals, vendor contracts and innumerable other transactions are required not just for the Indy 500, but for each of the continually expanding events at the track. And those deals may touch other Hulman entities the team represents — the IndyCar racing series, the IMS Productions media company, and even the Terre Haute institution that gave rise to those — baking powder staple Clabber Girl Brands.
"Just to put on one event, it's staggering the number of agreements you have to enter into," McMillian said. "Our trademark and our branding is the most important thing we have, and so just making sure everyone who's using that winged wheel has the right to use it — it's daunting."
"I can't see events the same anymore," Snelling said. "We work on it in components, and you walk around and you see the place come to life for an event, and you see all the things that individually, you contributed to, and collectively, got that done."
She recalled Cooper, who focuses on vending and display agreements, working out an agreement for a vendor who wished to place automated teller machines at the Speedway. The vendor was so thrilled, Snelling said, "I came upon them and they were posing at the ATM for a photo."
"It's so nice," Cooper said. "That is rewarding. … In so many other facets of a career, you work on something, and then it's gone."
Pumping up events
Since McMillian came aboard last May, IMS added two recurring events — the Red Bull Air Race in October and the Lights at the Brickyard holiday season event in November and December. This September will bring another new event when IMS hosts the Ladies Professional Golf Association's Indy Women in Tech Championship. McMillian ticks through other events on the horizon that include the Sportscar Vintage Racing Association's Brickyard Vintage Racing Invitational in June and the Sports Car Club of America's National Championship Runoffs Sept. 29-Oct. 1.
In addition to adding events, IMS is upping its game, enhancing the visitor experience by staging concerts in the 500 infield Snake Pit, for instance. "That's a whole new area," McMillian said of music event contracts largely handled by Pitcher. "The speed with which we have to work to get the music concert element, the VIPs when somebody comes — we got Lady Gaga last year — that's an element that people don't commonly think of.
"It's part of merging the tradition with bringing in new fans," McMillian said. "The Snake Pit is an example of how we're trying to take something historical and make, what I would say, is one of the best music concert (venues) certainly in the state, if not the Midwest."
McMillian came to IMS with a background as a litigator and acknowledges he had very little knowledge of contracts, which made him a little nervous. He credits his teammates for helping him get up to speed.
"I kind of feel like there's a philosophy that one of us wins, all of us win," he said. "There's a spirit around here of all pulling together to help each other get things done.
"Legal's a big part of making sure … that we live up to the expectation of what (the IMS) experience is supposed to be."
'Everybody knows Jimmie'
Jimmie McMillian on IMS: 'Every citizen of Indianapolis should feel like this is home.' (IL Photo/Eric Learned)
Barnes & Thornburg partner Ken Inskeep mentored McMillian when he arrived at the firm, but he recalled that in short order it was the gregarious McMillian who was introducing people to him.
"Jimmie's always been one of those guys who cuts a wide swath, as we used to say," Inskeep said. Working with lawyers and clients around the country, he said McMillian's name frequently came up whenever the firm's name did. "Jimmie is an extremely dynamic person," he said. "Everybody knows Jimmie McMillian. … He's a great outward face for the Speedway."
Inskeep
Just as McMillian's personality and passion for cars and racing made him a good fit as senior counsel, Inskeep believes his background as a litigator is helpful: litigators have unique insights to situations where risk could arise and are particularly good at anticipating them and counseling their in-house clients. "It's still legal, but you see this broader dimension," Inskeep said.
Snelling said IMS has largely completed the $100 million in improvements funded by state-issued bonds in 2013, and McMillian said the track is looking to build on the momentum of last year's 100th running of the 500. His new job also comes with something of a mission.
"Every citizen of Indianapolis should feel like this is home," he said outside the corner of 16th Street and Georgetown Road. "Different cities have their thing, this is our thing. It is part of the branding of Indianapolis, and it should be part of the personal brand of folks who come here."•
Please enable JavaScript to view this content.