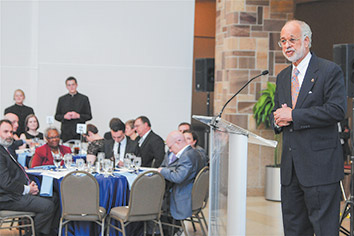 The April 22 gala marking the 50th anniversary of Indiana Legal Services Inc. had the feel of a family reunion.
Attorneys, paralegals and staff who currently work for ILS or used to work for the organization, along with lawyers who volunteer their services and friends of legal aid hugged, laughed and traded stories throughout the dinner held at the Indiana State Museum. Employees were recognized and standing ovations were given to former executive director Norman Metzger and longtime Indianapolis office manager Ida Hayes.
However, the evening included uneasiness. Like any family, ILS was concerned about its financial future, especially given the White House's call to eliminate all federal funding for legal aid. People at the dinner said they were worried about what might happen.
This is not the first time an administration has made such a call. In the 1980s, President Ronald Reagan also zeroed out support for the Legal Services Corp., which provides the bulk of ILS's budget. But Democrats held the majority then in both the House of Representatives and the Senate and the funding was retained. Now Republicans are in control on Capitol Hill and may be more receptive to reducing support.
Jon Laramore, executive director of Indiana Legal Services, said his agency is trying to lessen its dependence on the federal government. Currently about 65 percent of its budget comes from Washington, but ILS is working to find alternative funding through grants and private contributions.
He told the crowd he was optimistic that if the LSC's appropriation was cut, it would not be a drastic reduction. He also noted there is plenty of time before any budget bill is passed for ILS to search for alternative sources of support.
"I dare say we will still be here in 50 years," Laramore said. "Our clients' needs may be different, the legal landscape may be quite different, but whatever happens in Washington in the next couple of years, we are not going away."
Indiana Supreme Court Justice Steven David also nodded to the uncertainty. As the keynote speaker at the celebration, he praised ILS employees and alumni for having a commitment and work ethic that benefits not only individual clients but improves the legal health of the entire state.
"Everyone is better in Indiana because of Indiana Legal Services," David said.
He credited ILS with providing justice and protecting people who otherwise could not afford legal counsel. The work ILS and its employees do, he said, should not be taken for granted and must be continued.
"We have fears, we have trepidation about what tomorrow will bring," David said. "I consider that an opportunity for ILS to do great things despite what might be on the horizon. We can choose to be afraid, we can choose to be fearful, or we can step up and move forward united. I believe we will step up and move forward united."
Laramore took time to recognize ILS employees, praising their enthusiasm and hard work on behalf of clients. He highlighted the work of Dennis Frick, who was able to get the state of Indiana to change its Medicaid policy. Now, certain recipients are able to remain in their homes and receive assistance rather than being institutionalized.
He also applauded the leadership of ILS, noting especially Adam Mueller, director of advocacy, and Angelika Mueller, managing attorney of the South Bend ILS office, who recently was named deputy director of ILS.
"We have a terrific staff with a deep expertise in the areas that they work in," Laramore said, adding the staff brings the experience of the folks who stood up first and the youthful enthusiasm of the people who stand up today. "They live off their opportunities to help people every day."•
Please enable JavaScript to view this content.