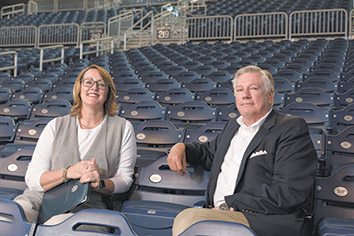 When Greg Utken started practicing law in the mid-1970s, the formula for success was simple — as long as he did good work, he would always be busy.
The Great Recession changed that equation, requiring lawyers to pay more attention to business development, the financial health of the firm and disruptive technologies. Lawyers had to work in teams and provide the service the clients wanted as opposed to the what the firm wanted.
To navigate the new terrain, attorneys needed to gain some of the insights typically taught in business schools. Utken realized not only the importance of business acumen but also leadership skills during his 24 years as a partner at Faegre Baker Daniels LLP, where he held various management positions.
Now, in retirement, Utken has helped develop a program focused on preparing attorneys to step into lead positions within a firm, legal department or company. The course, Lawyer to Leader, was developed in conjunction with Butler University's Executive Education initiative.
Launched this year, the inaugural run of the program included instruction on communication, decision-making and how to manage change. The course was completed in April and plans call for it to be offered again starting in September.
Gutwein
Stuart Gutwein, co-founding attorney of Gutwein Law, earned a degree in business before enrolling in law school, but he signed up for the Lawyer to Leader program because he felt he needed a refresher.
Within the four years since his firm has opened, it has grown from five people in one location to 25 people in three locations. He is doing less traditional lawyer work and spending more time focusing on the firm's operations and growth.
"I joined the program because I feel obligated to be equally as strong in my legal skills as I am in my business abilities," Gutwein said. "This helps to ensure we're giving our clients the most effective representation possible."
The class was small, limited to 25 attorneys. The participants were varied in experience, years in practice and work environments, coming from all sizes of law firms as well as in-house counsel positions.
"All those differences were extraordinarily valuable," said Sheri Fella, director of business development for the BEE. The diversity of the students and their ability to interact during the classes enabled them to learn from one another as much as from the curriculum.
Fella, along with Butler associate professor Kathy Paulson Gjerde, collaborated with Utken to develop the course structure.
Manageable format
In total, the Lawyer to Leader program was divided into four half-day sessions with each focused on one topic. The classes were team taught by a Butler professor who provided the academic foundation and a practicing attorney who inserted real-world examples. The participants were given reading materials to review prior to each session and then in class were tasked with role-playing and analyzing the different aspects of the real-world scenarios.
Utken purposefully kept each module to four hours and spread them out over several weeks. During his career, he attended leadership conferences that would span up to three days and be crammed with panel discussions. He left these events overloaded with information and a "big, big binder" of materials that promptly went on his bookshelf.
For the Butler program, Utken wanted to make the courses accessible so attorneys would not have to take a great deal of time off work, and focused on specific topics so the participants would not be overwhelmed.
Meyers
That manageable format appealed to William Meyers, partner at Faegre Baker Daniels. He did not have to upend his schedule to participate in the program.
Meyers has leadership experience, having helped start and run a small company prior to becoming a lawyer. Currently, he heads small groups at his firm. Still, with a background in science and engineering, he wanted to get a better understanding of business.
"It never hurts to get other perspectives," he said. "For me, as my practice develops, my leadership responsibilities to clients and at the firm are expanding."
Meyers noted from running his own business, he learned how to interact with others and to see the situation from the client's point of view. The Lawyer to Leader program underscored that leadership is best when getting people to buy into the objectives and being attentive to the issues they have.
He said he will use all these lessons as the opportunities come to him to take bigger leadership roles at Faegre.
Growing future leaders
Eck
Chris Eck, vice president and general counsel at Finish Line Inc., got a valuable lesson in leadership when the CEO of the company pulled him aside. The boss told Eck he was not hired to review contracts and make arguments in court but rather his job was to manage people.
To do that, Eck had to change his communication style. As an attorney, he was usually trying to persuade others, but as a leader, he had to converse and convey information, strategies or initiative. "A vast majority of time, I'm listening," he said.
Eck called upon that transformation as he co-taught the Lawyer to Leader session on communication. From the class, he got an unexpected bonus of meeting different attorneys and since has been able to develop professional relationships with them.
To Utken, the future leaders of law firms and corporate counsel departments have to be nurtured and trained. Firms, especially, do not always have the time or resources to grow the next crop of leaders so oftentimes succession planning is either non-existent or done on an ad-hoc basis, he said.
The program got Gutwein to think more about the next leaders in his firm. Although he is still full of ideas of what he wants achieve for himself, he has been looking for lawyers who could be groomed into leaders.
"The people involved and the subject matter were enjoyable," Gutwein said of the class, describing it as engaging. "I felt the information I learned will not only benefit me but our firm as a whole."•
 
Please enable JavaScript to view this content.