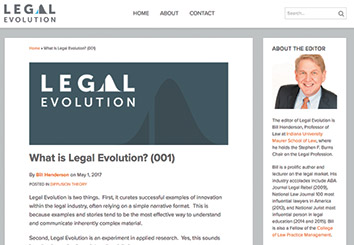 Though the law is renowned for stability, evolution in the practice of law is inevitable.
New technologies are the driving force behind changes in the legal field, but the rate at which those innovations are adopted is heavily influenced by outside factors, such as market forces. Though the effect on the legal industry is difficult to define, one professor at the Indiana University Maurer School of Law is seeking to help legal professionals understand the changes taking place in their industry and provide insight into what makes those changes stick.
Through his new blog, Legal Evolution, IU Maurer's Bill Henderson wants to "provide lawyers, legal educators, and allied professionals with high-quality information to solve very difficult industry-specific problems." Henderson's website, legalevolution.org, was launched earlier this month in place of his former blog, The Legal Whiteboard.
The professor said he made the transition from one blog to the next to focus his efforts on addressing issues of "lagging productivity" in the legal field. That lag is making the process of seeking legal help more expensive, he said, which is causing problems in access to legal services for members of the middle class and large corporations, who are becoming increasingly less inclined to pay hefty legal fees.
"In the corporate market, heavy reliance on fee discounts is straining client-lawyer relations, as they have yet to see that the only long-term solution is to improve productivity through better systems and more sophisticated sourcing," Henderson wrote in a farewell post on the Legal Whiteboard, explaining his transition to his new endeavor.
Legal Evolution will draw on Henderson's own applied research into the legal field, an experience he said provided him with insights into the market he would not have obtained if his work only focused on academia.
"I'm a law professor, I have hands-on experience, and I have some real insight into how this market is going to change, how to influence the market and what the levers are to have your innovation get accepted," he said.
Much of the discussion on Legal Evolution will be based in diffusion theory, a concept developed by sociologist Everett Rogers that examines how, why and how quickly new ideas and technology spread and are adopted. In one of the first posts on his blog, Henderson writes "diffusion of innovation is a process that occurs through a social system."
That social system, Henderson writes, is divided into five "adopter" segments based on how likely members of each segment are to be open to change. When members of each of the five segments — innovators, early adopters, early majority, later majority and laggards — see favorable observations or testimonials about a new technology, then the technology is likelier to spread.
From a non-legal perspective, Henderson pointed to the example of medical antiseptic procedures to reduce or eliminate post-surgery patient infections, a concept he said took 75 years to be fully adopted into the medical profession. Henderson said he is studying different examples of how innovators in the law are seeking to have their ideas adopted, such as a legal group trying to solve the problem of banks and private equity firms paying too much for ordinary contract services.
Dan Katz, a professor at the Illinois Institute of Technology Chicago-Kent College of Law who has worked with Henderson in the past, said Legal Evolution will provide a centralized location where legal tech entrepreneurs and other industry professionals can learn about changes in the practice of law and how the market is responding to those changes.
Though legal professionals might be aware of the changing market around them, they may not understand or have time to study why those changes are occurring, Katz said. But with Legal Evolution, interested professionals can gain insight into market factors possibly creating a lag in their own legal productivity.
Likewise, Kevin O'Keefe, founder and CEO of LexBlog Inc., the online legal blogging forum that is hosting Legal Evolution, said Henderson's stature in the profession will likely make Legal Evolution a prized source for legal professionals genuinely seeking to understand changes in their field. While many legal blogs are designed more as marketing tools for the attorney/author, O'Keefe said Legal Evolution distinguishes itself by offering legitimate research and ideas that can be used for the benefit of legal tech entrepreneurs.
"He starts to bring some sense to what he's going to be doing with diffusion of innovations and the philosophy that is driving some of this," O'Keefe said. "He shares what he's reading out there, and his context might be different than anyone else in the world, but that's very valuable."
Right now, Henderson is the sole researcher and author of Legal Evolution, though he said in the future he hopes to include others' findings and observations on the site. His previous work on the Legal Whiteboard is still available online, but the site now directs readers to Legal Evolution, where he says he will focus all of his efforts outside of academia.•
Please enable JavaScript to view this content.