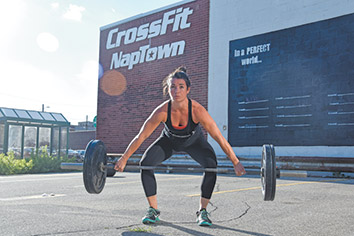 After a long day of briefs, arguments and client meetings, attorneys might be tempted to go home and relax on the couch. But according to mental health experts, spending evenings in front of the television might not be that relaxing for those who want to fully escape the pressures of work.
Instead, lawyers should practice "active relaxation," or outside-of-work activities that require a person's full focus. While moving from the stresses of work to an activity that requires mental tenacity might seem like a counterintuitive relaxation technique, Terry Harrell, executive director of the Judges and Lawyers Assistance Program, said active relaxation is much more beneficial to attorneys than mindlessly watching TV.
That's because activities such as watching TV or laying in a backyard hammock can allow an attorney's mind to wander back to the office, where piles of work or challenging cases are awaiting attention, Harrell told a group of attorneys gathered at the Indiana State Bar Association Solo and Small Firm Conference on June 3. In order to preserve their mental health, attorneys must be able to fully remove their thoughts from the office, Harrell said, which is where active relaxation techniques come into play.
During the conference, Harrell moderated a discussion on how active relaxation can help attorneys discover their passions outside of law and, in turn, maintain strong mental health. For Maria Matters, a solo practitioner on the east side of Indianapolis, her escape from the pressures of running her practice is found under the bright lights of a theater stage.
Matters is an active member of Footlite Musicals Inc. in Indianapolis, a place where she said she can slip out of her real-life character of a lawyer and into whatever character she's portraying on stage. Matters' most recent stage work included lighting design for the theater's production of "Dream Girls," which ran last month.
As a lighting designer, Matters said she can't be an attorney — she has to be an electrical engineer, a mechanical engineer, a computer programmer and an artist. Stage lighting is about more than shining a spotlight on actors, she said. It's about creating the feelings and movements of the production using various lighting techniques.
When she's not in the light booth, Matters can be found in the director's chair leading a cast or in the dressing room preparing for a role on stage. Though the theater is her escape from the law, the attorney said there are several parallels between being an actress and being a lawyer.
For example, both roles require some sort of "script." In the realm of the law, attorneys often have "scripts" memorized in their heads for when they want to make objections and motions in court, while actors must follow a writer's script to bring their characters to life. Similarly, both roles require a costume of sorts. In the law, it's a suit; but on stage, it's whatever the costume designer has selected.
Matters has even found a way to combine her love of the theater with her other passion, horseback riding. Her horse, Amir, has appeared twice in Footlite Musicals productions, much to the delight of audiences, she said.
Though leading a cast or memorizing lines can be mentally taxing, Matters said being in the theater is nevertheless relaxing because she is able to compartmentalize her priorities and focus on whatever tasks her role demands.
"You cannot focus intently on your directing or your acting or your lighting designs or any of that if you're also carrying with you all of the baggage from the day," Matters said. "So, I'm at the theater and I'm working on this, or I'm at work and I'm working on that, and never the two shall meet."
Attorney Maria Matters, shown as the producer's assistant onstage in "Gypsy," unwinds by acting in and working with Footlite Musicals. (Photo courtesy of Maria Matters)
While Matters' active relaxation technique often calls for her to become a different person for a short period of time, Barnes & Thornburg LLP associate Caitlin Byczko prefers to engage in an activity that will change who she is for years to come — at least physically.
Byczko is active in the world of CrossFit, a form of exercise that involves a variety of cardio-based movements, such as Olympic weight training, high-intensity interval training and running. Though she was a runner before starting CrossFit in 2013, Byczko said she decided to take her physical fitness to the next level after being diagnosed with a brain tumor.
Now, CrossFit is more than just exercise for Byczko. It's her home, her family, her community, even the place where she met her husband. In fact, she and her husband now own and run two CrossFit gym locations in Indianapolis, where they strive to share their passion for physical fitness with others.
At first glance, CrossFit might not seem like a relaxing activity, even for those looking for "active relaxation." The workouts are designed to push the body, with CrossFit participants completing exercises such as lifting barbells over their heads or running long distances, or even both at the same time.
But that's the beauty of CrossFit, Byczko said. It forces participants to put everything else out of their mind and focus only on making their bodies stronger.
"You can't be focused on, 'Did I make a typo in footnote seven on page eight of that brief I wrote?'" Byczko said. "You have to dedicate yourself for your safety and pay attention."
Today, Byczko is celebrating the fact that she is both strong and healthy. Her tumor, known as acoustic neuroma, is small, but she and her doctors continue to monitor it to ensure it doesn't grow.
"But the AN is the reason that I take my health so seriously," Byczko said. "For a lot of people, being active and eating healthy is a choice; for me it is a requirement."
Another important factor of promoting strong mental health is the ability to form connections with other people, especially other attorneys, Harrell said, because having those connections can make dealing with stressful situations easier. She pointed to a recent instance in which she was having trouble at work, so she called a colleague she trusted who was able to help her through the problem.
Both Matters and Byczko said the people they spend their time with at the theater and gym are their second families, though Matters wryly noted that at times, the Footlite family can be a bit dysfunctional. Further, many of the members of Byczko's CrossFit gym are local attorneys and judges, she said, giving her the opportunity to take advantage of Harrell's advice to form strong professional relationships.
Regardless of how an attorney chooses to actively relax, Byczko said the most important thing is for attorneys to find activities that bring them joy, help relieve stress and make them more well-rounded in both their personal and professional lives.
"Our clients demand that of us — to be well-rounded," she said. "You can't be that if all you do is work."•
Please enable JavaScript to view this content.